These are the sort of nachos you'd get at a ball game, or at the movies.  Smothered in bright orange cheese sauce, the kind they always pump out of a plastic bottle, and sure to clog your arteries…  Except, this version is vegan and it's so much healthier (and tastier, I think) than that artificial cheese stuff they use on nachos at the cinema.  This is my guilty pleasure, except that I don't really feel guilty at all after eating it.
Also, this makes a perfect late-night snack after sampling a few espresso martinis at the local secret cocktail bar above the pub just down the street from your new flat.  In case you were wondering.
I really don't think you could fit anything else on these nachos.  You could try, but I don't think you could.  These aren't just fully loaded, these are at maximum capacity.  See the picture?  You can barely even see the tortilla chips beneath the toppings!  My boyfriend and I spent a good 15 minute walk back from the supermarket the other day discussing what else you could add to these nachos to make them even more amazing (vegan mince? corn?) but in the end decided they are already at maximum topping capacity.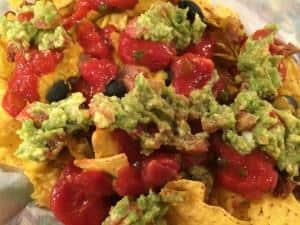 Maximum Capacity Nachos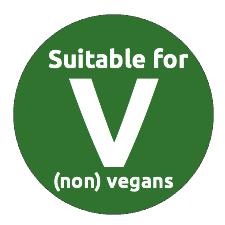 Serves 2
Ingredients
Bag tortilla chips
Recipe nacho cheese, below
Black olives
Salsa
Refried beans, storebought or homemade
Guacamole or sliced avocado
Instructions
Preheat oven to 350 F / 180 C / gas mark 4.
Layer tortilla chips on a baking tray.  Top with dollops of refried beans and liberal amounts of nacho cheese (recipe below) on the chips liberally.  Then add black olives and salsa.
Bake for 10 minutes, or until the tortilla chips around the edges of the tray begin to brown.
Top with sliced avocado or guacamole.
Vegan Nacho Cheese
Ingredients
1.5 cups water
1/2 cup soya milk
1/4 cup cashews
1 cup nutritional yeast
2 tbsp cornstarch (corn flour)
1 tbsp lemon juice
1/2 tsp salt
1/4 tsp onion powder or 2 tbsp chopped fresh onions
1/4 tsp garlic powder, or 1 clove chopped fresh garlic
1/2 heaping tsp cumin
1/4 tsp paprika
2 tsp turmeric powder
1/4 tsp cayenne pepper, optional
1/2 tsp sesame tahini, optional
Instructions
Add all ingredients to a blender and blend on high until completely combined and smooth in texture.  If you don't have a high speed blender, you may wish to grind cashews in a coffee grinder first, then add the resulting powder, along with the rest of the ingredients, to the blender and blend.  I normally do this, and it prevents you getting chunks of cashew in your finished cheese sauce (if you have a blender that's not as good and doesn't blend things as smoothly).
After you've blended it, pour the sauce into a saucepan and heat over medium-high heat until it thickens.
You can pour over the nachos immediately, or store in the fridge for later use.  It's also great on baked potatoes/jacket potatoes.  It thickens and becomes somewhat solid in the fridge, but will melt once reheated.