"What do you mean you're not going on holiday? But it's August," my neighbour told me, her brow crinkled.
"Well, I just moved to Barcelona…it kind of still feels like a holiday." I told her.
"But it's August. You need to go to the seaside. We always go to a seaside town in August."
"But we live in Barcelona. We're on the seaside!"
This conversation happened over and over with each of my new neighbours in turn just after I arrived in Barcelona last summer. Eventually one of my neighbours took it upon herself to research suitable holiday destinations for me and arrived at my door one night, breathless with excitement, to tell me that I simply had to go to Tarragona. It's the perfect mix of seaside, culture and history with its ancient Roman ruins, she told me.
I didn't end up going to Tarragona, or anywhere for that matter, in August.
But recently I fancied a day out of Barcelona, and remembered the name Tarragona.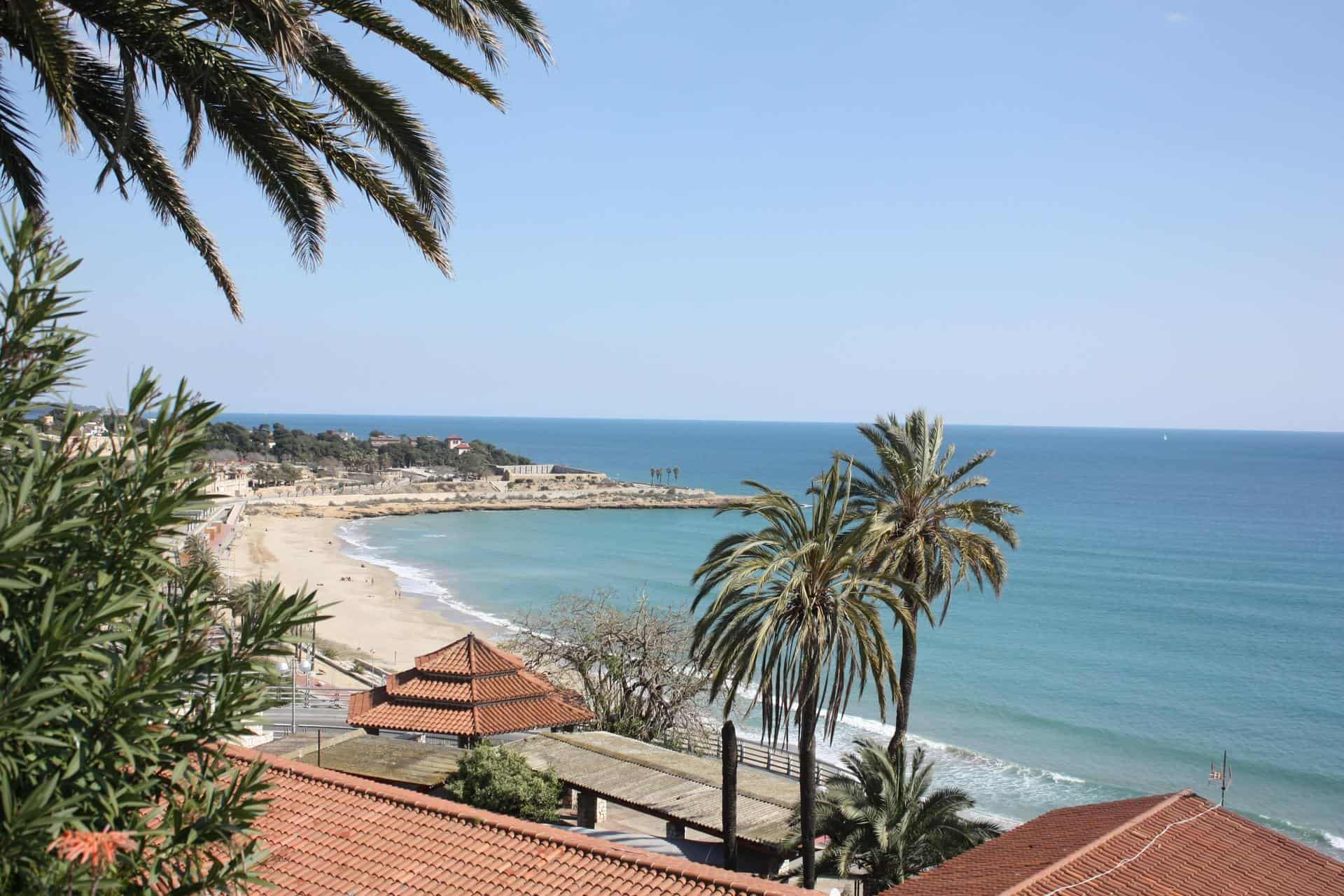 If you want to take a day trip out of Barcelona (especially if you're in Barcelona in August – remember, my neighbours say you must go to the seaside in August! And not just any seaside, but a slightly different seaside on a slightly different part of the coast to Barcelona.), Tarragona is a good option is it's fairly close and easy to reach by public transportation. Also, the train journey is so much fun – I love the way the train hugs the coastline for much of the journey, so that at times you feel like you're actually riding a train over the sea.
Tickets from Barcelona Sants cost around 16 Euros for a return and the journey takes about an hour. Sants is the main train station in Barcelona, but it doesn't have much choice in the way of shops and food. But I was pleased to find empanadas clearly marked as vegan at Cafe de l'Estacio, a little stall sandwiched next a jamon shop. (They also have soya milk for coffee.)
I was even more surprised and happy to find out that Tarragona has a fully vegan restaurant, El Vergel, plus a vegetarian restaurant (Alvocat) and a health food shop.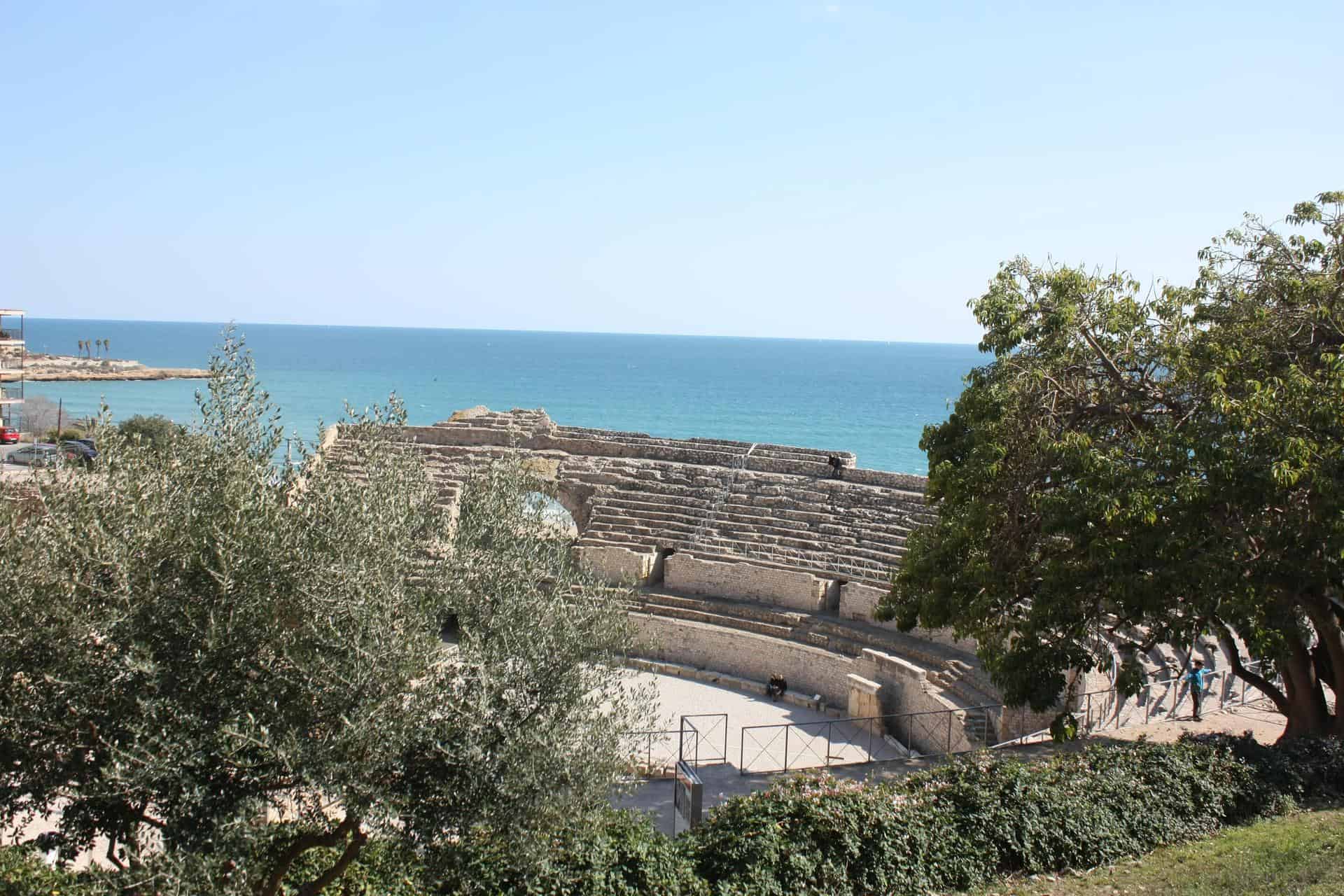 The main sights in Tarragona are the Roman ruins, which you'll come across if you walk up from the train station along the street running parallel to the seafront, the archaeological museum, which contains many Roman mosaics, and the old part of the city, with the Tarragona Cathedral and the area's many winding medieval alleyways and cobblestoned streets. I came mainly to see the ancient Roman ampitheatre set over the sea, which is in all the pictures of Tarragona you see. What you don't see is the fencing or the road running alongside it, which ruins the view somewhat.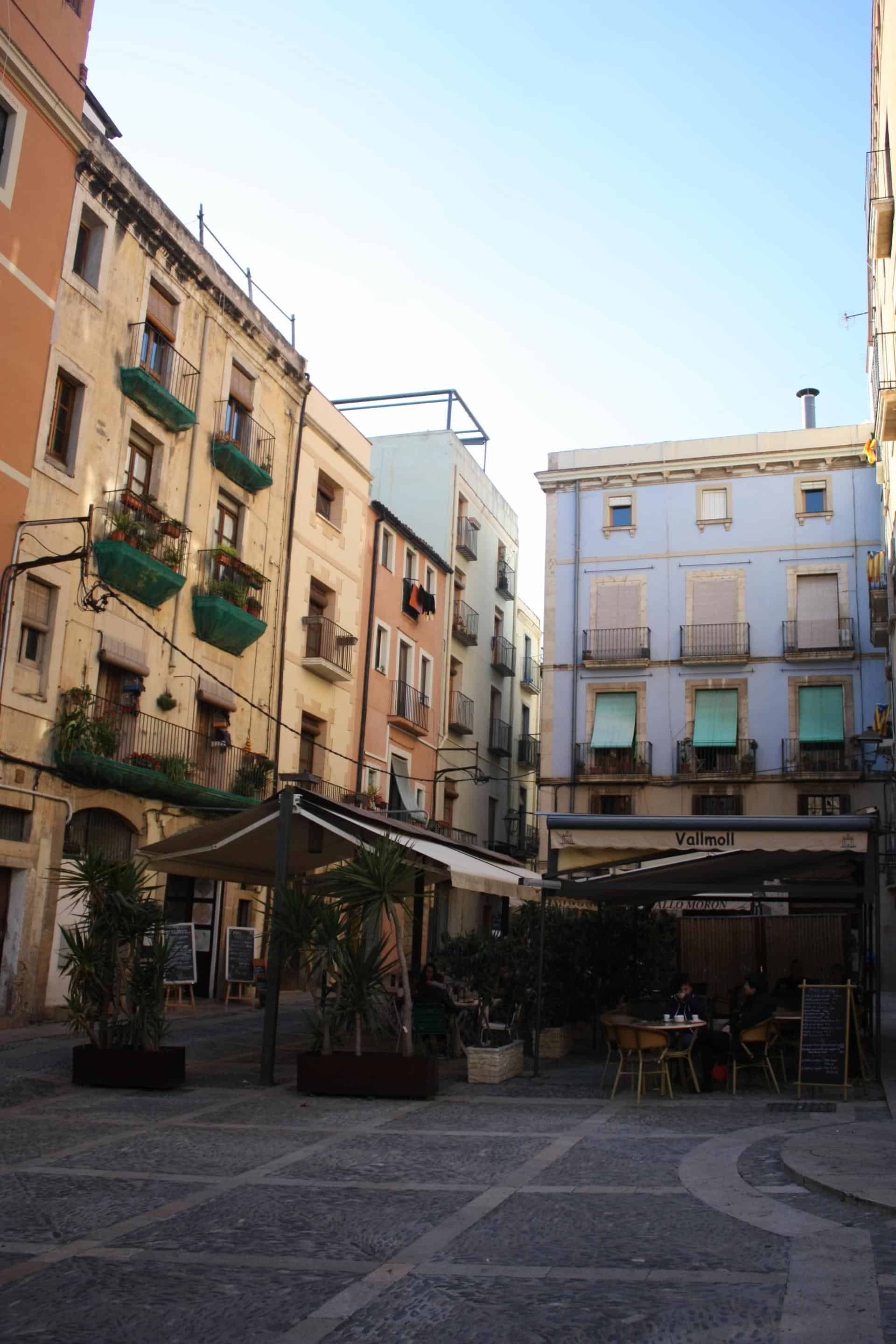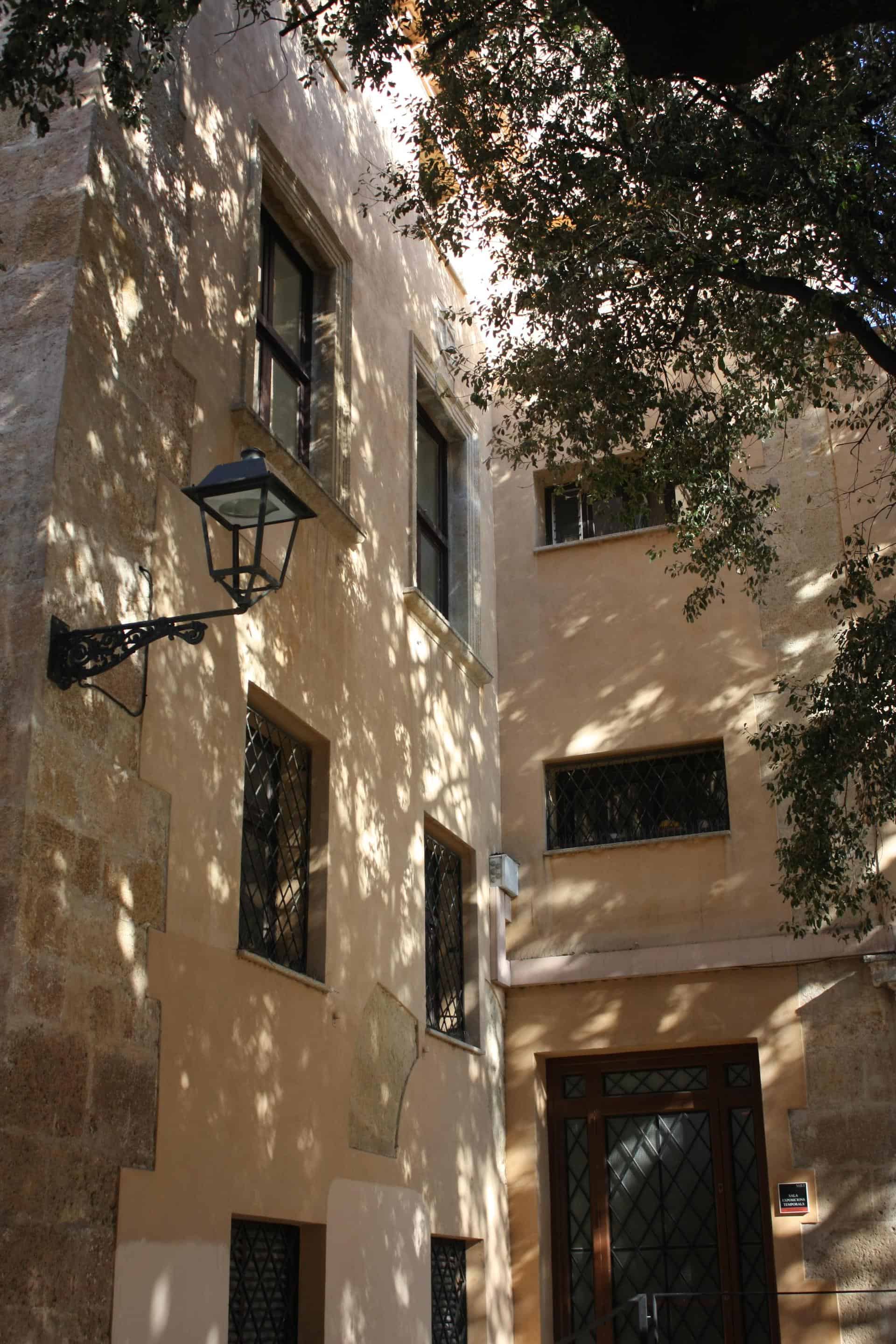 The old part of the city is also quite charming, and if you like wandering old cobblestoned streets then you can get lost in the maze for a little bit (although not too lost for too long – it's not a huge city after all!). It's also home to El Vergel, the town's vegan restaurant.
If you're travelling with your dog, you'll love El Vergel. El Vergel is probably the most dog-friendly restaurant I've ever been to – not only can your dog accompany you to your table indoors, they will bring a mat, water and vegan dog food for your dog!
The restaurant is very beautiful – I was sat in the back room, which has a traditional Spanish tiled floor, a crystal chandelier and moulded ceilings. The menu is a mix of different styles, from meatballs to risotto to hamburgers, and they've got a 3-course set menu for €13.50 during the week and €17 at the weekend (but some desserts – the best ones – bear an additional €1 or €2 supplement).
For my starter I opted for artichokes gratin with homemade bacon. It was really good but should have come with a warning – I wrongly assumed I could eat the whole artichoke as it was small, but it was really chewy and fibrous, and I ended up having to cut out just the heart. Oops.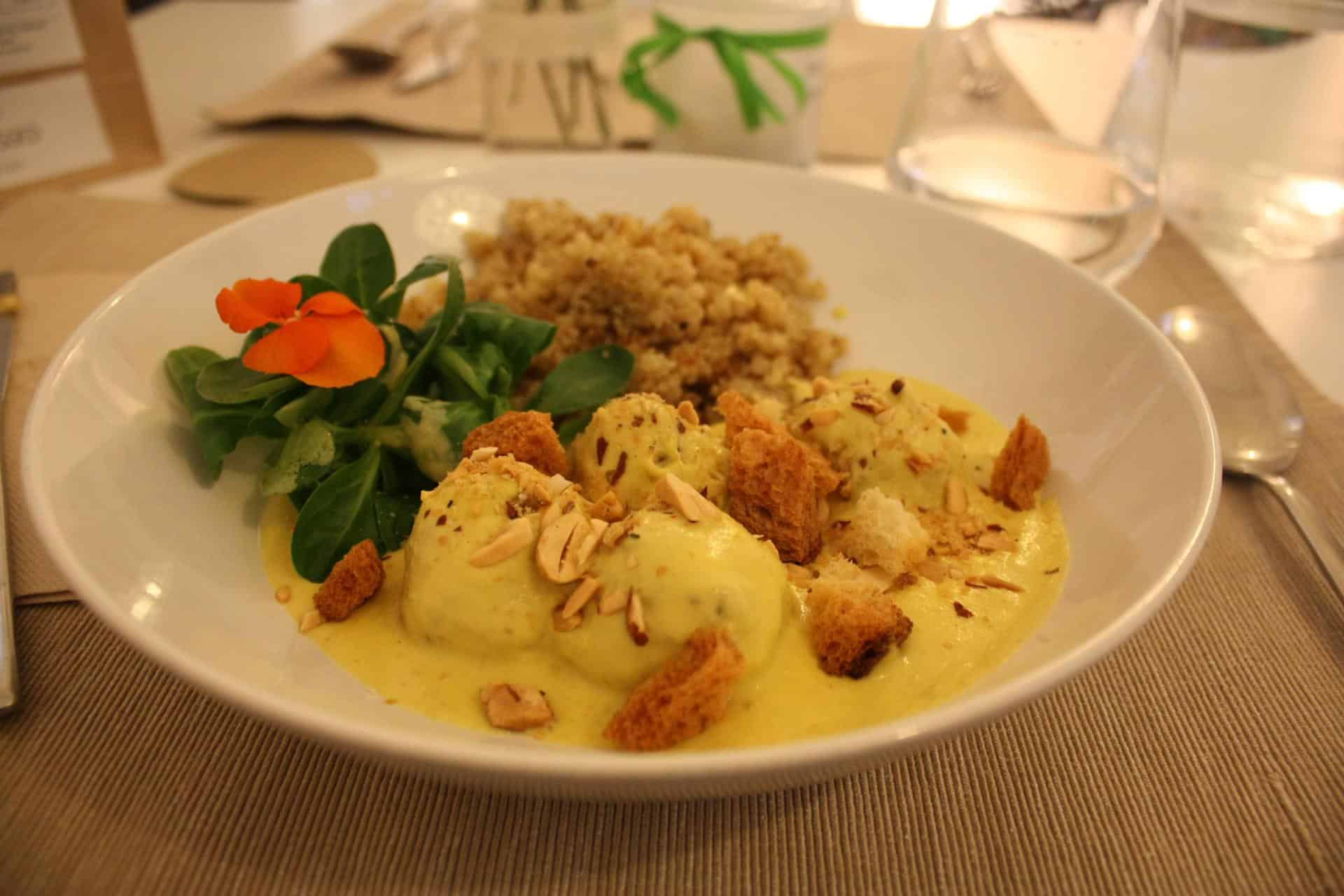 My main was homemade meatballs in an almond and white wine sauce on quinoa. It was just a little too salty for my taste, but otherwise nice, and I did like the presentation with the flower.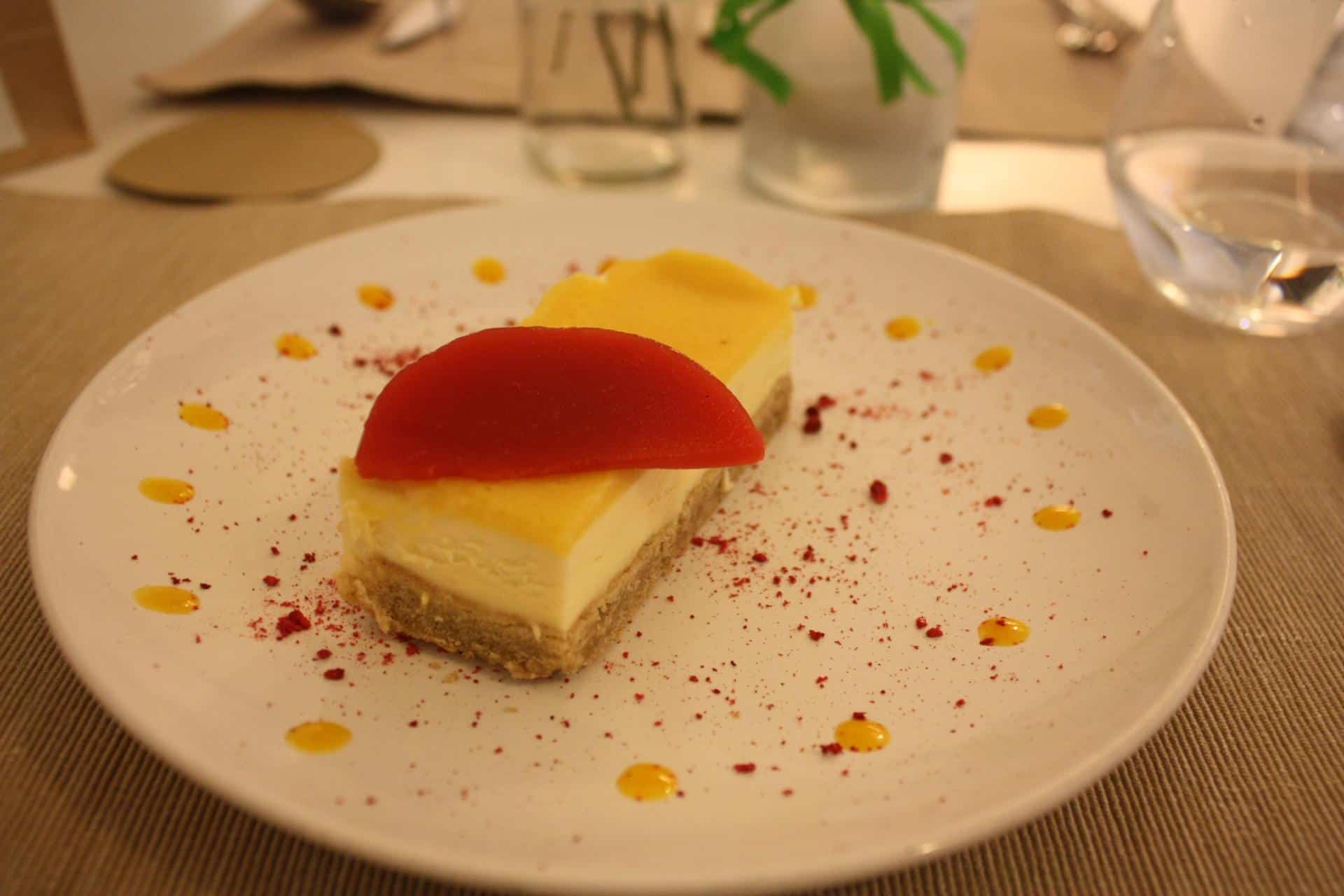 My favourite course was dessert. I took the server's advice and ordered the white chocolate and passionfruit mousse cake (€2 supplement). I love passionfruit, and I love white chocolate, and I don't think I'd ever had them in combination together – turns out they really suit each other! The cake came with a 'fake beet slice' which was a fruit juice (I can't remember which but I believe raspberry because it was tart) jellied with agar agar, and it went really nicely with the passionfruit and white chocolate.
If you're in Tarragona, I definitely recommend checking out El Vergel. There's a vegetarian restaurant in town too, Alvocat, but I didn't visit it so I'm not sure about their vegan selections or how good it is.
El Vergel is in the old city centre, so it's perfect if you've exploring the medieval alleyways.
El Vergel
Website
Phone: +34 877 06 48 50
Carrer Major 13
Tarragona 43003