Vegan MoFo Post 2


Hungerlust. That insatiable craving for both food, and travel. Preferably combined. And vegan, naturally. My Vegan Mofo theme this year is all about feeding it. We'll be doing a journey around the world (airfare not included – sorry!) from the comfort of our sofas – or desks, wherever you happen to be sitting. This month I'll be covering:
Quick and easy tips – the best apps for the traveling vegan, what to pack before your trip, vegan airplane meals and more.
Interviews with other vegan travelers about their trips
Inspirational travel articles and reviews covering various destinations I've been to in the last year, including Sicily, Vienna and Edinburgh
Live Instagram blogging my trip to Santorini, Greece from the 13th to the 24th of this month. Want to stay up to date? Sign up for my email updates!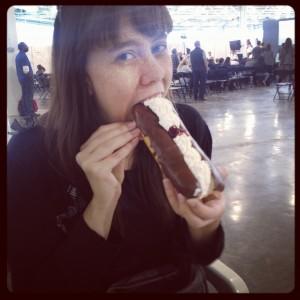 The Best 5 Apps for Traveling Vegans
Thanks to our era of smartphones and constant connectivity, we're rarely away from internet – which has both its good and bad points. One really great aspect of the internet is just how easy it's made traveling! Now it's a breeze to find and book hotels anywhere in the world, see reviews and pictures from previous guests, and even rent a room in someone's house. We can buy plane tickets in an instant. And as vegans it's easier than ever to find vegan food on the road! Here are a couple of apps to make traveling even simpler.
Pocket (free)

Pocket is a really awesome service which allows you to save articles/posts for later reading, either on your desktop or your phone. It's not only useful for saving blogposts to catch up on later somewhere you know you won't have internet, like the subway/metro or the plane, but I've found it's really handy for travel! You can install it as an add-on to Firefox or Chrome, and download the free app to your phone. Every time you find a useful article about your destination (like wikitravel, blog posts about veggie options, restaurants etc) just save it to Pocket. Then, sync your phone and make sure it's saved everything for offline use! Then when you get to your destination you'll have the articles right at your fingertips – even if you're abroad and you have to turn off data. And you can refer back to them to go over your questions without racking up $274 in data use charges!
Happycow (of course) ($2.99/£1.99)

If you've ever searched for a vegetarian or vegan restaurant just about anywhere in the world, you probably came across Happycow, which is a huge directory of veggie restaurants worldwide! The handy app shows you nearby restaurants – or at least the ones that users have submitted to the site. If you find others, submit them!
Vegman (free)
A listing/directory service, similar to Happycow but not as extensive in its listings, but free! Like Happycow, Vegman has a 'search nearby' option which will show you vegan, vegetarian and vegetarian-friendly restaurants which are near your current location.
Yelp – not just for restaurant reviews (free)

Yelp is really helpful for finding vegetarian and vegan offerings in non-vegetarian restaurants, which might not always appear on Happycow. Just search for 'vegan' and it will show you nearby restaurants that someone has tagged as having vegan offerings!
Meetup – "Find Your People" (free)
Meetup is a really great website (and free mobile app) which connects people based on shared interests. Just search based on interests, for example type in 'vegetarian,' 'vegan,' or 'raw' and it will come up with a list of groups in your city based around these interests. If you use this on the road, you'll be able to meet loads of friendly vegans – who can also give you tips on the best vegan food the area has to offer, and even tip you off about new places which you might not have come across on Happycow or in your searches.