Somewhere just outside a cloud forest, in a small house in a Costa Rican valley that serves food through the kitchen window to people sitting on picnic tables outside is a tiny 'restaurant' which served as a setting for what was the most unusual place I've ever (yet) eaten a vegan meal…
A few years ago, I went to Costa Rica and stayed in an amazing eco lodge/B&B, where I was not only extremely well catered-for in terms of meals, but also made to feel like a member of the family. I went to yoga with the family that owned the lodge, I went for breakfast in town with them, I even went with them to a hot springs water park below an ACTIVE VOLCANO when their kids had the day off! (Seriously, if you're ever in Costa Rica, check out Casa Amanecer. You will feel so welcomed!) This was the view from the breakfast spot: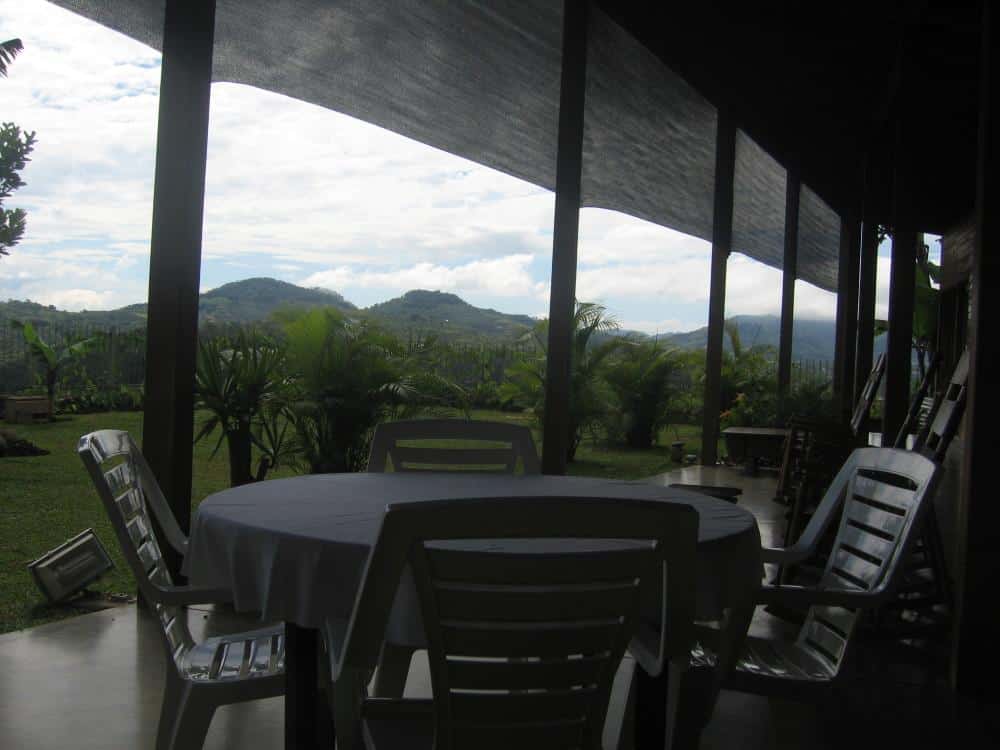 It was so tranquil that for the first time in my life, I found myself going to bed at 9pm and waking up at dawn…or maybe that was just thanks to the rooster! I ate some really great homemade meals at Casa Amanecer, and they also took me for what was potentially the best breakfast of my life at a restaurant in the small village nearby. It was a little cafe run by Nicaraguan refugees who made me the most amazing gallo pinto with sides of fresh tomato salsa and fried plantains. If you've never had gallo pinto, it's rice and beans…I know that sounds boring…but it's absolute magic! It's got some sort of crack magic sauce in it (it's this stuff called Salsa Lizano). But definitely the weirdest location for any of my meals in Costa Rica was the place outside the cloud forest.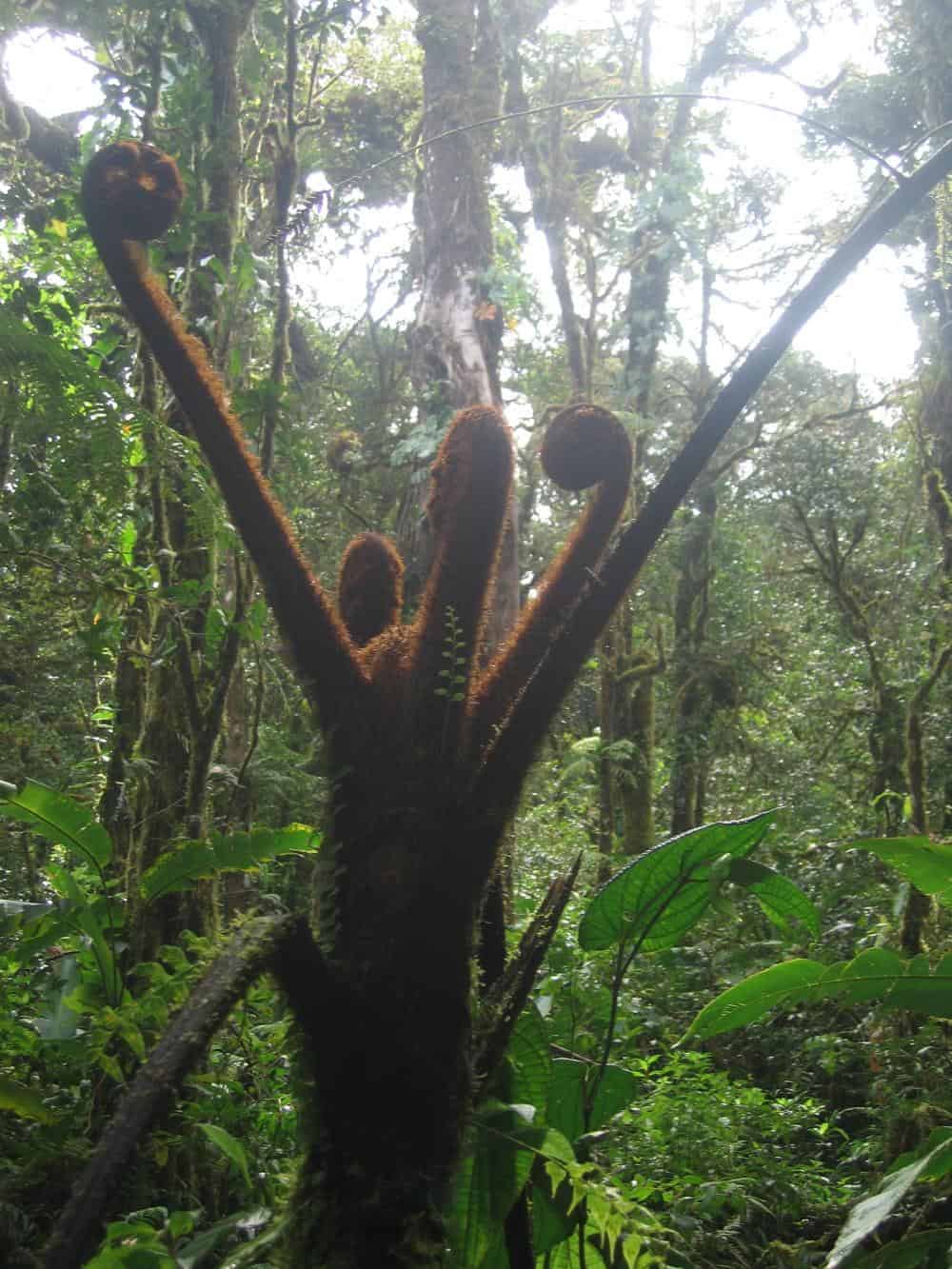 One day, the lovely folks at the lodge helped me arrange a tour of a cloud forest. A cloud forest is sort of like a rain forest but…um…cloudier? Apparently while rain forests experience a high level of rainfall (duh) cloud forests are pretty much perpetually covered in fog, and loads of moss (thanks wikipedia!). It was really cool. The guide really wanted to speak in Spanish, and I wanted to practice, so we did the whole thing in Spanish which means to this day I can't really tell you what I saw in there (and certainly not in English) but I can say it was definitely a surreal place.
After leaving the cloud forest, I had another surreal experience when we stopped off at this tiny restaurant for lunch. It was a restaurant being run out of this woman's house, and had only three things on the menu. I was fairly dubious about vegan options there, and sure enough there weren't even vegetarian options on the menu, but after I asked about vegan options and asked what I could and couldn't eat she made me a basic lunch of vegetables, rice and beans. It wasn't the best lunch I've ever had by any means, but it proved that you can eat vegan anywhere, if you just ask (and explain what you can/can't eat)!! She was more than willing to make me a vegan meal once I asked. It also led to a really long conversation with my taxi driver about how he wanted to stop eating meat, so I was encouraging him to think about his dietary choices. I think he was really shocked that someone could not only cut out meat but also eggs and dairy and still be alive, so I'm glad that we met and he could see that I am very much alive.
So if you ever end up in a cloud forest, or even on a glacier or anywhere else strange in the world, just ask if they can make you a vegan meal, and explain clearly what you do and don't eat. If you don't speak the local language, having some phrases written down will really help! You might be surprised what they are willing to whip up for you.
What's the weirdest place you've ever had a vegan meal? I'm curious!
This post is part of my Hungerlust series. Hungerlust. That insatiable craving for both food, and travel. Preferably combined. And vegan, naturally. My Vegan Month of Food (MoFo) theme this year is all about feeding it. We'll be doing a journey around the world (airfare not included – sorry!) from the comfort of our sofas – or desks, wherever you happen to be sitting.