Postcard-ready. That's the best way to describe Prague. I don't think I've ever been to a place that exuded more Old World Europe charm. On my free walking tour (if you're travelling around Europe, you should definitely check these out – pretty much every city has one, and it's paid on a donation basis; usually the guides are pretty great and you can find them through Google or your hostel), the guide told us that Prague was Hitler's favourite city. While that might not sound like a good thing, it meant that Hitler banned the Luftwaffe from bombing Prague. He had designs on the city, and planned to make it his capital and rule over all of Europe from its fairytale castle.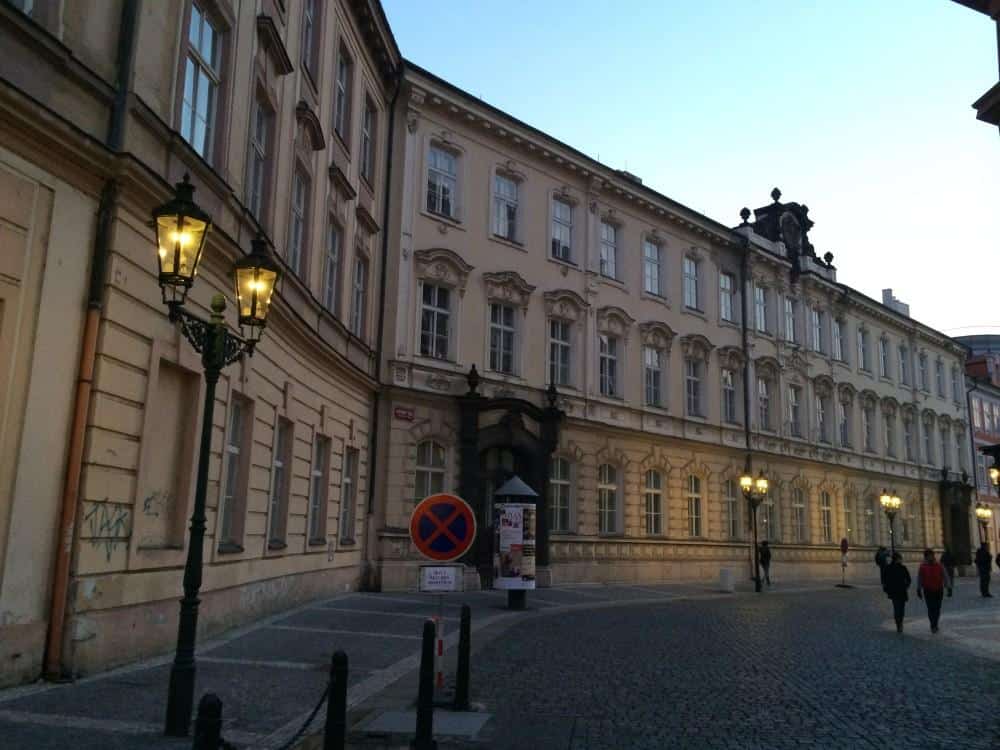 Thanks to Hitler's infatuation with the city, Prague has one of the best preserved centres in Europe (also a UNESCO world heritage site). There are of course a few architectural blemishes from the Communist era (read=incredibly ugly, squat grey buildings) but those tend to be outside the beautiful city centre.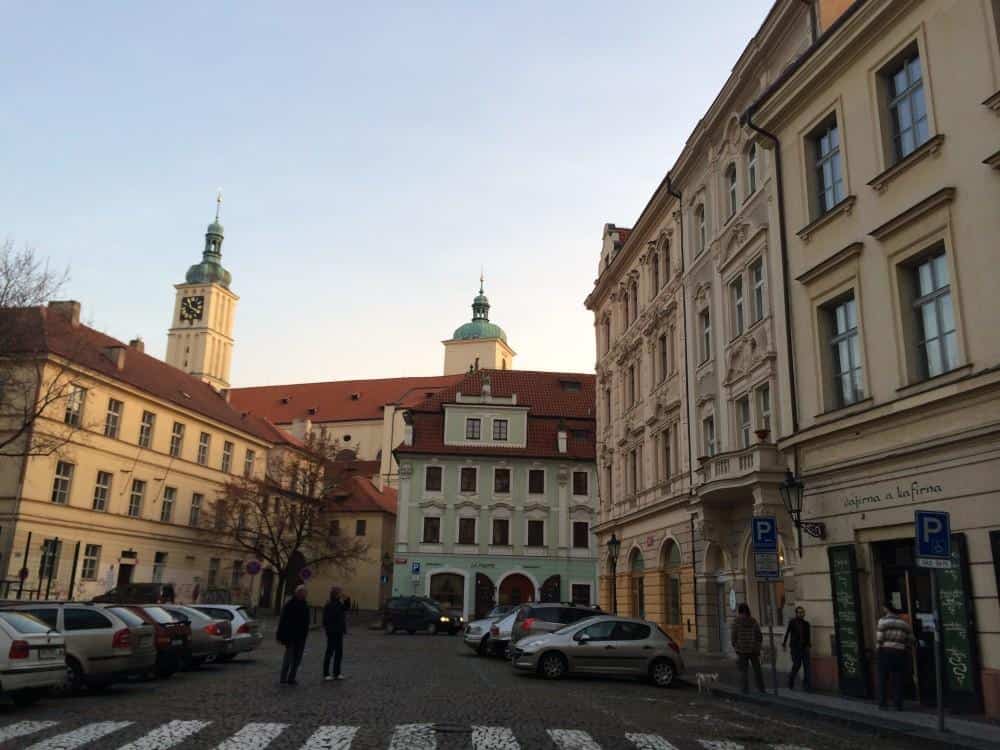 The city blew me away with its architecture. The food didn't quite blow me away, but I did find a few good places to eat, so if you're in Prague check these places out!
This was definitely the highlight of my trip to Prague. Moments is a completely vegan coffee shop/cafe. It's fairly small and it's the perfect sort of place to grab a light lunch or a coffee and cake and sit down to while away some time on the wifi. Know that it's a cafe and a lunch/coffee place with a relaxed vibe, not a dinner place or the place to take a romantic date.
There's a beautiful park just across the street with its lovely views of a perfect row of townhouses. The day I was there they only had a couple of food options, but I had a lovely caramelised leek tart and salad with a delicious slice of apple cake. It was light and perfect for having just gotten off the plane. I was actually a bit disappointed when I saw the leek tart on the menu; 'how exciting can a leek tart be'? Well, unbeknownst to me all this time, when caramelised, leek transforms into something amazing and the tart was gorgeous. Given how amazing caramelised onions are, I guess I shouldn't be surprised!
Radost FX Cafe
+ How to Find Vegan Breakfasts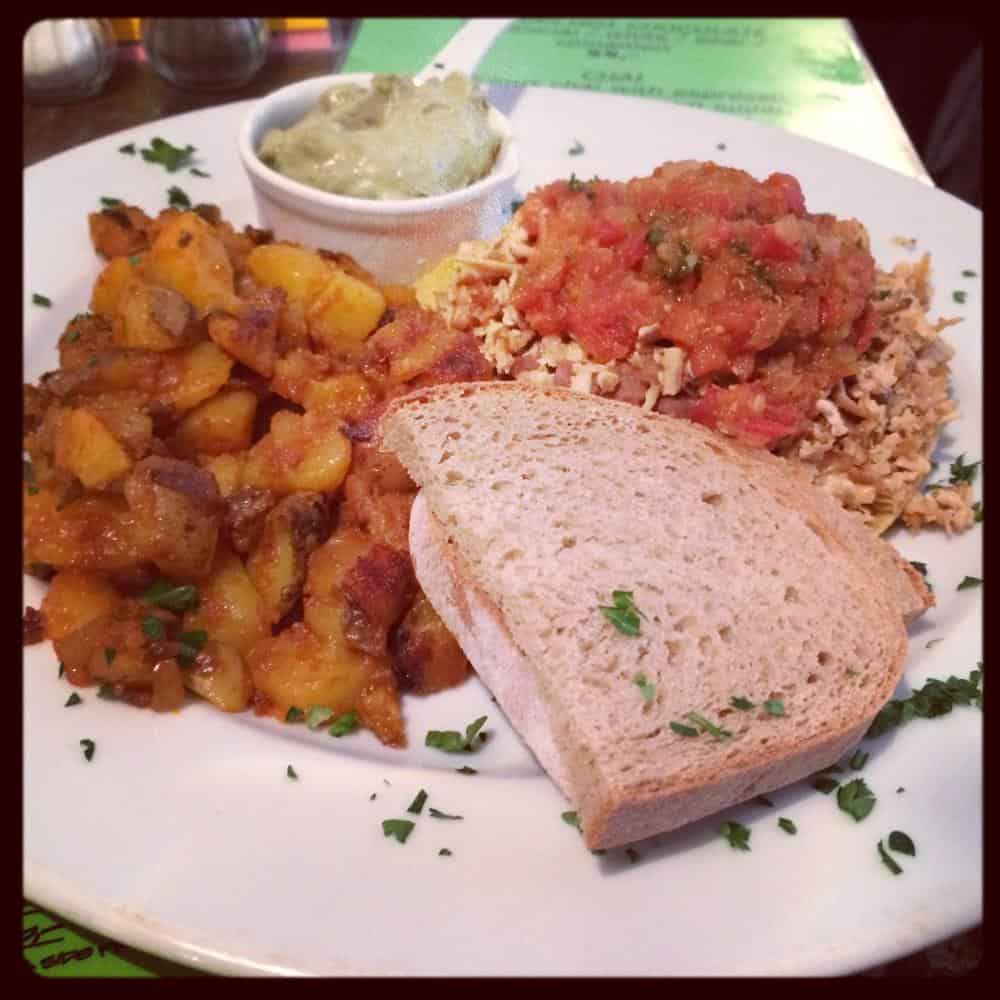 This place is not vegetarian or vegan, but I went there a couple of times because it was the only place I found in Prague that did a vegan brunch. Often, finding breakfast can be the hardest part of finding vegan food on the road – I find a lot of restaurants don't open until lunch or dinner, and places serving up traditional breakfasts often don't offer a vegan option.
If you're staying in a hotel or B&B that offers breakfasts you can usually get them to make you a vegan breakfast (email or call a week or so before you go because they might need to get special ingredients in for you!). If you're staying in an apartment, airbnb or hostel with a shared kitchen, buy some plant-based milk for the fridge and cereal or oatmeal and make your own breakfast – you'll save money and won't have to worry. If you don't have a kitchen, I'd suggest either buying a pack of small UHT cartons of soya or almond milk (you know, the ones that don't need to be refrigerated) – one for each morning you'll be there, plus a carton of cereal. Or, just grab some fruit and nuts from the nearest supermarket and keep those in your room. Before you go, Google the name of the city + vegan breakfast or name of the city + vegan brunch, and if you do find a place like Radost FX that does vegan brunch, grab it!! First of all, you don't always get that chance. But second, a leisurely brunch screams vacation!
Radost wasn't the best vegan brunch I've ever had, but this combo of spiced potatoes and guacamole (plus a soya latte – was so happy they had soya milk!) made me really happy, because I was happy to have brunch. It's a strange place, because it's a small cafe upstairs and a nightclub downstairs, which gives it an unusual vibe for a restaurant!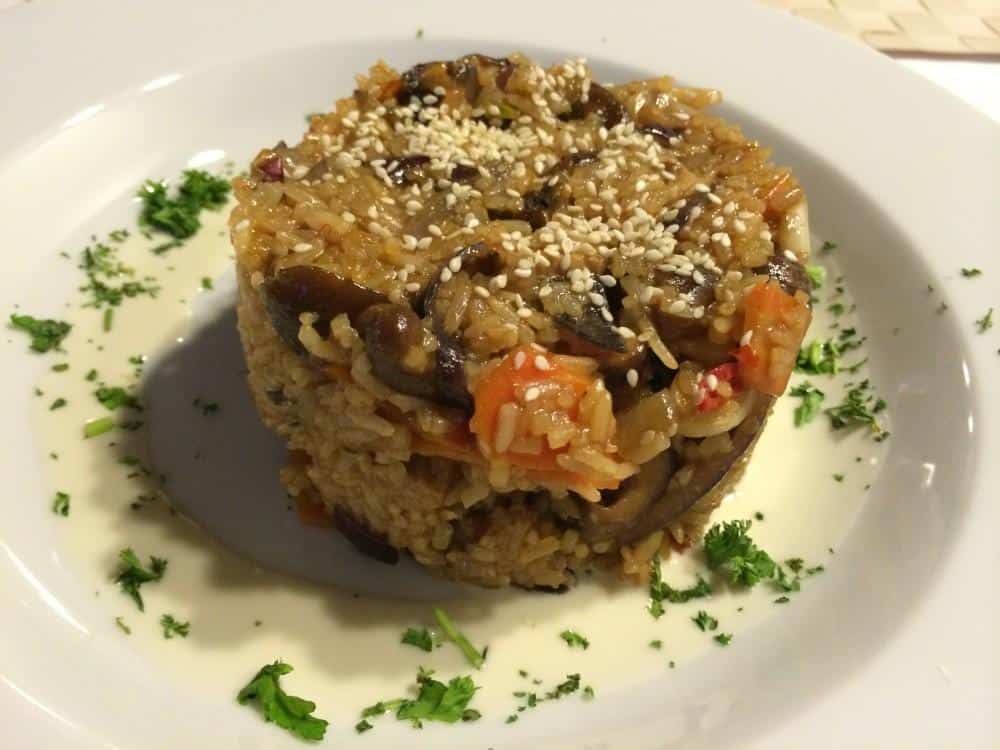 LoVeg was a huge disappointment. Perhaps I just went on an off day and ordered the wrong thing – and I have to admit, the menu was very limited so I didn't have much choice, but I was quite disappointed after reading so many good reviews. I arrived around 2pm for lunch, found it completely packed. When I asked if there were any seats upstairs, the host quickly told me they were completely full, but I should come back in about half an hour. I went to a tea shop nearby and lingered for longer (just in case) and went back about an hour later. They were still jam-packed, and this time the host told me I'd just have to wait, when I spotted a seat in the corner and asked about it. They seemed really confused about whether the table was free (which was a bit odd) but in the end decided it was, and seated me there.
This is where the disappointments really started to roll in. The reason I'd chosen LoVeg was to experience a bit of veganised traditional cuisine, but they were out of all the Czech dishes that day. So I ordered a mushroom risotto – that was obviously a mistake, as I'm not a big fan of mushrooms and this contained three types but at that point it was the only vegan item left on the menu. The waiter warned me it would take a long time to prepare, and advised me to order hummus as a starter. I'm glad I did, because he really wasn't joking when he said it would take a long time. If I hadn't had that hummus, I probably would have ended up eating my own finger. Now maybe I'm just being a bit snobby here, but I am sick of hummus as the go-to vegan option in restaurants. I actually really love hummus, far more than most; in fact at university I went through a year-long phase where I ate hummus every single day. You can ask my roommate. Our shared mini-fridge was never without it. We were always fully stocked. But at this point, I'm pretty sick of hummus being the default vegan option in most restaurants, so I have to admit I was pretty bored with this starter. The mushroom main that followed was a disappointment to me, too, although I imagine the seasoned mushroom lover would enjoy it.
This is a health food shop, which used to be all vegan but sadly isn't any more. I found it really useful for picking up little snacks here and there, as the I.P. Pavlova location was near my hostel, and I got a very handy single serving packet of vegan pate there (which I had, along with bread, fruit and potato chips on the train I took from Prague to Vienna). I also discovered one of my favourite travel products ever: powdered soya creamer for coffee. It was under a Euro per bag, so I bought a couple of bags and have been using them on my holidays ever since – perfect for taking with you because it's small, doesn't count against your liquid limit and you can use it anywhere you can't get soya milk for your coffee!
Given the wealth of good reviews about Maitrea, I feel like I definitely mis-ordered here. I can't for the life of me remember why I ordered a tomato sauce pasta dish (so boring!) but from what I recall, it sounded much more exciting on the menu, but as a vegan option arrived with most components taken out. (Sometimes it's very disappointing at restaurants when they simply remove non-vegan items from a dish, but don't replace it with anything!) They had replaced the cheese on top of the pasta with mix of black and white sesame seeds, which I frankly found a little confusing… But I've heard so many good things about the place that I feel like it must be better than my experience there.
This was a hidden gem of a tiny bar, outside the main touristy bits. It felt a little bit strange as they were gearing up for a private party that night and therefore the restaurant was technically closed – but they very nicely let me eat a quick meal there before the party. I had a tasty Thai curry, and even if I felt slightly strange being the only person in the restaurant, the curry made up for it!
Have you been to LoVeg or Maitrea? Did you have better experiences?