Earlier this year, I visited Stockholm, where I was lucky enough to be shown some of Stockholm's top veggie restaurants by a very clued-up colleague at my old company.
If you're visiting Stockholm, here are some of my top recommendations!  I'd also suggest checking out this great Swedish vegan site, which has an up-to-date Google map of not just veggie and vegan restaurants but tonnes of vegan-friendly options: Veganistan.
I was surprised by the range of vegan options in Stockholm.  It seems like veganism has grown quite a bit in the city recently, particular in terms of raw food options.  Even the coffee shop in the shopping centre where the office was located offered raw cookies (and one of my colleagues was kind enough to buy some for me for our fika).
Fika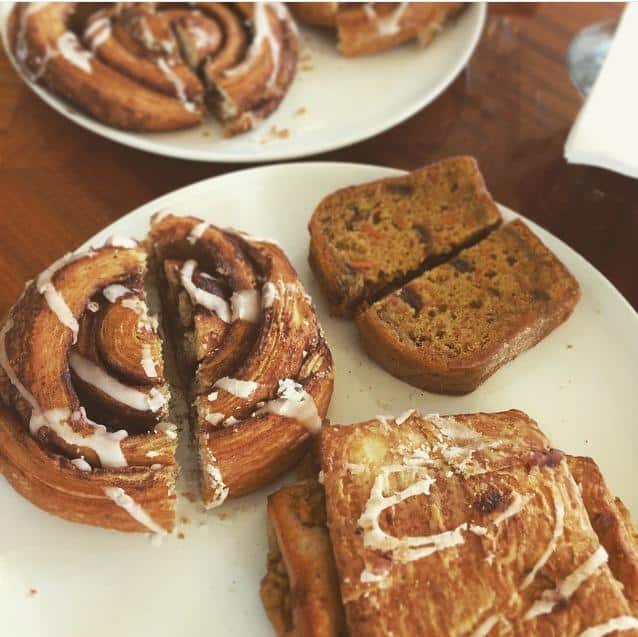 If you're not sure what a 'fika' is, you definitely need to experience this.  It's basically the best idea ever – everyone stops whatever they're doing midmorning and/or midafternoon, and convenes for a coffee and cake break.  Apparently it's not as widely done as it used to be, when entire offices would stop working to take fika, but it's still popular.  And a brilliant idea it is.  STOP WHAT YOU'RE DOING! CAKE TIME!  Who can argue with that?
For the best fika experience, I recommend visiting Sattva Naturbageriet.  They have several locations around Stockholm.  Stockholm is a city set across several islands and they have bakeries in the Old Town (Gamla Stan) and also in super-trendy and hipster-chic Sodermalm.  Whichever location you end up in, have a coffee and try the cinnamon buns, which are made Nordic-style with the addition of cardamom.  They are less sweet than their American counterparts and contain more spices – and are absolutely delicious!  They also won over some non-vegans I gave them to, who seemed somewhat surprised to find they taste just like non-vegan cinnamon buns.
Chutney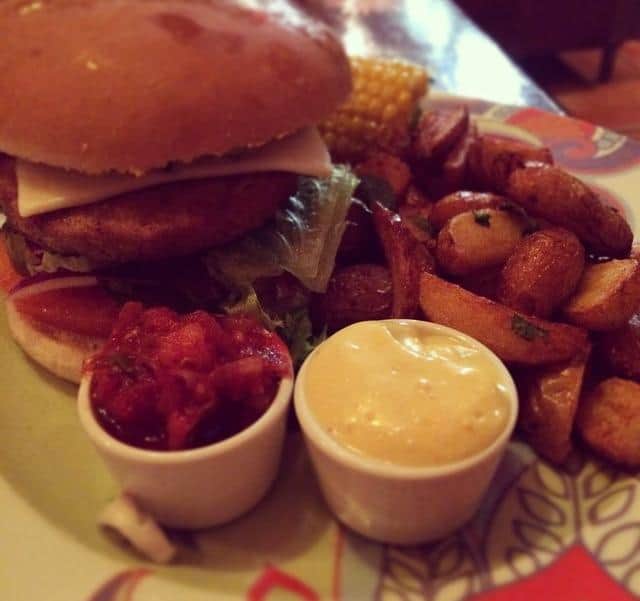 Chutney is a cosy little basement bar and restaurant in hipster mecca Sodermalm.  From the name, I expected Indian food, but in fact they have great burgers.  I got the vegan cheeseburger, which was one of the biggest burgers I've ever had.  Success!  I had to check twice that they'd given me the right burger because the vegan cheese was so cheesy.  Burger and drinks here recommended.  They also do desserts and an unlimited salad bar (mostly vegan but check) – but don't fill up on salad because you'll want space for all the burger!
Lao Wai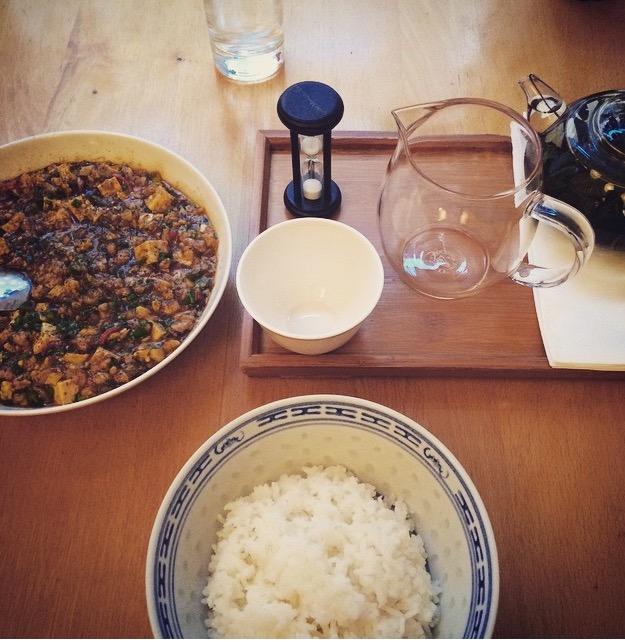 Go here for the excellent Chinese food and the fantastic ice creams, not the service.  I went three times before I finally managed to get a table, and each time the staff was so disinterested (or perhaps it was a language barrier) that I was nearly put off, but kept remembering the glowing recommendations.  It was worth it in the end, because I had the best ma po tofu I've ever had.  Ma po tofu is a slightly spicy tofu dish usually made with soft tofu flavoured chilli and fermented black bean sauce with pork or beef.  At Lao Wai, they make it with mock meat and magic, as far as I can tell.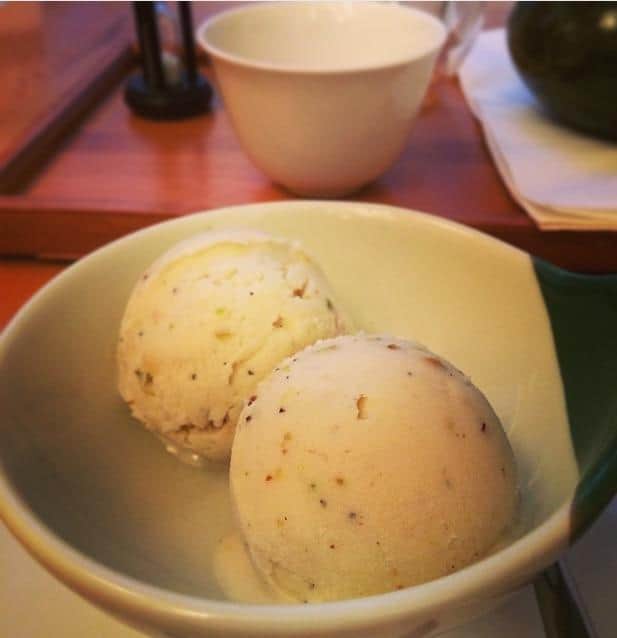 The best part of my Lao Wai experience – and my Stockholm trip – was their ice cream menu.  They part with traditional Chinese desserts here, and marry Asian and Swedish flavours in their homemade ice creams.  There were only six flavours but I still had difficulty choosing.  If you like cardamom, you HAVE to try the pistachio-cardamom-bergamot ice cream.  It is the most interesting ice cream flavour I think I've ever had.
Other places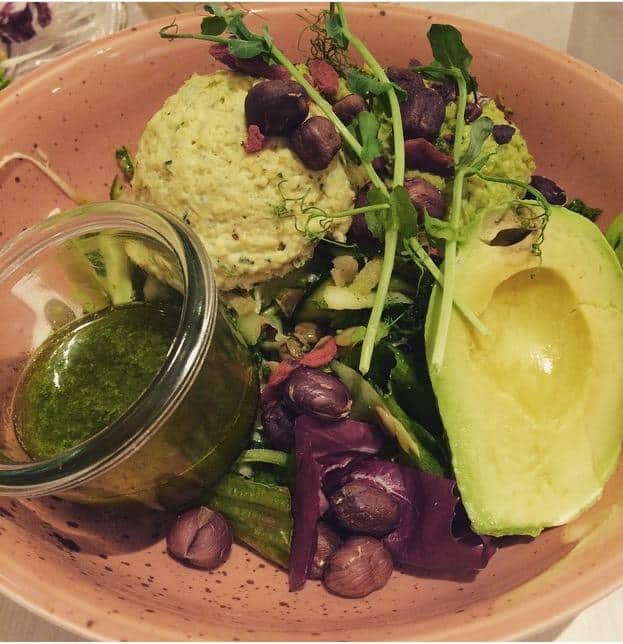 In an expensive city, FLFL is a good budget option.  They are not completely vegan but do tasty vegan falafel wraps.
Sally Voltaire & Systra is a little restaurant in the huge department store Ahlens City.  They serve fish but also have vegan options or vegetarian dishes that they're usually happy to veganise.  They usually have a selection of salads. (Good option if you're travelling with someone who doesn't want to go to a veggie restaurant)
I heard really great reviews of Hermans restaurant, their summer BBQs and their harbour views but it was closed for refurbishment when I was there.
Most coffee shops carry soya milk.  People generally speak excellent English (better than some native speakers!) so you don't need to worry about communicating.
Have you been to Stockholm?  Did you go to Hermans?  What did I miss out on?