This is the penultimate recipe in my Veganising Great British Bakeoff series. Having never watched the series before, a flurry of social media postings about vegan baking this series prompted me to tune in. Unfortunately, as it turned out, there wasn't any vegan baking in the show; one of the contestants did a vegan challenge a few years ago and enjoys vegan baking now but none of his bakes on the show were vegan. Instead, a friend challenged me to veganise Bakeoff creations, and so I ended up foraying into the field of British baking.
I've never made any of these dishes previously, and some of them I've never even tasted (I was already vegan when I moved to London in 2008, so many quintessential British baked goods have passed me by — before veganising roulade, for example, I'd never had a roulade). This week's bake, fondant fancies, were also completely new to me. I've never seen a vegan fondant fancy in a shop or bakery in the UK, and therefore I've never tried one, but I got the idea immediately. Sponge cake, coated in buttercream, and topped with fondant.
It was only after I made the cakes that a friend informed me that normally they come with a lump of cream on top of the cake and under the fondant. Oops. Never mind, they still looked and tasted great.
For the sponge, I made a sponge cake using aquafaba. If you haven't used this magical ingredient yet, it's the liquid that comes in a tin of chickpea (or the water left from cooking dried chickpeas) and believe it or not, it whips up just like egg whites (really!). It was discovered in 2014, and the world's first aquafaba cookbook came out a few years ago thanks to Zsu's endless experimenting.
To make fondant fancies, you also need buttercream. It coats the cake to give it a smoother finish. If you just throw fondant on your cake, you'll get a lumpy appearance around the sides and tops. Not that that matters as long as it tastes good! Still, it adds some extra deliciousness to the cake. :) I used a chocolate buttercream based on the recipe from Vegan Cupcakes Take Over The World and substituted salted caramel flavouring for vanilla extract.
And for the fondant (the final layer of icing), I added salted caramel flavouring (Tesco own brand is vegan). I also added green food colouring (again, Tesco own brand green is vegan – some of the other colours too though I'm not sure which ones, check out your favourite supermarket's vegan list to see which of the supermarket's products are vegan), and topped it with melted chocolate drizzle.
The recipe I used called for the fondant to be broken down in a mixer with added water, but this caused my fondant not to fully set until it was put in the fridge (and it went soft again after being taken out). I'd suggest you use the absolute minimum amount of water to get your fondant smooth! Though if your fondant ends up a bit soft, don't worry. It will still taste great.
You can either bake your cake in two 6-inch cake tins (as recommended) or break with the rules like me and bake it in a bigger 8-inch tin. (Or possibly even a 10-inch tin although I suspect that would result in a flat cake.) Not knowing the size of the cake tin we have, this resulted in the following conversation with my flatmate:
"What size cake tin do you think this is? An average sized penis? An above average one? Or a GIANT ONE?"
We eventually broke out the measuring tape, although that wasn't as amusing as trying to guess.
Be prepared for your kitchen to look like it's been hit by an icing explosion. I tried to snap a picture for you but unfortunately I'd cleaned up enough of the mess for it no longer to look impressive, but suffice to say there was green fondant icing on pretty much every available surface, and parts of the walls.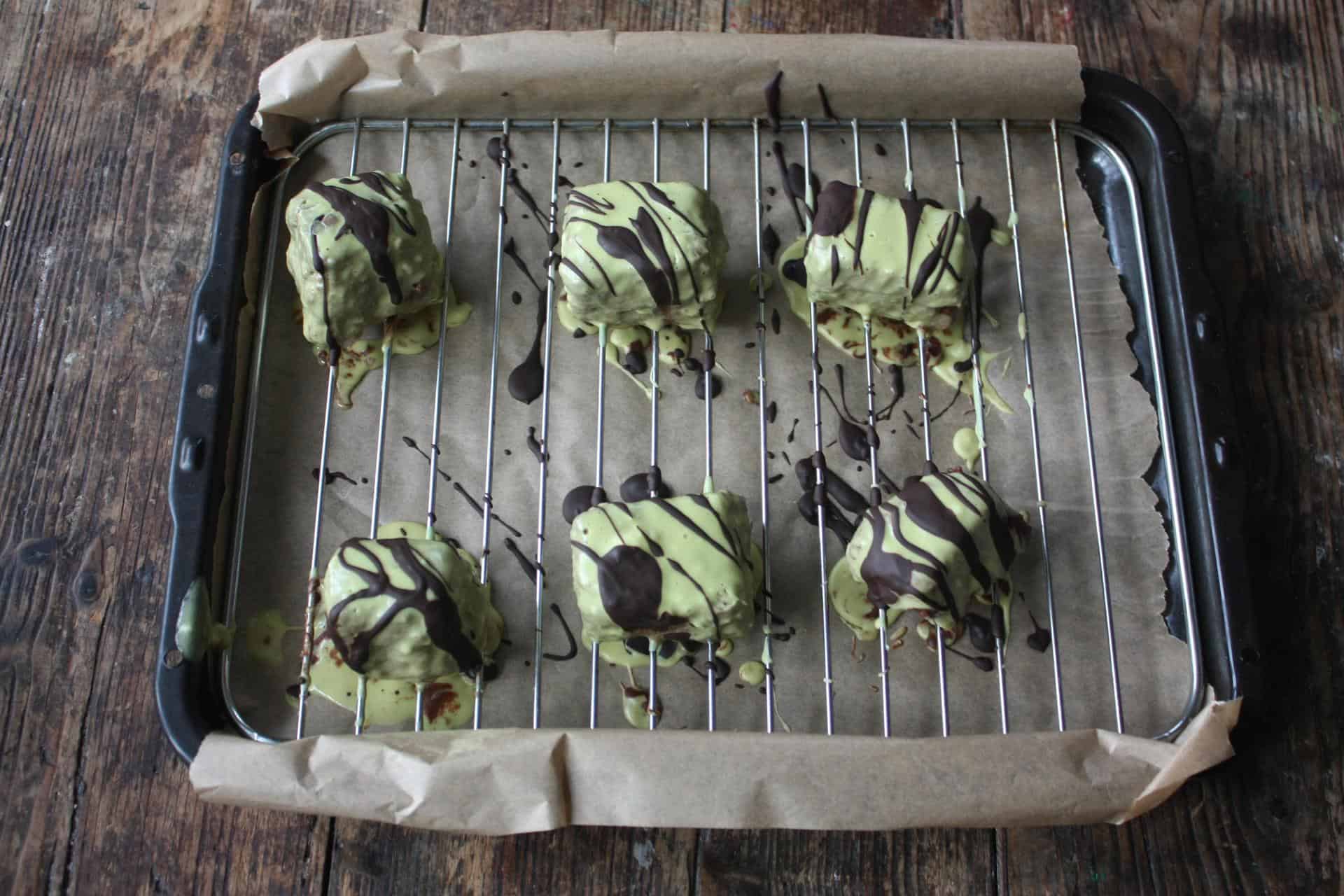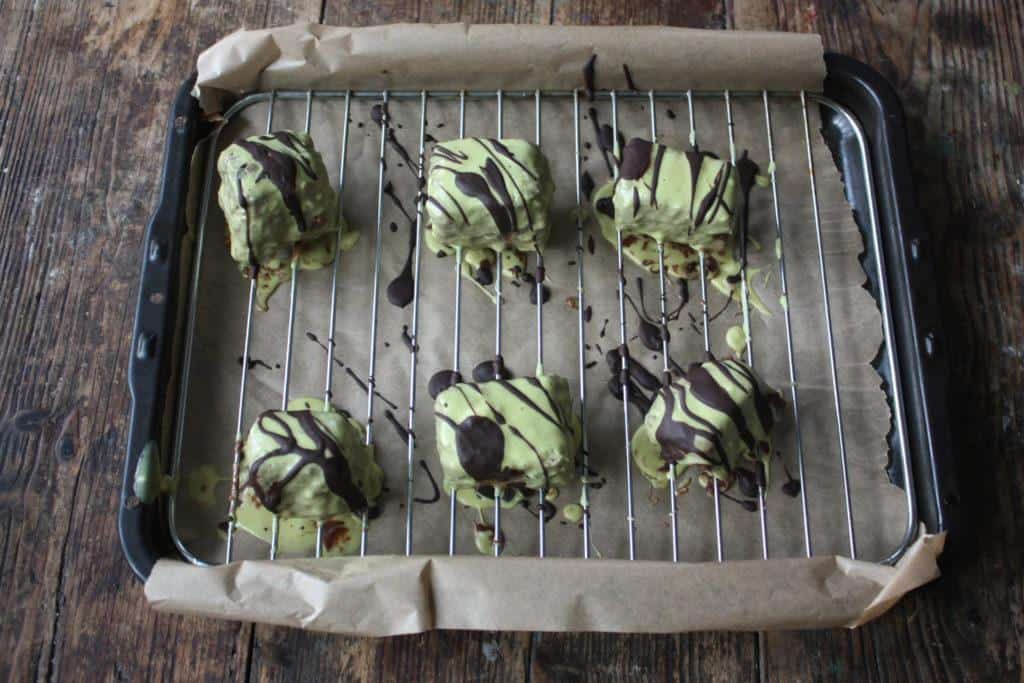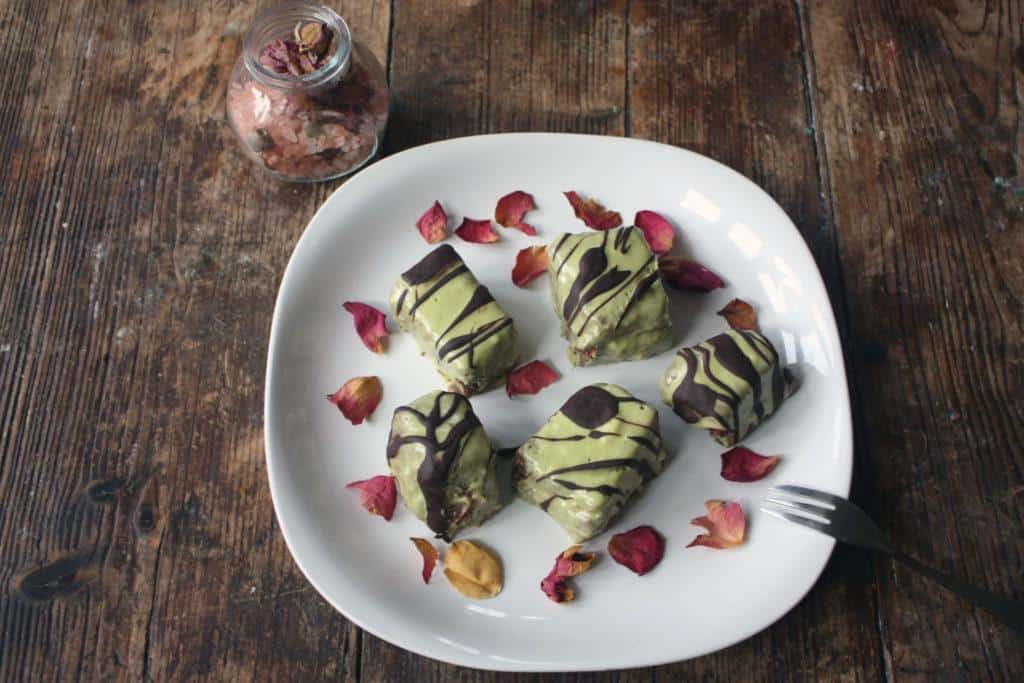 Vegan Fondant Fancies with Chocolate Buttercream and Salted Caramel Fondant
2016-10-24 12:54:53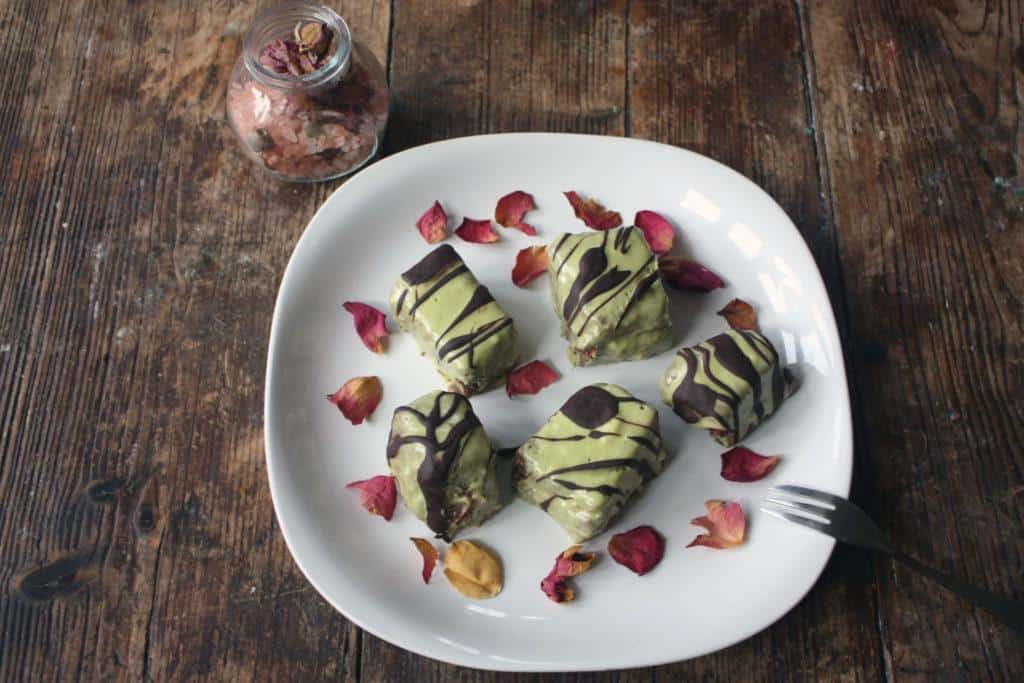 Two layers of vegan vanilla sponge cake coated in chocolate buttercream and covered in salted caramel fondant
For the vanilla sponge cake
Liquid from 1 tin of chickpeas

1 tsp white wine or apple cider vinegar

2 tbsp vegetable oil

1 tsp vanilla extract

1.5 cups plain flour

1 tsp baking powder

1/4 tsp baking soda (bicarbonate of soda)
For the chocolate buttercream frosting
1/4 cup vegan margarine

1/4 cup unsweetened cocoa powder

1.25 cups icing sugar

1.5 tbsp nondairy milk

3/4 tsp vegan salted caramel flavour
For the salted caramel fondant
500g pack of vegan white fondant icing

1-2 tsp salted caramel flavouring (to taste)

Vegan food colouring (I used green; you can use whatever colour you want but it will need to be somewhat dark to cover up the brown salted caramel extract)

Enough water to make the icing pourable

50g melted vegan dark chocolate, to drizzle on top
Add ingredients to shopping list
If you don't have Buy Me a Pie! app installed you'll see the list with ingredients right after downloading it
For the sponge cake
The day before (or 4 hours before), drain the liquid from your tin of chickpeas and put in a saucepan over medium heat. Reduce down by about a third. Put in the fridge to cool. Once it's cool, you can proceed with the rest of the recipe.
Preheat the oven to 180 C/350 F/gas mark 4.
In a large mixing bowl, whip the chickpea liquid and vinegar with an electric mixer (either a stand mixer or hand mixer) on the setting used for whipping eggs. Whip for around ten minutes, until stiff peaks form. You can test this by dipping the end of the beater in the mixture and holding it upside down. If the mix stands straight up, it's in the stiff peaks stage (if it falls to one side, it's a soft peak).
Add the sugar a tablespoon at a time (more or less) while beating it with the electric mixer, until the mixture is thick and shiny.
Now add the oil, while beating, and then the vanilla extract, until it's incorporated.
In a separate bowl, mix the flour, baking powder and bicarbonate of soda (baking soda).
At this point, add the flour into the whipped aquafaba mixture and fold in gently with a spatula, being careful not to knock too much air out of the whipped aquafaba. Your goal should be to just combine the mixture, but be careful not to over-mix. If you knock too much air out the mixture, your cake won't rise properly.
Grease an 8 inch cake tin and carefully spoon the batter into the tin.
Bake for 25 to 35 minutes, until a toothpick inserted into the cake comes out clean.
Set aside to cool while you prepare the buttercream.
For the buttercream frosting
Put the margarine and the cocoa powder in a mixing bowl and cream them together.
Once they're combined, add the icing sugar by the half cup along with the nondairy milk by the half tablespoon (you will end up adding one-quarter of a cup of icing sugar in the final mixing stage; that's fine). Mix until combined.
Add the salted caramel flavour and stir to combine.
For the fondant
Break up the fondant into small pieces and place in a large mixing bowl. Mix with a stand or hand mixer, starting on a low setting and working your way up, as it breaks into smaller pieces. Add a bit of water (as little as possible) to help it become a liquid, spreadable icing. Once it's mixed enough to turn liquidy, add the salted caramel flavour to taste, and the colouring of your choice.
To assemble the fondant fancies
Cut the sides off the sponge cake until you're left with a square cake (or be sensible and bake in a square or rectangular cake tin if you own one - I don't).
Carefully cut the top off the cake if it's not quite flat on top (don't worry, it's normal!) until you're left with a nice, flat cake top. Now, cut the cake into squares or rectangles. Try to make them even if possible so you can stack them on top of each other to make a double layer (or just make a matching square or rectangular piece for each piece you cut).
Coat the top of one-half of a matching square cake set with chocolate buttercream frosting and stick the other cake half on top. Now coat the sides of the cake and top of it with more chocolate buttercream, aiming to make it as smooth as possible.
Holding the bottom of the cake as carefully as possible (or by sticking a fork in the bottom of the cake) hold the cake over a bowl and spoon fondant icing on top of it so it covers the top and sides (you may have to carefully spoon fondant over the sides, too). Set aside on a wire rack to set. The fondant will drip so it's best to put the wire rack on a surface you don't mind getting covered in icing, or which you have lined with parchment paper or foil.
Repeat with each fondant fancy.
To make the chocolate drizzle, melt a few squares of a vegan chocolate bar over a bain marie or double boiler (or in a microwave) and then drizzle on top of the fondant fancies.
Put the fondant fancies aside or in the fridge until the fondant and drizzled chocolate has set.
Notes
You'll need to find vegan salted caramel flavouring and vegan fondant (check for vegan symbol or "suitable for vegans" on label).
If you don't want to add water to your fondant (which may result in the fondant not setting properly), I'm betting you can melt your fondant in a saucepan. Be careful not to get it too hot or you may burn your fingers and melt off the buttercream when you pour the fondant on the cake. I'm just guessing on that, but it's probably what would happen.
Print
The Vegan Word https://theveganword.com/
As an Amazon Associate I earn from qualifying purchases.