This was nearly an article about the worst place I've been as a vegan – but thanks to the generosity of one woman, it's about one of the best vegan experiences I've had as a vegan traveler. I will never ceased to be amazed by helpful and kind people have been to me on my travels, particularly fellow vegans. Travel has the capacity to remind you how interdependent we are on other humans, and demonstrate that in general, humanity's heart is kind, and people will go out of their way to assist you. This isn't so much a review of vegan Sicily, as a letter of gratitude to the lovely Laura.
Ferragosto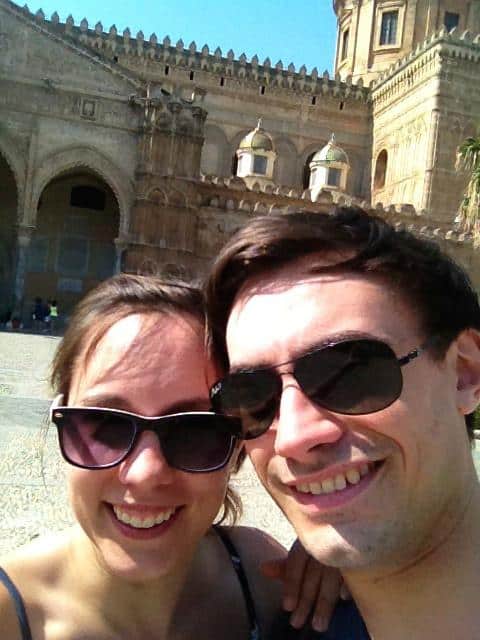 I arrived in Palermo with my boyfriend for our first ever holiday in Sicily in mid-August of last year. It was baking hot and while there wasn't a huge number of veggie places there, I had a list of vegetarian and vegan restaurants I was really excited to try. First up on my list as a vegan cafe and bookstore, Watership Down (which sadly has now closed). We dropped off our stuff at the apartment we'd rented, picked up a few essentials at the health food shop (Natura Si) which by happy coincidence was located around the corner from our apartment, and set off for the vegan place. Sadly, when we got there it was closed with a sign saying they were closed for 'ferragosto – August holidays'. So we proceeded to another vegetarian place on my list, Freschette. It, too, was closed. That's when we found out that many of the restaurants, cafes and bars in Sicily, and many other parts of Italy, close for all or part of August, so the owners can go on holiday. We'd picked the worst time to go to Sicily! (Mistake number 1)
We meet Laura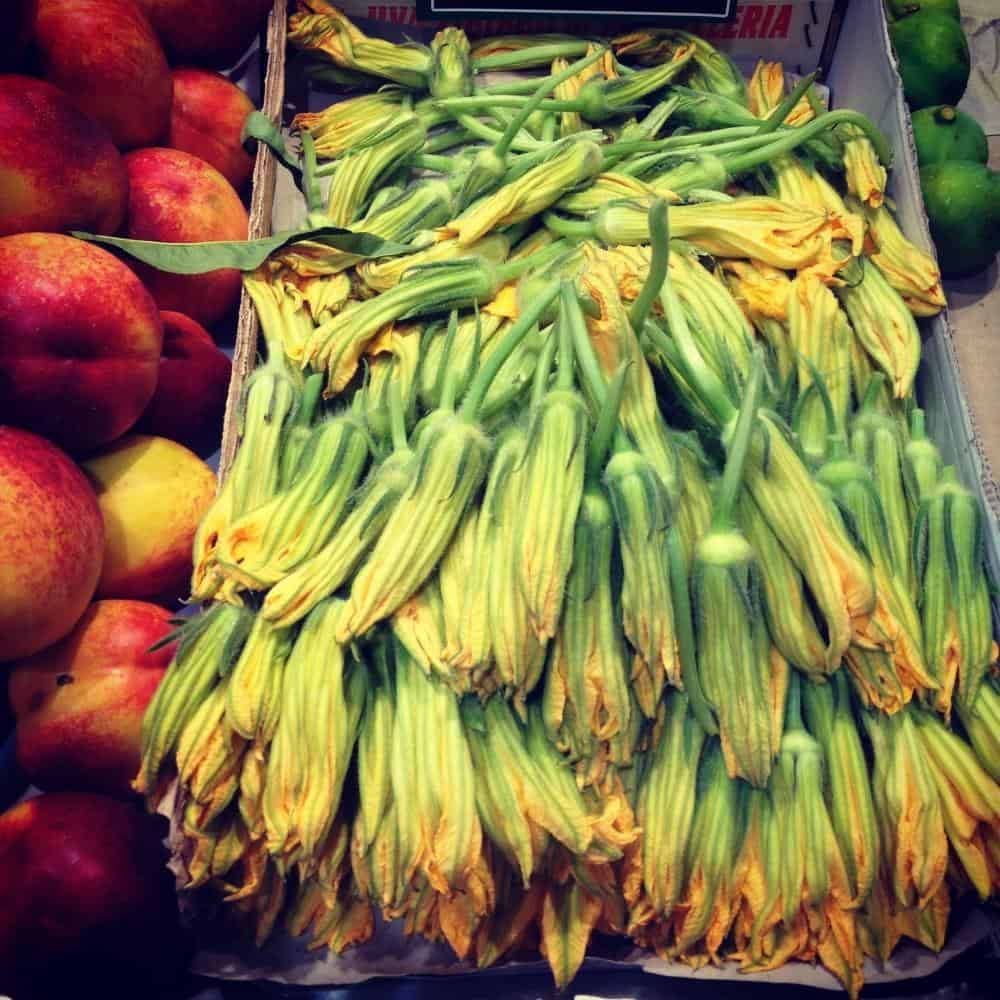 The next couple of days, we enjoyed meals in our apartment, cooked with delicious ingredients from the local market, including some more unusual ingredients like zucchini blossoms (courgette flowers), wandered around the city, and took in a hidden beach. While all our homemade meals were great, we were on vacation, and we wanted someone else to wait on us at least one night! So I consulted the Palermo Vegetariana site and Google map I'd found (and which an Italian friend kindly translated for me). Every vegetarian restaurant was closed; the only places that hadn't shut down for Italy's great August temporary migration were Chinese and Indian restaurants.
While those would make a fine option, and at home Indian and Chinese foods are some of my favourites, I just didn't really fancy going to Italy (Italy! Home of pasta and pizza and risotto and all sorts of wonders) and eating Chinese or Indian. So we thought we'd probably end up going to a non-vegetarian restaurant, where I was fairly certain they could probably make something vegan (or maybe even had something accidentally vegan) already on the menu. However I was also pretty sure I wouldn't be able to communicate this to anyone because we hadn't met anyone who spoke English, and I had neglected to bring a translation of "I'm vegan" into Italian (mistake number 2!) because I was so confident there were plenty of vegetarian restaurants. After all, I'd been to Dubrovnik, where there was only one vegetarian restaurant and no health food shops, and survived fine.
Then, while we were debating where to go for dinner, I received a Facebook friend request…from someone whose name I didn't recognise, but who was based in Sicily. (I think it was the owner of Palermo Vegetariana, who I'd emailed in desperation a bit earlier after consulting the map) Shortly after that, a restaurant called Tartaruga (which means 'turtle' in Italian) came up on my feed. Thanks to Google translate, I saw it was a new slow food restaurant that had just opened. I dug a little deeper, and discovered it was a vegetarian slow food restaurant! I emailed and booked a table, which was a little difficult because the owner didn't speak English. We arrived that evening, uncertain whether there would even be a table for us, and were welcomed with open arms by owner Laura, who was effusive and kind. While she didn't speak much English, we were able to request vegan meals, and she even treated us to some samples of a new vegan cheese she was just trying to make, as well as glasses of wine on the house! The food was beautiful and so fresh; you could tell that only the finest vegetables were used, like in all good Italian food. We left full, having eaten three courses, plus wine and vegan cheese, for only 25 Euros total (for 2 people!).
And this is how I learned that what you should do as a vegan traveler when you run out of options is: reach out! Reach out via Twitter, via Facebook, reach out to your whole vegan network and even to strangers, and see if anyone knows anyone or any places locally!
We return to Tartaruga (again and again)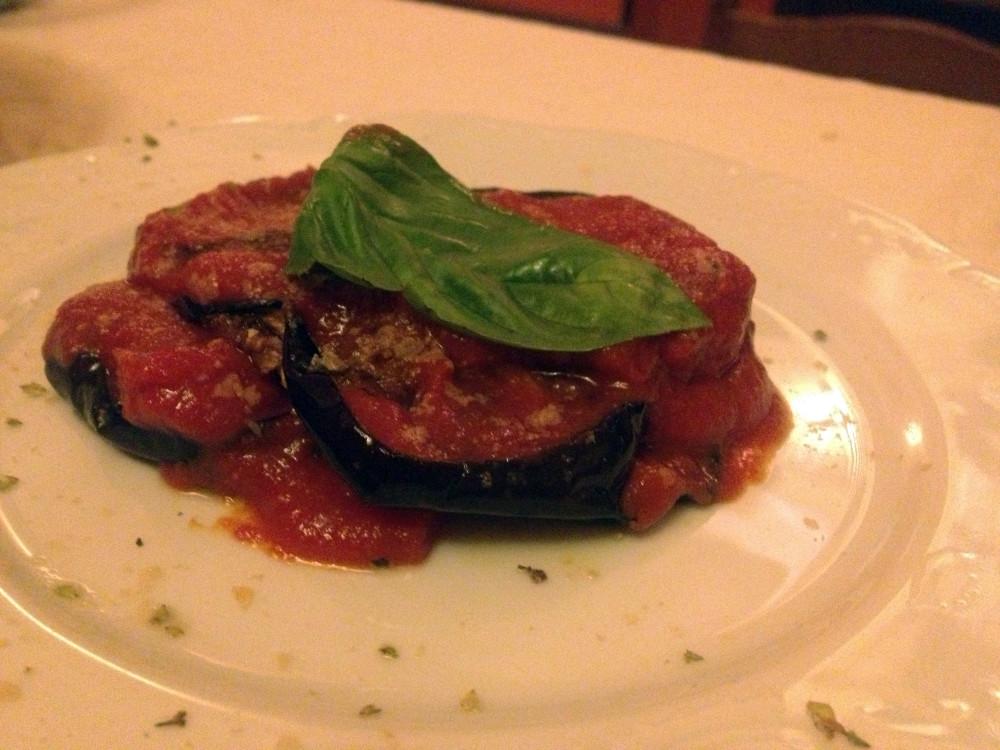 We ended up eating at Tartaruga pretty much every night, apart from one day when we went to Favignana, a beautiful island off the coast of Sicily (we brought a picnic with us that we made with ingredients from health food shop Natura Si), and once to E'Cotta, another new vegetarian restaurant (not yet listed on Palermo Vegetariana map, which the owner of Palermo Vegetariana told me about when he replied to my email). Although E'Cotta was okay, we just didn't enjoy it was much as Tartaruga – and not just because of the food, but also because of Laura's kindness! Every time we went to Tartaruga, Laura made us feel incredibly welcome, and always surprised us with a little something extra (like a dessert appearing on our table without us ordering it, or giving us a main course for free). The day before we left Sicily, we went to Tartaruga and managed to communicate to Laura in broken English that we were going back to London. She seemed genuinely very sad to see us go, and gave us a huge goodbye. We were sad to leave, too.
I still follow Tartaruga on Facebook, and they seem to be doing well. They do a lot of community events, and Happycow and Palermo Vegetariana both say that it's completely vegan now.
I know even if Laura found this page she probably couldn't read it, but I wanted to say: thank you, Laura. For the amazing food, but also for the sense of community and kindness, and helping out a hungry vegan!
If you're ever in Sicily, please visit Tartaruga, or if you know anyone who's going, recommend it to them!
What good experiences have you had while traveling, in restuarants or elsewhere? What have you done when you're been stuck and can't find vegan options?
—
This post was part of my Hungerlust series: Hungerlust. That insatiable craving for both food, and travel. Preferably combined. And vegan, naturally. My Vegan MoFo theme this year is all about feeding it. We'll be doing a journey around the world (airfare not included – sorry!) from the comfort of our sofas – or desks, wherever you happen to be sitting.