Scotland: land of kilts, haggis and…hummus? Maybe not, but it certainly seemed that way to me due to a dearth of vegan restaurants in some of the more far-flung places I visited. Actually, my internet research showed me that you can get a vegan restaurant meal everywhere I visited, but because I visited off-season, many restaurants were closed. It was okay, because I made do with what I could source from supermarkets, and frankly, most British supermarkets are pretty well stocked with vegan supplies! Also, supermarket eating is a lot cheaper, which means I can spend more on coffee! :)
Apart from the hummus, Scotland was one of those rare places that was pretty much exactly as I pictured it would be, from the landscapes to the signage in Gaelic (30% of Inverness's population is fluent in Gaelic) saying "failte gu" (welcome) everywhere I went. I'd been to Edinburgh before, but never further north. My first morning in Inverness I was walking down the high street trying to find the free walking tour (which, sadly, didn't run that day), and all of the sudden a bagpipe and drum band began marching down the street: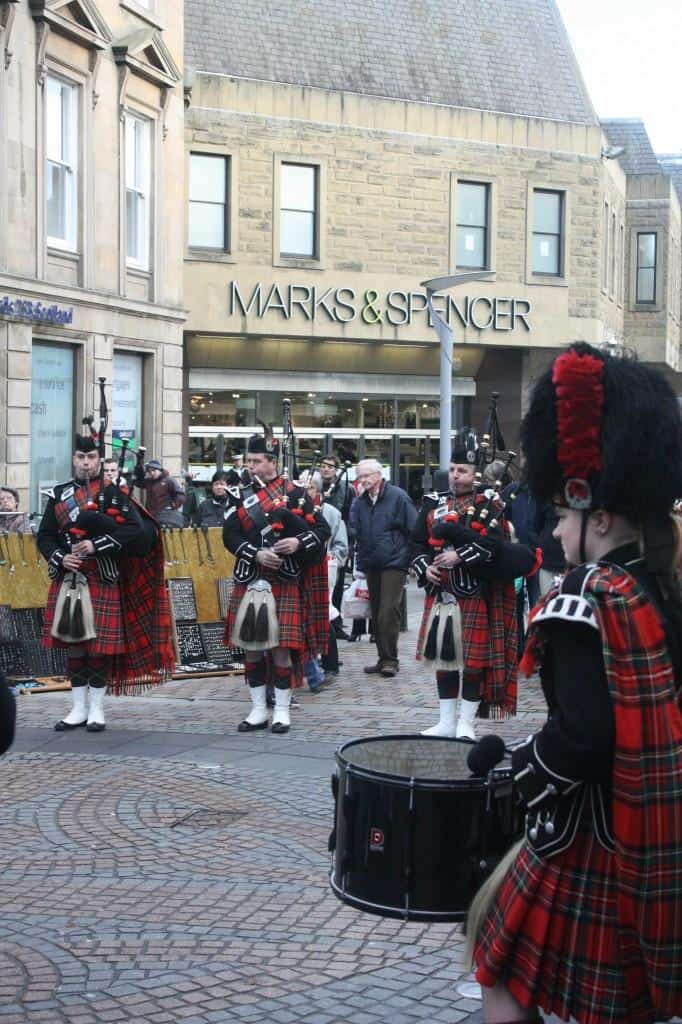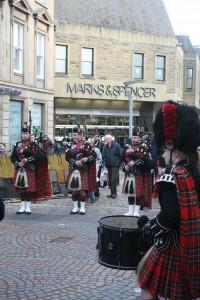 Inverness, capital of the Highlands, is a picturesque little town, although many of the older buildings were destroyed in the city's violent past. Therefore, many of the buildings are fairly modern (including the imposing castle, which I believe is less than two hundred years old). Some of the 60s-era concrete buildings aren't very attractive, but the town's setting, nestled by the River Ness and with a mountainous backdrop, mean that it's still beautiful. I even had a river view from my budget single room at the Glen Mhor hotel! I went for a walk to the islands on the river (about 20 minutes walk downstream from the castle), which I'd heard were pretty. It was full of families and people walking their dogs. The setting was indeed beautiful, especially as some of the leaves were still changing colour.
Inverness, taken from the river: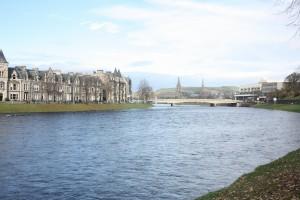 View from my room:
Inverness Castle: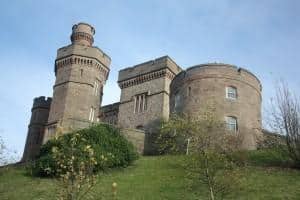 Pictures from my walk on the islands in the River Ness: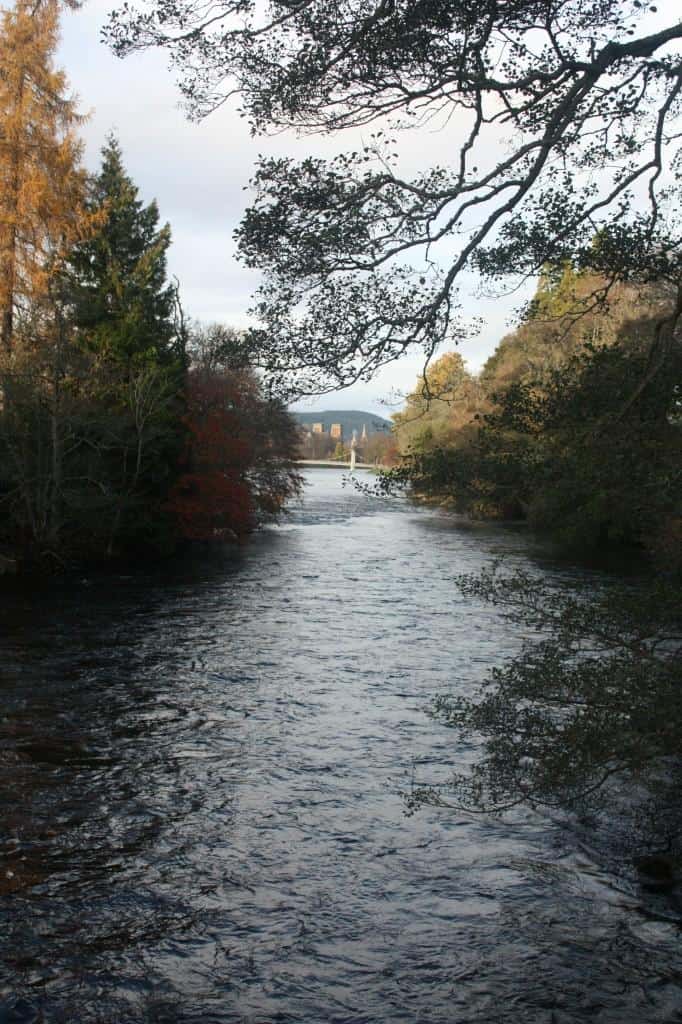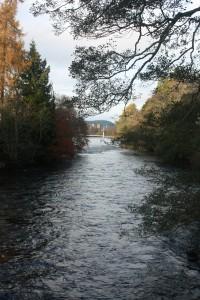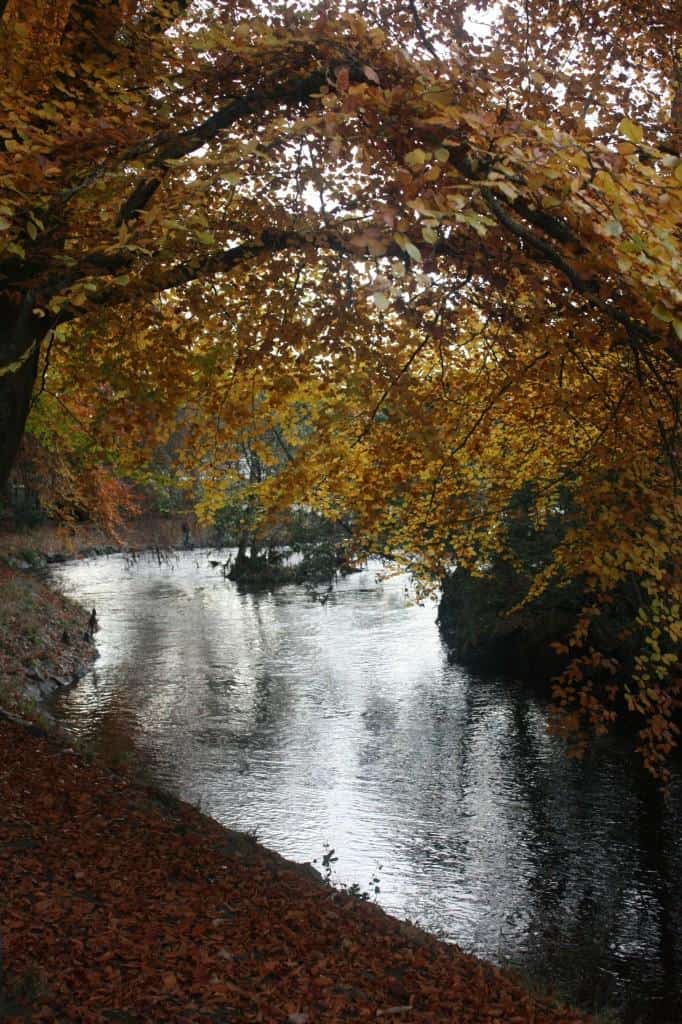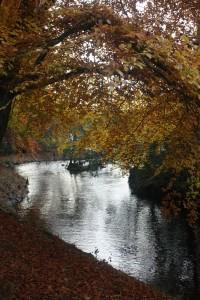 Naturally, my shoes were not very hiking-friendly. This always seems to happen to me. Too much of a city girl, I guess.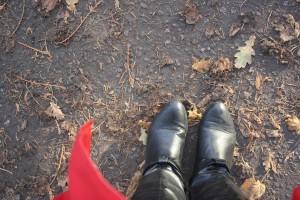 Normally when I am looking up vegan-friendly restaurants, I use Happycow, but sometimes it's not enough, or is out of date. That was the case with Inverness. A bit of Googling, though, and I found the Vegan Inverness group's website and Facebook page, which had tonnes of information! Thanks to them, I ended up indulging in some fantastic vegan chocolates from Maya Chocolates (the guy was so friendly, and even gave me a whole chocolate truffle as a free sample) and trying Nourish (formerly Riverdale Organic Centre, and it's sadly now closed) for lunch. Unfortunately, the woman at Riverdale informed me that as she'd been away for a few days and not doing the cooking, the vegan selection was limited. In fact, there was just one vegan soup (and a few sandwiches) on offer, but I did manage to snag the last vegan pumpkin muffin to go with my soup (which was unfortunately a bit bland). Still, it was nice to have some soup given how cold it was outside. Now, thanks to the Vegan Inverness site I knew that while there aren't any veggie restaurants in Inverness, there are quite a few restaurants that do or can do vegan options. Because Inverness is fairly small, most are located on the main streets, such as Church Street, or just off them. Options include a curry (requested vegan) at The Hootenanny (also a music venue), ASH just across from the station (which has a vegan curry listed on the menu), Kool Runnings Jamaican restaurant and Aspendo's Turkish restaurant, among others. However, both nights I was there I didn't feel like eating out so I decided to slum it at M&S (can M&S can EVER be considered slumming it? The answer is no!) and just pick up hummus and bread. I kind of regretted this later, because I ended up eating hummus for a few days straight, which meant I was desperate for a hot meal by the time I reached Glasgow.
Riverdale: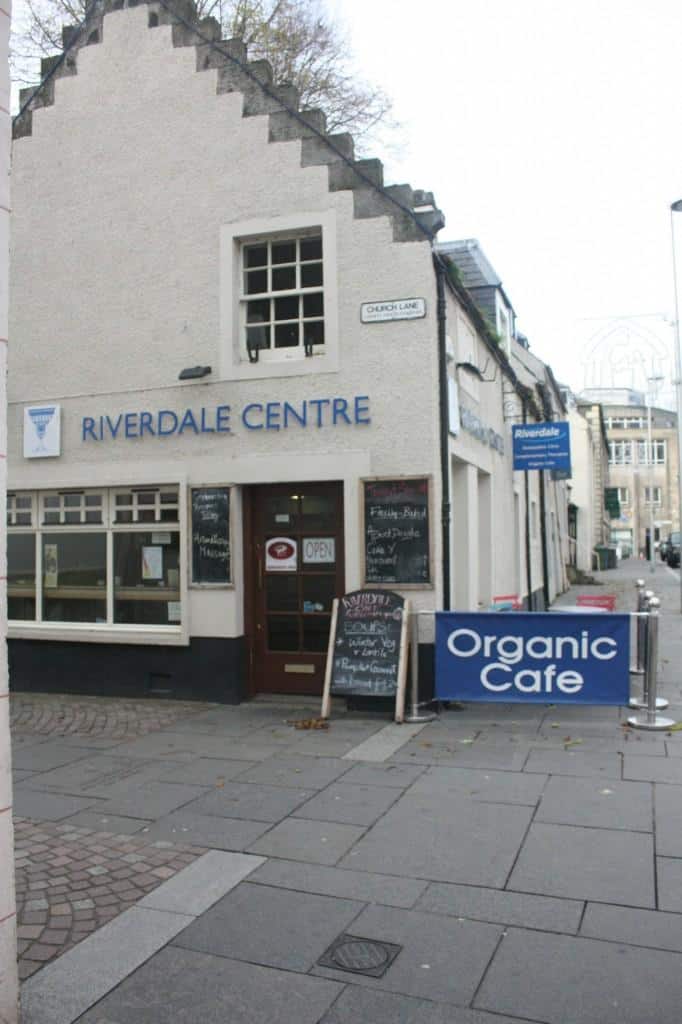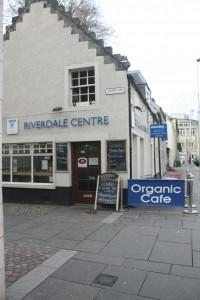 After Inverness, I headed across the Highlands to the Isle of Skye, on a little two-carriage train with a number of request-only stops. Some consider the trip from Inverness to Kyle of Lochalsh to be the most beautiful train journey in all of Europe, so it had a lot to live up to in my mind. It more than delivered. Leaving Inverness, we passed small villages of stone houses, with castles or ruins perched high on the hills behind them, alongside fields dotted with sheep. Soon we passed through thick pine forests, the hills a solid green dotted with yellow where the deciduous trees stood. The trees were growing so thickly in the forest you could barely see through them; it looked exactly the sort of place a horror movie would be set. After this, we passed rocky cliffs and trees with purplish tops whose trunks and branches were covered in a strange, drooping light green moss. Finally, we were in the mountains, cut by streams and dotted with a cluster of houses every few miles. They obviously don't get many trains around there, because a small group of men fishing at a river turned around as the train passed to wave; I waved back. Then, the landscape became more and more foreign. The mountains were covered in a reddish fern-like growth and I didn't see a house for forty minutes. I felt I'd reached the end of the world – except I had a great signal on my phone, so I couldn't have. Soon, I could see the coast along the side of the train, and mountains rising out of the sea in the distance – the Isle of Skye.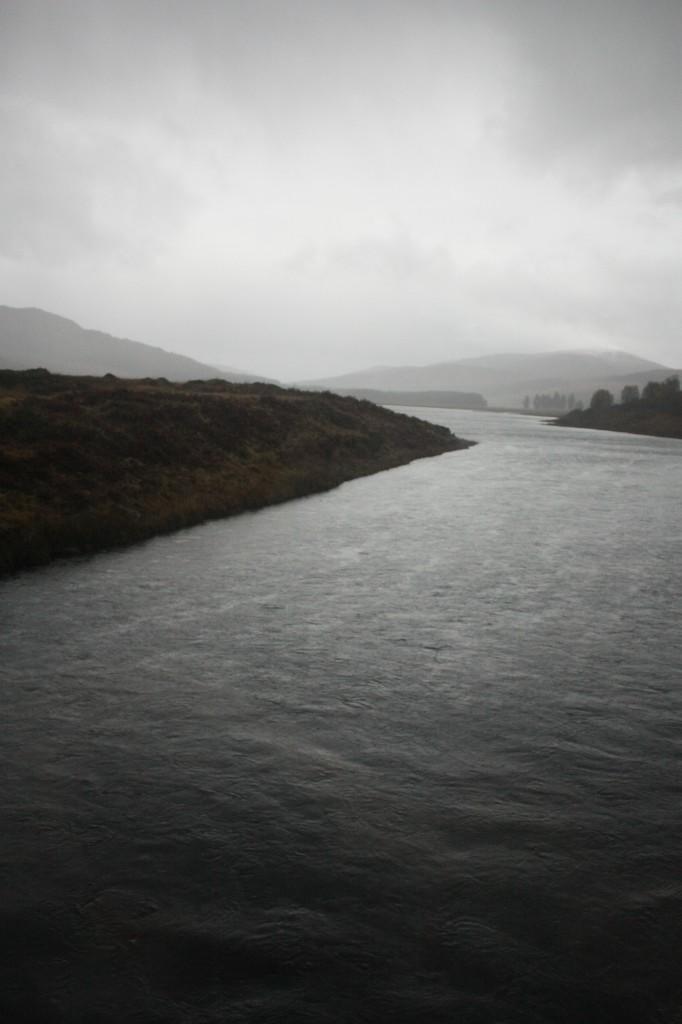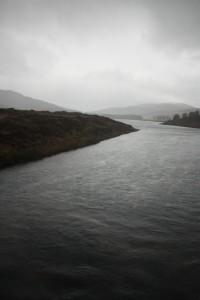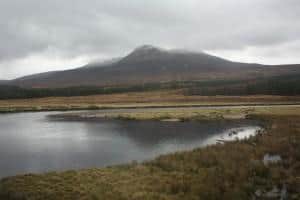 The point at which I felt I'd reached the end of the world;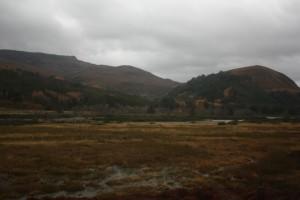 I read that the Isle of Skye's name comes from Gaelic words meaning "island of clouds", because of the mists that so often descend in the area. As my taxi driver took me from Kyle of Lochalsh on the mainland to Portree on the Isle of Skye, however, I didn't see many clouds. Instead I saw a strange landscape. I felt like I like landed on Mars. The taxi driver pointed out a volcano (he said it was safe, but then added "if it explodes, I'm out of here"), the snow that had fallen on the highest mountaintops and the Old Man of Storr, and told me about his previous career at sea, including a stint in Norway. We had some trouble understanding each other, although he had more trouble than I did. At first I thought it was my accent but later he informed me that English is not his first language – Gaelic is. The Isle of Skye is not very populous, and he seemed to know everyone – as we drove he seemed to be greeting everyone we passed. Portree, about an hour from Kyle, is the largest town on the Isle of Skye, but has a population of under 3,000. According to the staff where I stayed, it gets really busy in the summer, but I came during the low season, and arrived on a Sunday, so the town was completely dead when I arrived. I think I preferred it that way, although it did make eating a bit difficult. "In Gaelic, Portree, or Port Right, means 'The King's Harbour'", the taxi driver informed me as he dropped me off at my hotel, which was also a pub (I was very excited when I arrived and discovered this, because I've never stayed in a pub, and it seemed the sort of thing they used to do all the time in the old days).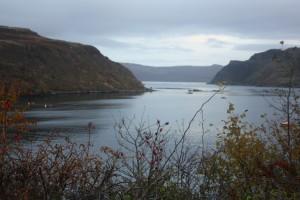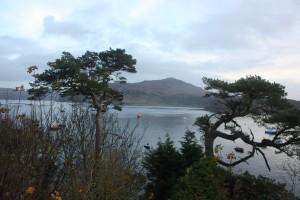 Portree is tiny, really only one main street, so I explored it in about two minutes and, finding everything shut (it was Sunday after all), decided to take a walk along the hill overlooking the harbour. Portree's harbour, with its brightly painted buildings, is beautiful, as are its surroundings. I later read in a travel magazine that on the island of Burano, near Venice, the houses were painted bright colours so that boats would be able to spot them from far off at sea. I wondered if Portree's bright buildings were painted so for the same reason.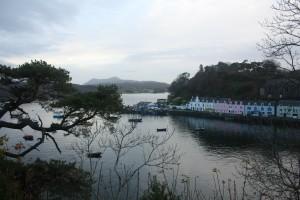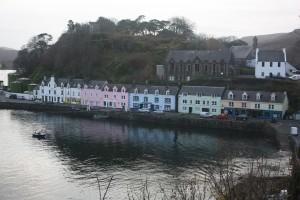 After gazing out at the harbour until the sun began to set and I started to get cold, I decided it was time to find dinner. Unfortunately, since I arrived during low season and on a Sunday, most restaurants were shut. Luckily, the Co-op in Portree is open until 11pm on Sundays (that's later than my Waitrose in Bloomsbury!). So, I had some bread and hummus from Co-op for dinner. Not the most exciting dinner, but I also managed to snag some vegan jam doughnuts from Co-op for breakfast.
If I'd come during the busy season, I would have eaten at Café Arriba (open only Wed, Thurs and Fri during the winter) which apparently does some nice vegan options: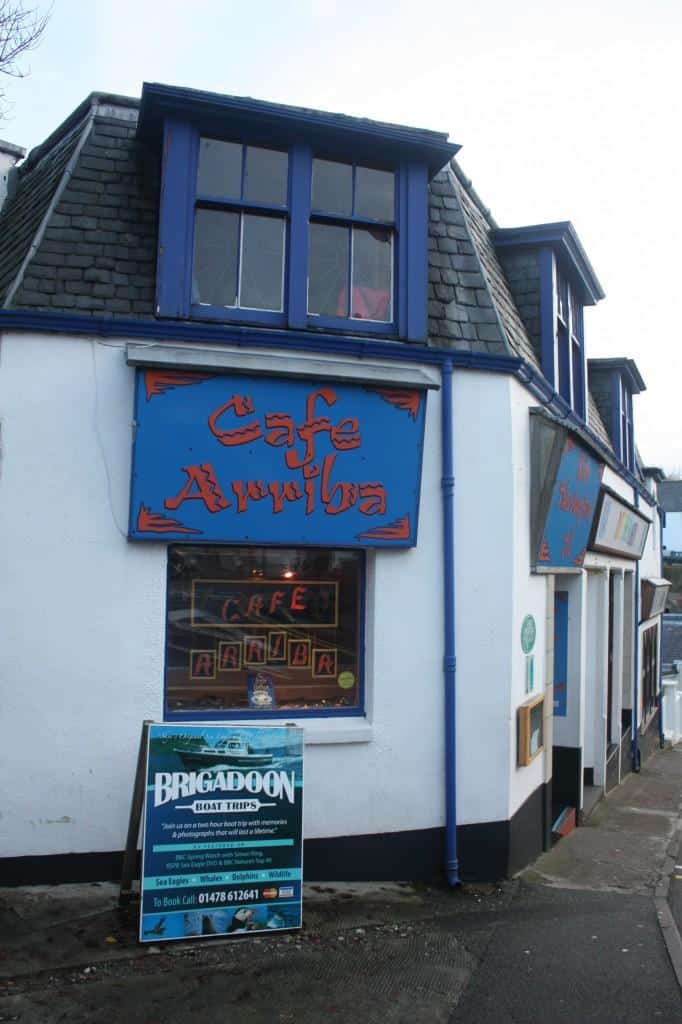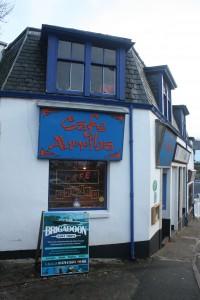 There's also an Indian restaurant (Prince of India) which I'm guessing could probably do some vegan dishes upon request, but again, it seemed shut and given its terrible reviews online, I wasn't keen. I also spotted a Chinese restaurant called the Fat Panda just off the main street which also seemed to offer some vegan-isable food, but again, it was shut for Sunday!
After dinner, I went down to the very conveniently located pub below my room. The Isle of Skye's main industries are agriculture, fishing and distilling whiskey, so I probably should have had whiskey, but I'm not a huge fan. So I settled on a vodka and Coke and had it by the fire, while reading a book. So cosy, at least until I noticed the scythe hanging as wall decoration just above my spot on the sofa. Do they get earthquakes in Skye?
The next morning, I was back at Co-op to grab some lunch. More hummus and bread – exciting stuff! At least it beats the couscous I had to eat with a crisp as a spoon (because I forgot to get a spoon) I had as lunch on the way from Inverness to Skye. But I also discovered that Portree's health food shop, Jackson's Wholefoods, on the main road, is open year round, and opens at 9am Mondays. So I popped in there to grab some vegan cream cheese to have with my bread. As much as I love hummus (and I REALLY love hummus), I was getting sick of meals consisting solely of hummus and bread.
The bus back to Kyle of Lochalsh from Portree left very conveniently from just outside the hotel, which is on the town's only square, just at the end of the main street. The couple in front of me seemed to know everyone on the bus; it turned out she was a local business owner. She fell asleep promptly as soon as we left Portree, which shocked me, as I had my nose pressed against the glass the whole time, absorbing the amazing landscape. But I guess to her it was just the same boring old landscape. It was raining, which brought out clouds and mist. I finally saw why they called it the island of clouds!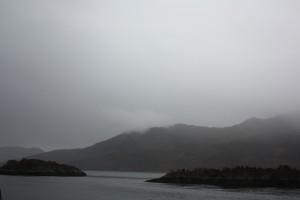 I was equally enchanted by the train journey back to Inverness from Kyle of Lochalsh. It was the same beautiful landscapes, but misty. It didn't make it as good for picture-taking, especially with the rain on the windows, but it was very atmospheric. Some of the clouds even reached ground level, which reminded me of driving through the Blue Ridge Mountains in the Appalachians with my family as a child. The clouds reached the road we were driving on and we pulled over and got out; I remember being so amazed that I was standing IN a cloud!
From Inverness, I journeyed down to Glasgow. I'd heard such mixed reviews of Glasgow I wasn't sure what to expect. One friend urged me to visit the city, which he said was incredibly vegan-friendly and had a fantastic street art scene. Another friend warned me against it after a bad experience that culminated in someone setting his bus on fire! I ended up only spending one night in Glasgow, on my way between Skye and the Lake District. It does seem a very vegan-friendly city, given the 5 completely vegan restaurants listed on Happycow. I was delighted to discover The 78, a vegan pub/restaurant only .1 miles (2 minutes walk) from where I was staying, not least because I was by this point dying for a hot (and hummus-free) meal. It didn't disappoint, and I ended up with a burrito the size of my head! The 78 do a number of deals, including a burger and a pint for £5.95 or Meatless Monday specials, with two courses for £9 or three courses for £11. I opted for the three course special, and had spring rolls, a massive burrito with tortilla chips and a chocolate-cherry cake. I had a near disappointment when the waitress promised to come back for my dessert order and disappeared outside. With the minutes ticking away until the kitchen closed I ran to another waitress and asked her for dessert and she informed me the kitchen had shut early. But she came over a minute later and said they'd been persuaded to take my order. Very full and satisfied after the cake, I went back to my hotel.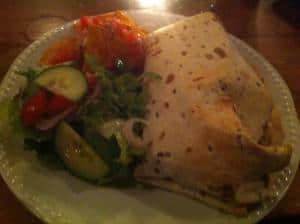 Early the next morning I went to the station to catch my train from Glasgow to the Lake District. Of course, my final meal in Scotland wouldn't be complete without hummus, so I ended up with a hummus bagel for breakfast. And so I left Scotland, with 300 odd pictures of beautiful lakes, mountains and castles — and having eating more than my fair share of hummus!