If you're lamenting the end of the month-long vegan blogging extravaganza that is Vegan Mofo (which I heard described as the vegan Christmas) as much as I am, I've put together a little round-up of my posts and also my favourites from other vegan blogs around the web.  Because even if we can't have vegan Mofo in October, we can at least catch up on Mofo reading!
My theme for Vegan Mofo this year was Suitable for Non Vegans, or delicious dishes that you can feed to non-vegan friends and family (I tested it on non-vegans!).  Even though it was a stretch for me to complete 20 posts in the month, it was worth it and I was proud of completing my goal.  It was so much fun coming up with the recipes, and I'm pretty sure my boyfriend (who did most of the taste testing for non-vegan suitability) also enjoyed it.  I enjoyed the Suitable for Non Vegans (SFNV) theme so much I've decided to carry on tagging recipes that I think the non-vegans in your life will love; you can find the SFNV recipes here or by clicking on the SFNV logo in the sidebar!
September was a fantastic month for me — between all the cooking and recipe testing, I also got to see one of my recipes in print in the Vegg cookbook (it was my homemade Vegg pasta recipe from last year's Mofo).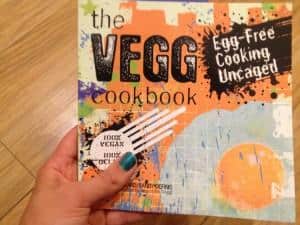 I also got named as one of the top 50 vegan blogs of 2013 in a list on Berry Ripe.  So awesome!  September's been a great month. :)

So without further ado, here's a round-up of my recipes from Vegan Mofo 2013, from risotto to ravioli…  Read on to find out which was my favourite, which was my boyfriend's favourite, and which was the most popular (at least in terms of how many of you read it).
1. Penne alla vodka with roasted broccoli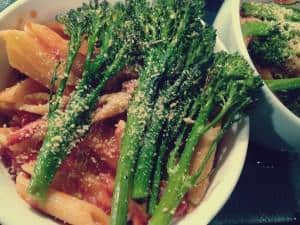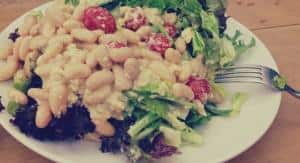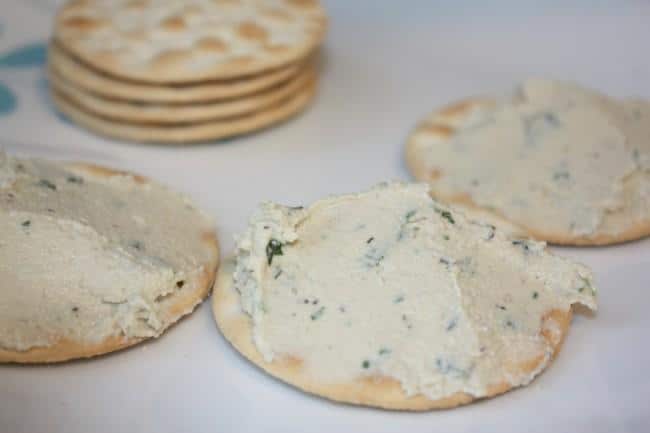 4. Starbucks-Inspired Raspberry and White Chocolate Chip Muffins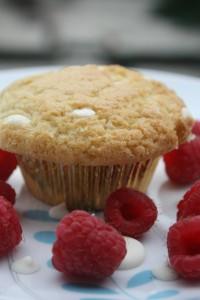 5. 4-Ingredient Creamy Alcoholic Chocolate Kahlua Milkshake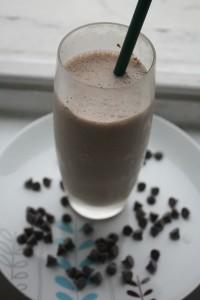 6. Spaghetti Carbonara with Crispy Courgette Bits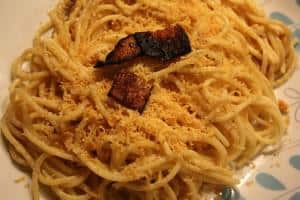 7. Vegan Pasteis de Belem (Portugese Egg Custard Tarts)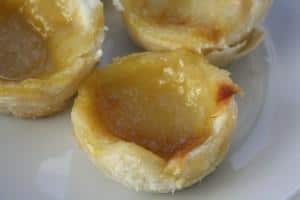 8. Spinach and Ricotta Ravioli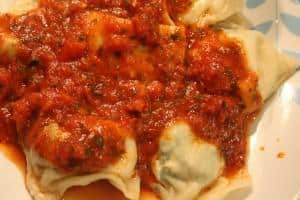 9. Walnut Ravioli with a Vodka Cream Sauce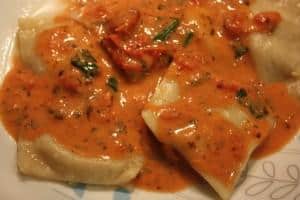 10. Pumpkin Cashew Cheese Ravioli in a Sage Butter Sauce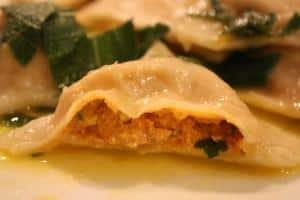 11. Tibits, London – Restaurant Review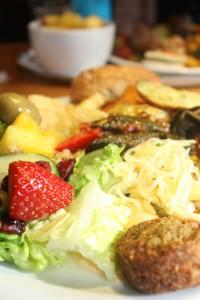 12. Okonomiyaki with Homemade Tonkatsu & Spicy Vegan Mayo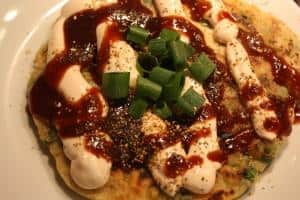 13. Spinach "Crack"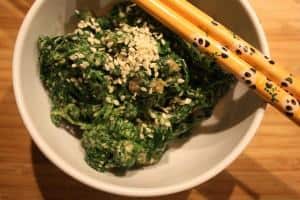 14. Creamy Aubergine (Eggplant) Ricotta Pasta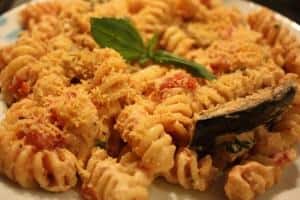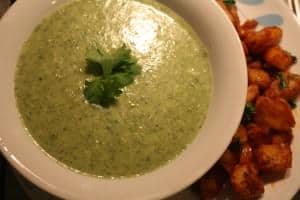 16. Patatas Bravas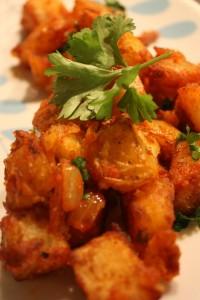 17. Fried Zucchini Blossoms Stuffed with Cashew Ricotta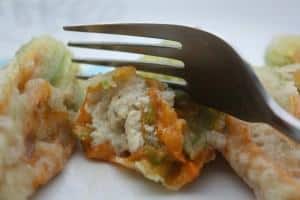 18. Easy, Creamy (and Cheese-Free) Risotto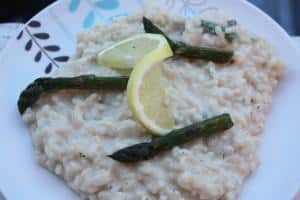 19. Easy Arancini (Fried Risotto Balls)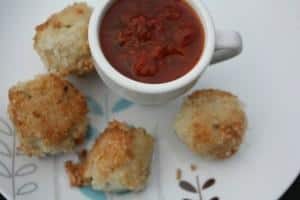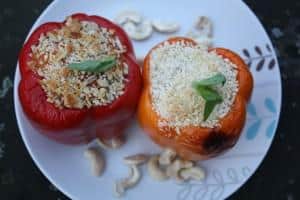 It was really difficult to choose favourites!  My boyfriend's struggled, and in the end chose 3, in no particular order: Okonomiyaki, Fried Zucchini Blossoms Stuffed with Cashew Ricotta, and Pumpkin Cashew Cheese Ravioli.  Make that 4! He just informed me he forgot The Perfect Salad…
My favourites: Creamy Herby Cheesy spread, Easy Arancini, all of the ravioli posts (is that cheating?).
The most popular posts, according to Google Analytics: Pumpkin Cashew Cheese Ravioli, Spinach "Crack", Creamy Herby Cheesy Spread.
September was also a month of discovering other great vegan blogs out there!  It was so much fun reading and enjoying other Vegan Mofo posts.  Some of my favourite posts and themes, in no particular order:
Noshtalgia theme over on Vegan Eats & Treats.  Amey's walk down memory lane via food made for such great reads — at times funny, at times sad, but always very touching.
I also loved Joey's theme of cooking English food on Flicking the Vs.  It reminded me of all the dishes I haven't yet managed to try since moving to the UK (which I really must make!), such as Jaffa Cakes and Chicken (free) Tikka Masala.
The Back in Thyme theme on Cadry's Kitchen, which saw Cadry travelling across time and space to visit other periods of her life and other locations, was another favourite of mine.  She used her DeLorean to travel cross-country to interview other vegans and also re-visited food that she ate in other times of her life.  I'm clearly a sucker for food nostalgia!
The Candy Theme over on Fork and Beans, because OMG VEGAN CANDY!  Can't go wrong with that.
Mihl's theme Veganising German desserts (from A-Z) on Seitan is My Motor not only made me drool over German sweets such as Nougatringe, but she promised to continue with the theme and finish off the last few letters, which means I have more posts to look forward to even though Mofo's over!
And finally, the Friends "Trifle" post on Laughfrodisiac because not only did Randi make Rachel's infamous trifle from the Friends TV series, but she ate it, too!