Today, like yesterday, I continue with my reviews of supperclubs. Today's country is Italy (in keeping with my 'Places I've Been' theme for the month of Vegan Mofo), specifically the Ligurian region, and I'll be reviewing the Pomodoro E Basilico supperclub whose Ligurian night I attended Monday.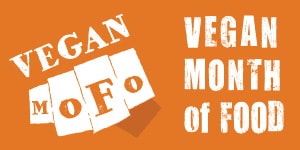 I've never been to Liguria, a coastal region of Italy famed for the beautiful Cinque Terre. The closest I've been is Tuscany, which borders it, and Nice, France (France also touches Liguria), and so I somehow imagine it being visually and culturally, as well as geographically, somewhere between the two. They are famed for seafood and a unique regional cuisine which in some ways has elements traditionally considered Southern. (Facts I learned at the supperclub!).
A house in Lucca, Tuscany, near where my family is from: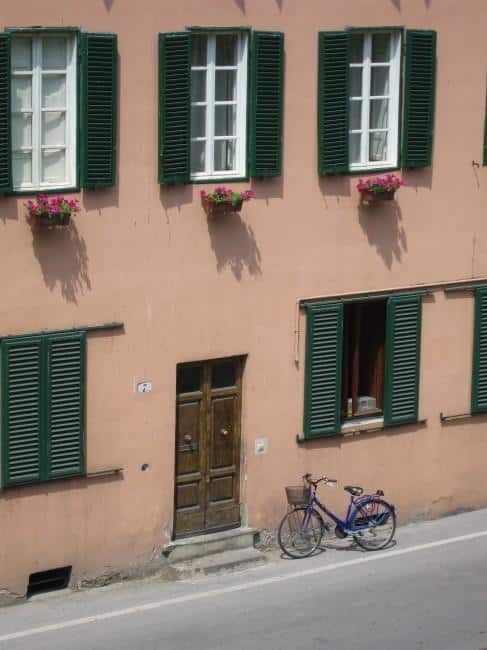 The coast in Nice, France: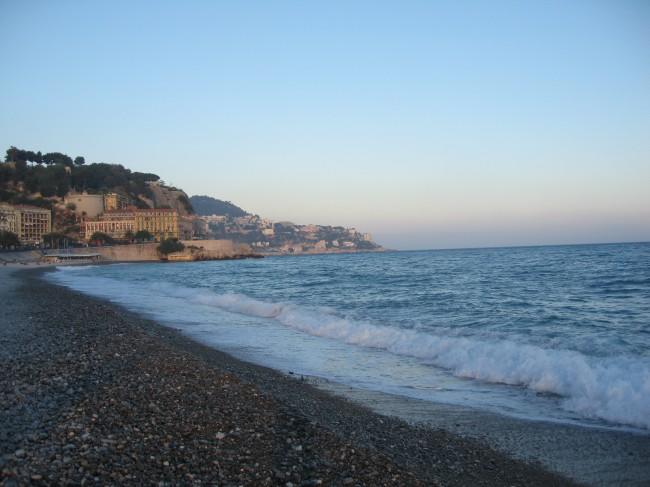 Olive stand at the farmer's market in Nice: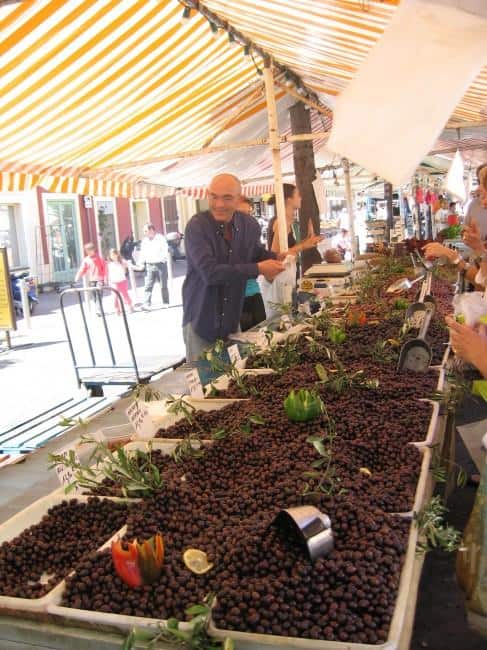 Since I've never been to Liguria, I can't speak for the region's cuisine on a firsthand basis, but I love Tuscan cooking (my family is from Tuscany) and I had amazing fresh pasta with amazing, perfectly ripe vegetables in Nice (it was in fact one of the best Italian meals I've ever had and I had it in France!). I haven't been to Liguria, but thanks to Sara and Alessio at Pomodoro E Basilico, who hosted a Ligurian night Monday, I've now had Ligurian cooking from a Ligurian, and I can now say that I love Ligurian food.
Antipasto: Farinata and Focaccia di Recco (Stuffed with Homemade Vegan Cheese)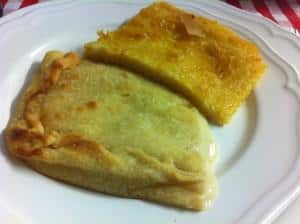 The starter consisted of a large square of farinata (chickpea flour pancake) and a large square of focaccia di recco, or focaccia stuffed with soft "cheese". The homemade vegan cheese was perfectly melty and slightly tangy. I also loved the farinata, a chickpea flour pancake eaten in some parts of France, Italy and Argentina (where it's called faina and commonly served atop pizza). I made faina when I was in Argentina, although I garnished mine with cannellini beans, roasted veg and dandelion greens.
Primo: Trofie al Pesto (Pesto with Handmade Pasta)

The next course was handmade pasta with pesto. Pesto is one of my favourite foods, and it can't get much better than pesto with homemade pasta! They started cooking our meal at 9am, and I couldn't believe the amount of time and love put into the meal, especially the homemade pasta.
Surprise: Fresh Baked Sourdough Bread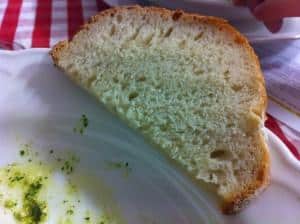 Just as we finished up the pesto, Sara and Alessio surprised us with homemade sourdough bread, fresh out of the oven. It was delicious and still warm, and was perfect for soaking up the leftover pesto sauce.
Secondo: Cipolle Ripiene con Contorno di Patate e Fagiolini (Stuffed Onions with Green Beans and Potatoes)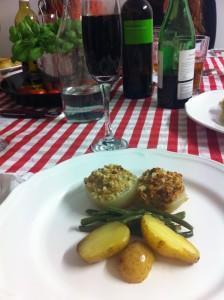 The secondo was stuffed onions (stuffed with vegan mince and breadcrumbs), with potatoes and green beans. Shortly before this course came out, I smugly thought to myself that I wasn't full, and I'd planned ahead well by not eating a very big lunch. I may have even announced this. The secondo came out and I barely thought I could finish it, even though it was great, but I soldiered on, and managed to eat the whole thing!
Dolce: Torta ai Pinoli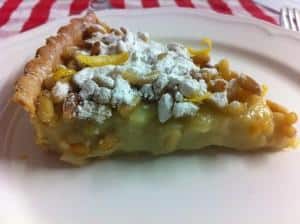 After the stuffed onions, everyone was really full, so we chatted for a bit before dessert. The dessert was a "Grandma's" pine nut custard tart. I wasn't sure I liked the sound of pine nuts in dessert, but this was amazing. The custard was smooth and delicious, while the pine nuts offered a nice, nutty contrast, and the whole thing was studded with tangy lemon zest.
Next month Pomodoro E Basilico will be featuring another Italian region, possibly Emilia-Romagna (where Sara is from), although they're undecided. If you're based in London, keep an eye out for next month's supperclub on their Facebook page.
Tomorrow will continue with another country for Vegan Mofo (country TBA!).