Every day during Vegan MoFo I'm covering a different country I've been to, as my theme is 'Places I've Been'. Today's country is Japan, and instead of a recipe, I'll be reviewing an underground supperclub I attended through Little Bird Suppers.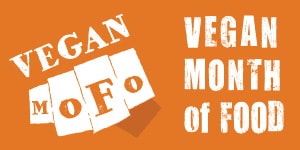 I visited Japan a couple of years ago, to visit a friend from uni who lives in Tokyo. I only got to spend a few days there, and I'd love to go back. I had one of the weirdest (but still delicious) meals of my life there, when we decided to cook dinner together using vegan ingredients we managed to scrounge up from her house or the nearby 7/11 convenience store (which did not have many vegan options). We ended up eating a meal that consisted entirely of soy products: yuba (soy skin), miso soup, tofu with soy sauce and soya milk.
One of the most famous intersections in the world: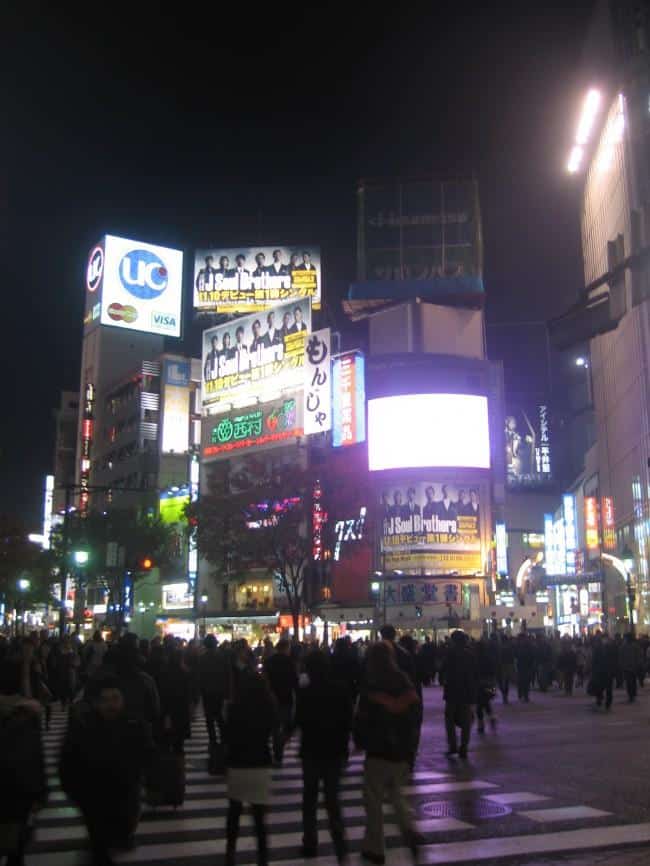 Typical street in central Tokyo:
I attended a Japanese dinner at Little Bird Suppers recently; it was my first underground supperclub and it was an amazing experience. I loved getting to eat a meal in someone's home and socialise with new people. Jhenn, the chef and host, and her husband made us feel perfectly at home, and unlike in a restaurant where the chef is out of view all the time, Jhenn was there eating with us (except when she had to run back to the kitchen!) and thus was able to explain each dish. Jhenn lived in Japan for awhile so we could be sure the food was authentic! It was also really great because she served us food that you could never get in a restaurant here (at least not in a vegan version!).
A lot of my experience with Japanese food, especially while I was in Tokyo, was with macrobiotic food and shojin ryori (traditional Japanese Buddhist cuisine that is vegetarian), but both are quite different to traditional Japanese fare, especially since vegetarian Buddhist cuisine does not typically include onions or garlic (as they are believed to 'excite the senses'). Each course was fairly small so we got a chance to sample loads of different dishes. The evening started with barley tea, a mellow Japanese drink, edamame (salted soybean pods) and chat with the other guests and hosts.
Yuba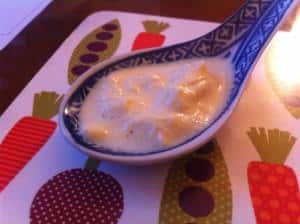 The first thing we had to eat was yuba, or soya milk skin. I'd had this before but many of the other diners hadn't. I think it's one of those love/hate foods, with its unusual, slick but chewy texture, but I'm a fan. I think it might be slightly difficult to procure in the UK — at least I haven't seen it around many places!
Hijiki Salad, Gomadofu, Umseu-Zake, Tamagoyaki

The next plate consisted of umseu-zake (pickled plum radish), hijiki salad (a mix of seaweed and shredded carrot with sesame sprinkled on top), gomadofu (sesame squares) and tamagoyaki (fried eggy roll). The highlights of this course for me were the tamagoyaki, which was surprisingly eggy, and obviously nothing I'd ever get a chance to try as a vegan, and the gomadofu, which looked deceivingly like tofu but was actually made from sesame! It was incredibly smooth and soft, with a delicate flavour, and was served with a thick sweet and salty sauce and complemented it perfectly.
Tonkatsu (Deep Fried "Pork" Cutlets)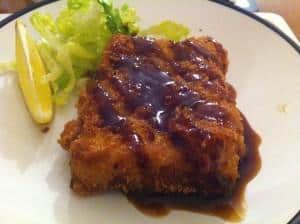 This was I think my favourite course. Anything breaded and fried has to be amazing, and I've heard people rave about tonkatsu but have never been able to try it. It was deliciously chewy, with a crispy exterior, and drenched in a delicious sweet-sour sauce.
Chawanmushi (Steamed "Egg" Pot)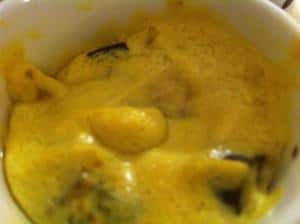 Again, this was a dish I'm unlikely to get elsewhere in a vegan version. It was remarkably eggy (I think Jhenn may have used black salt).
Takoyaki (Fried Octopus Balls)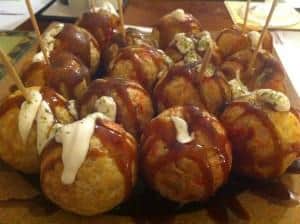 On a scale of 1 to 10, 1 being something I'm very likely to try in a Japanese restaurant to 10 being least likely to try, octopus balls probably fall somewhere around 500. These fried balls (again, you can never go wrong with fried food!) had a chunk of sea vegetable in the middle to stand in the place of octopus and were covered in vegan mayo and a special sauce (which seemed a bit like a Japanese version of brown sauce to me and which was delicious). They kept making them fresh, so we got plate after plate of balls until we were full.
Miso Soup and Rice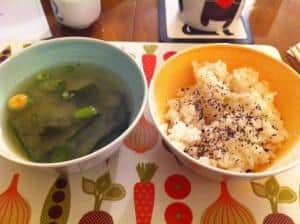 By the time this course came out, I was so stuffed full of balls (octopus balls!) I could barely move. But I bravely soldiered on, and had miso soup (always great) and rice with furikake, which is a magical seasoning that made the rice taste amazing.
Black Sesame Ice Cream and Canteloupe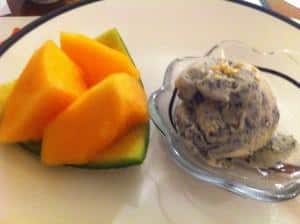 Black sesame is one of the more unusual ice cream flavours I've ever tried. It didn't sound like something that would work, but it did, and it was fantastic! What a great way to end the meal.
I thought the Underground Japanese Dinner was well worth the £20 donation, especially considering the variety of dishes I got to try, none of which I'd have had in a regular Japanese restaurant. Some of them I've rarely seen in Japanese restaurants in the West, and none of them in vegan form (except of course the miso soup and rice). I would highly recommend visiting if you'd like to try out various new Japanese dishes. Jhenn is also hosting a vegan grilled cheese night on the 16th which I'm planning to go to — you can't go wrong with Daiya and potato wedges! Unfortunately it's sold out, but keep your eye on her site if you're based in London and want to attend a different supper. :)
Tomorrow will continue with another country for Vegan Mofo. We'll be returning to Italy, but to a different region this time…to Liguria, via Pomodoro e Basilico supperclub…