This post may contain affiliate links (see full disclaimer here). This means if you make a purchase after clicking, I may get a small percentage of the sale, at absolutely no extra cost to you.
Like me and left your Christmas gift shopping till the last minute? Don't panic, here's your guide to vegan holiday gifts. And if you order now on Amazon most items will arrive before the 25th.
If you're looking for suggestions to give to non-vegan friends and family who are wondering what to get you, or are shopping for a vegan yourself, here are some ideas. If you're concerned about what to do if you receive non-vegan Christmas, Cadry over at Cadry's Kitchen has some excellent suggestions on how to handle the situation gracefully.
Ultimate Vegan Holiday Gift Guide
For the traveler: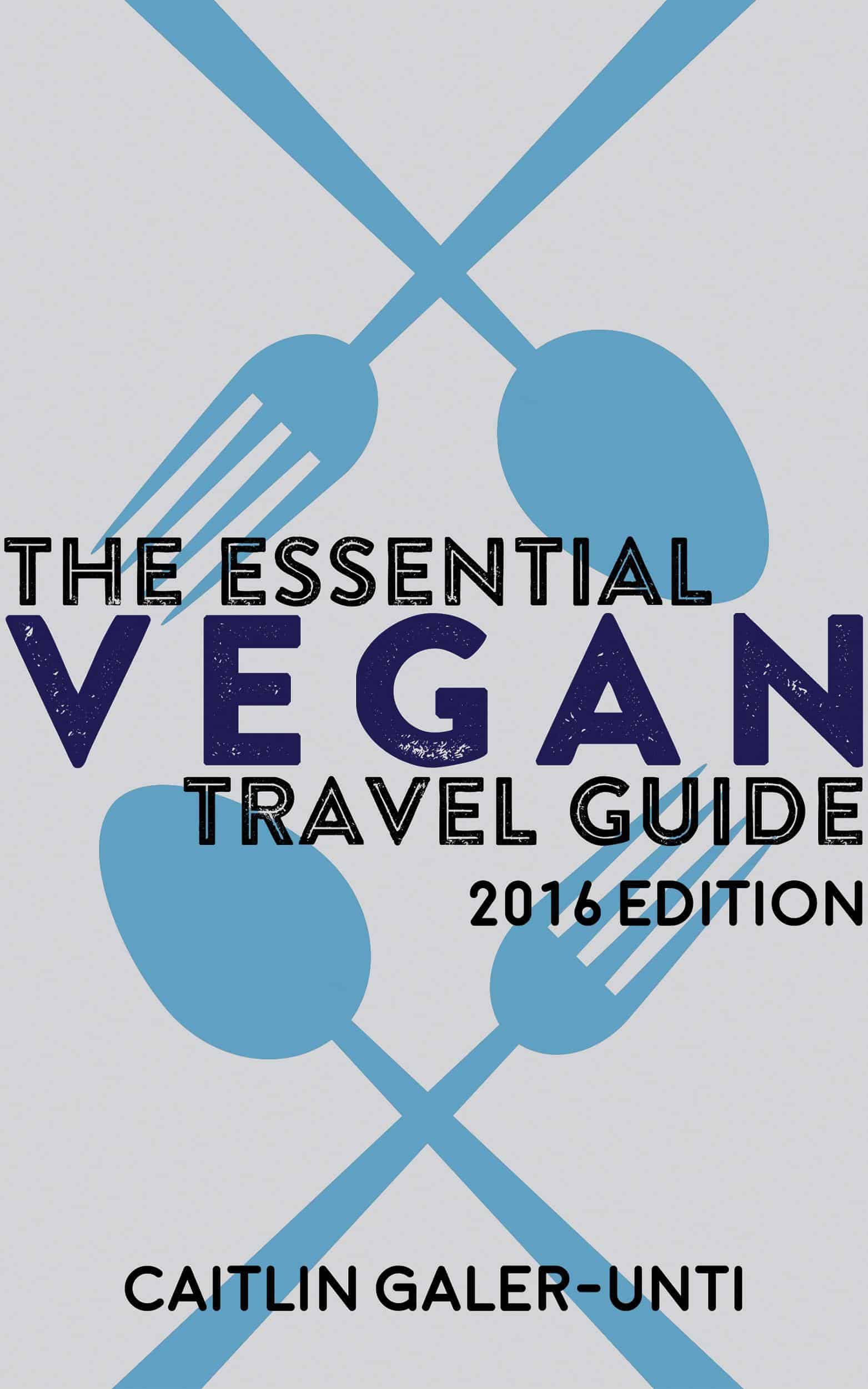 The Essential Vegan Travel Guide
So my first suggestion, naturally, is my own book! The Essential Vegan Travel Guide is your how-to guide to planning a stress-free, meat-free trip anywhere in the world. Filled with tips and tricks I've gleaned in travelling to 29 countries (and counting!) it will show you how to find vegan and vegan-friendly restaurants, how to choose where to stay, tips on finding vegan options in non-vegan restaurants and even emergency recipes you can make in a hotel coffeemaker!
Will Travel for Vegan Food

I first heard about Kristin a few years ago when she was running a Kickstarter campaign to raise money for her trip around the US to try every vegan restaurant in the country. Now, she's written a memoirabout her trip. I've just started reading it but it looks like a promising travelogue about her journey – in food, in entrepreneurship and in love.
Give an experience: a vegan trip through Italy with vegan author Miyoko Schinner
If you have cash to spare and really want to treat someone with an unforgettable experience, check out this vegan trip through Italy with special guest Miyoko Schinner (the incredible author of two of my favourite cookbooks – Artisan Vegan Cheese and The Homemade Vegan Pantry). Vegano Italiano arrange vegan tours around Italy so check our their other tours too if you want to experience vegan Italy.
Give an experience: Vegan writers' retreat in the French Riviera
Know a vegan writer? They'll LOVE this 5-day retreat in April in the French Riviera. Who wouldn't be inspired by such a beautiful location? They'll be treated to vegan food and wine and workshops by leading vegan writers.
Packing cubes

When I first got these packing cubes, I thought they were a ridiculous waste. Who needs packing cubes? I just throw my clothes into my bag! Unless you're on a strict bag weight limit, I think these are useful for suitcases and backpacks alike, because by rolling your clothes and then stuffing them into the cubes you can fit a LOT more into your bag, and avoid things wrinkling as well.
Portable Bamboo Cutlery Set

A portable utensil set is incredibly useful for the traveller. I haven't used this particular set but I love that it's bamboo so eco-friendly and sustainable, plus the price tag is reasonable.
For the chef: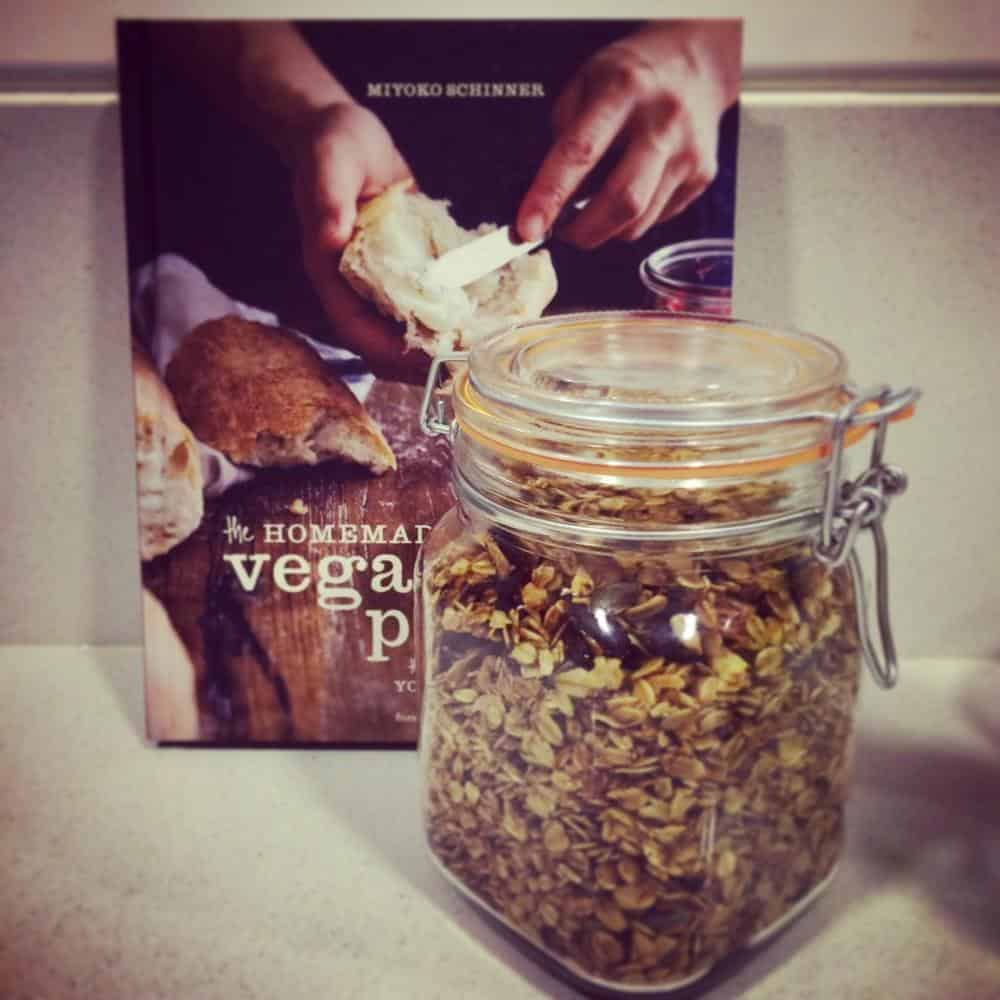 The Homemade Vegan Pantry

My favourite cookbook this year, The Homemade Vegan Pantry shows you how to make your own pantry staples, from vegan butter to mayonnaise to granola. I'd never made granola before and was shocked at how easy, delicious and cheap it is to make yourself (to think I've paid £5 for a supermarket packet before!). If you want to give a set, I also highly recommend Miyoko Schinner's Artisan Vegan Cheese
!
The Taco Cleanse

I don't own this cookbook but I wish I did. All tacos, all the time? Sounds like the best kind of cleanse! Plus, I've heard some good things about it!
Vegan Richa's Indian Kitchen
I love Vegan Richa's blog and recipes, so while I don't own this cookbook (yet! *ahem* hint hint) I expect that it's got some excellent Indian recipes in it.
Blender
Keen vegan cooks need blenders for their cashew cheese, gazpacho and of course smoothies! If you really want to wow, go for the ultimate in blenders – the Vitamix
or Blendtec. . However if you don't have that much cash to spare, I *highly* recommend the Magimix

(sadly only available in Europe!). It uses a 1200w motor (compared to Nutribullet's 600w). I LOVE my Magimix and use it every day. It comes with a sturdy glass jar and settings for ice (for cocktails and fancy drinks), smoothies, soups and ice creams. Also because it's tempered glass you can blend up hot soups without any problem! Love love love. My dessert island item!
Food processor
When it comes to food processors, I love my Cuisinart. I think their products are great quality – my parents have had their Cuisinart for over 20 years! Perfect for making pesto, hummus and more. You can get this 14-cup Cuisinart.
Spiraliser

Is your vegan into raw food? Or do they just really want to make fancy vegetable shavings and noodles? Then they need a spiraliser. Another item I'm as yet missing from my kitchen.
Ice Cream Maker

Now is an excellent time to buy an ice cream maker – as it isn't exactly the time of year for ice cream in the Northern hemisphere, there are huge sales on! I love my ice cream maker! I did a lot of research into ice cream makers before getting this one and I'm pretty confident it's the best you can get in this price range. Plus like I mentioned – Cuisinart products are really durable.
Cast-Iron Skillet

Give a gift that will outlive your giftee – and also doubles as a weapon! I put off buying a cast iron skillet for years and now it's my favourite thing to cook in. Lodge make great cast iron skillets (and they're pre-seasoned – with vegetable oil) that apparently last years. Plus it's so heavy it pretty much counts as weightlifting.
For the foodie who loves eating but hates cooking:
Gift Certificate
Get the gift of food – their choice! Vegan Essentials (US) and Alternative Stores (UK) stock just about everything you could want, vegan-wise, and offer gift certificates.
Box subscription
What could be more exciting than a box of vegan goodies arriving at your doorstep? Gift a vegan box subscription – check out Vegan Tuck Box (UK) or Vegan Cuts (US).
Miyoko's Kitchen Cheese
While many vegan cheeses leave something to be desired (although they've certainly come a long way in recent years), Miyoko's Kitchen artisan nut-based cheeses are incredible. Unfortunately only available in the US. I scoffed several boxes of these last Christmas – and the non-vegans I shared with loved them too!
Chocolate surprise box
For the sweet tooth, this surprise box of chocolates (UK only) looks AMAZING. Or any of the treats from this online shop which specialises in selling only vegan chocolate bars and candies.
For the fashionista:
Vaute Couture coat
I've previously written about my love for Vaute Couture's vegan coats (the coat mentioned in the post is still going strong and has since been to another half dozen countries!). They're very durable and well worth the expense (plus they're super cute!). Vaute also now offer a range of other clothes, which are all vegan and adorable.
Shoes
Shoes can be tricky to buy for someone (I find it really hard to tell if they'll be comfortable without trying them on) but if you want to give shoes, I highly recommend Beyond Skin (I've had a pair from them for over 5 years and they're comfortable enough to dance in, in spite of being heels) or Cri de Coeur (I have several pairs, one which is 4 years old, and they are so beautiful and comfortable too). For men's shoes, Will's Shoes are stylish and ship in both the UK and US.
Bags and wallets
For handbags and wallets, my favourite brand is Matt & Nat. They've been making vegan bags for a decade, and they are beautiful and last ages. They also put a lot of care into making their products eco-friendly, for example using lining made of recycled materials.
For when you just want to give shower gel:
I remember a several year-long period when I was a teenager when basically only gave and received shower gel for every Christmas and birthday. If you're not really sure what to get someone, shower gel/bath salts/lip balm it is…but now you can get really fancy vegan ones, so they will love it.
Lush
Lush are not completely vegan but offer a huge range of vegan products (all clearly marked). They now have stores in many countries, and they make a lot of products that make great presents, like fizzy bath bombs and even vegan box sets.
Giovanni
Giovanni make great natural bodycare products. My favourites are their hazelnut vanilla shower gel and lotion (smells so good!). You can get the body lotion on Amazon.
Hurraw!
Hurraw! make raw, vegan, eco-friendly lip balms and a range of delicious -smelling and -tasting flavours. You can pick up their lip balms
on Amazon.
As an Amazon Associate I earn from qualifying purchases.