Everyone knows breakfast is the most important meal of the day…but that's ESPECIALLY true when you're traveling, walking all over and exploring a new city. So if you're a responsible adult and not someone that starts off their day with cinnamon sugar on toast (*cough*) or Speculoos-chocolate spread sandwiches (who, me?!) check out this guest post from Lucy Gomez of Get Camping Wild. In it, she shares four delicious vegan breakfast sandwich recipes. T
In the post, Lucy shares four delicious vegan breakfast sandwich recipes. The avocado toast in particular is something you can whip up just about anywhere (okay, unless you don't have a toaster in your vacation rental or hotel room, but I have heard you can make toast with an iron and ironing board – kids, don't try this one at home!). And don't worry about the fact that you can't just stop at a drive-through for a breakfast on the run on your road trip — when you can whip up Lucy's vegan version of a McDonald's breakfast sandwich and pack it in your car!
4 Tasty Vegan Breakfast Sandwiches
Guest post by Lucy Gomez
Looking for inspiration for new breakfast ideas? Breakfast sandwiches are notoriously non-vegan but nothing a little creativity can't fix. Here are 4 vegan breakfast ideas that will have you pumped to start your day.
TOFU-TASTIC
Get ready for the most versatile breakfast sammie you have ever encountered: The Tofu-Tastic breakfast bender. This recipe sets you up with a killer foundation that can be easily modified to allow you a quick, go to breakfast sandwich that you can modify to fit your tastes.
Makes 5 servings
Ingredients:
– 1 container of organic medium firm tofu
– 1/3 C non-dairy milk
– 2 tbsp nutritional yeast
– 2 tbsp tapioca flour
– 1/4 tsp turmeric
– 1/2 tsp garlic
– splash of oil
– sea salt & ground pepper to taste
– Bread or vegan english muffin
Instructions:
1. Combine the ingredients in a blender until smooth.
2. Heat a pan over medium heat with a small amount of oil. Scoop 1/4 C of batter into
the pan. Let it cook on one side for 3 mins, or until the surface has small bubbles, then
flip and repeat.
3. Toast the bread or English muffin and prepare any toppings you like. Feel free to
get fancy by melting down some vegancheese, or add an extra layer of
meatiness with a bit of coconut bacon!
4. Enjoy!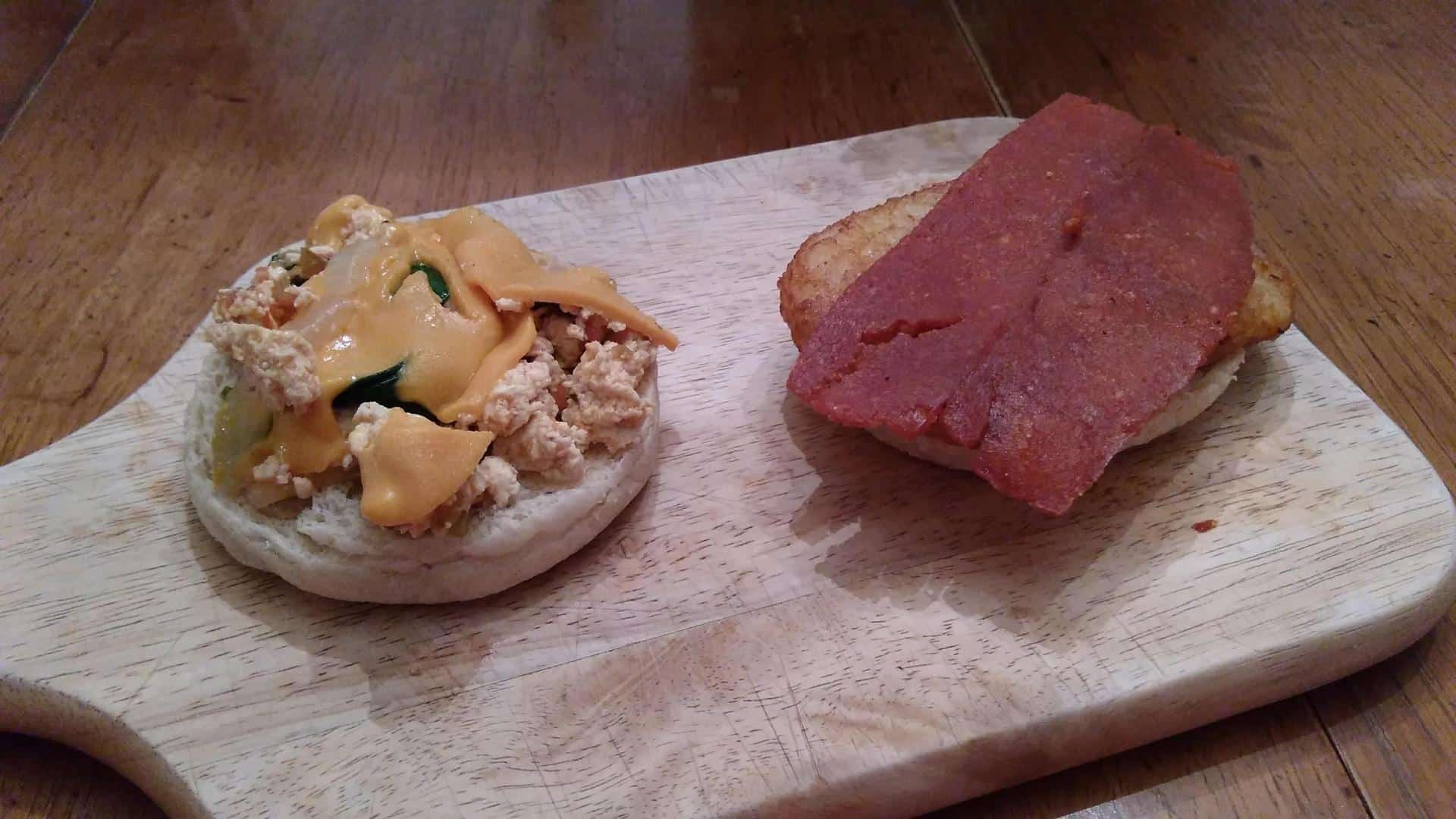 CLASSIC McDONALD's BREAKFAST SANDWICH
This good-for-you take on the classic McDonald's breakfast sandwich will have you excited to start your day!
Ingredients:
– 2 slices of your favourite vegan cheese
– Vegan Bacon
– 1/4 package Soft Tofu
– Desired additions to tofu scramble
– Vegan hash browns
– Bread or vegan english muffin
Instructions:
1. Prepare your scrambled tofu as desired.
2. Cook your vegan bacon and hash browns.
3. Pile all the ingredients upon a bun or two slices of bread of your choice. Add any
condiments or extra ingredients that you desire.
4. Enjoy!
AVOCADO TOAST
VIA www.buzzfeed.com
Avocado toast has been taking social media by storm, and it's no wonder- this protein dense meal is both good for you and good to eat!
Ingredients:
– 1 whole avocado
– 2 slices of bread of your choice (or one slice cut in half)
– 1/4 cup chickpeas
– 1 tomato
Instructions:
1. Toast your bread to desired crispiness.
2. Slice open your avocado and remove the pit. Scoop out the insides and spread
across the bread.
3. Dice your tomatoes and sprinkle them and the chickpeas across your bread slices.
4. Add salt and pepper and any other desired seasonings.
5. Enjoy!
CHEESE AND PANCAKE SAMMIE
Introducing the Cheese and Pancake Vegan Breakfast Sammie- the best way to start your day following a perhaps too exciting night out.
To Make the Vegan Pancakes:
NOTE: Bisquick isn't vegan in every country. If the Bisquick in your country is not vegan, try these 5-minute vegan pancakes from scratch instead.
Ingredients:
– 2 cups Bisquick
– 2 tsp baking powder
– 2 tbsp sugar
– 1 tsp vanilla
– Oil or vegan butter
– 1 cup non-dairy milk
– 2 slices of Vegan Cheese
– vegan bacon
– tofu
– desired ingredients for tofu scramble
Instructions:
1. Mix the first four ingredients in a large mixing bowl.
2. Add milk while stirring slowly. Keep stirring until the consistency you have
achieved is exactly to your liking. Hint: for fluffier pancakes, allow your batter to sit
for a few minutes before you begin cooking.
3. Heat a pan to medium heat and use a small amount of oil, or Earth Balance vegan
butter.
4. Pour 1/4 cup of batter onto the pan. Flip the pancakes when bubbles pop up upon
the batter and do not fill in.
5. Cook both sides until golden and delicious.
To Assemble the Sandwiches:
1. Set pancakes aside.
2. Cook vegan bacon and scramble tofu.
3. Add any condiments or extra toppings, as desired, to the pancakes.
4. Using the vegan pancakes as a bun, assemble your beautiful vegan breakfast
sandwich.
5. Enjoy!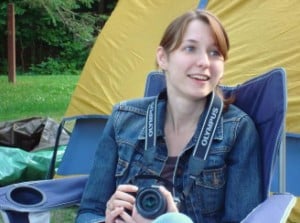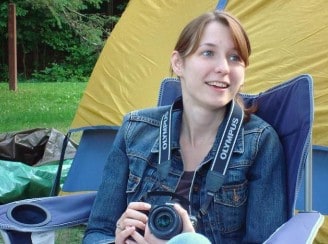 This is a guest post from Lucy Gomez, camp editor at Getcampingwild.com. Lucy grew up in a suburb of Oklahoma and she has been camping her entire life. Camping in the wild is a way of life for Lucy. Getcampingwild.com is a place where campers can share everything they've learned along the (sometimes prickly) way in the wilderness.