A few weeks ago, I decided to test out an idea that I'd had in the back of my mind for a few years – personalised vegan guidebooks (showing you can be vegan anywhere). I asked volunteers to send me their upcoming holiday destinations (or in one case, place they're moving). I sent them back personalised guidebooks for their trips. Each contains the best restaurants and/or recommended dishes. Plus, places near where they are staying or near tourist attractions.
I wrote my book (The Essential Vegan Travel Guide) to show people that yes, you really can be vegan anywhere on the planet. It shows you how to find vegan restaurants and other vegans wherever you end up. But what about people who are sick of research, done with adult-ing or going somewhere really tricky, like Siberia? Enter the personalised guidebook, a done-for-you service where I do all of the research and send you a pretty book with the results.
Vegan anywhere…even in Siberia?
While the idea was to show that you can be vegan anywhere (and everywhere), when a request came through for the Trans-Siberian railway, I began to doubt my own maxim that you can be vegan anywhere in the world. I mean, it's one thing scoffing at articles that claim the author couldn't find vegan food in Spain (what!) or Cuba.
But it's another to set out to find vegan food on the longest train journey in the world. Especially one that passes through Siberia, not exactly known for its vegan-friendly cuisine.
And yet.
I ended up writing over 30 pages about how to be vegan in one of the harshest climates in the world. I found places that serve vegan Borscht, momos and more. Plus I included a packing list and even information on how to find vegan food in the train's dining car.
Turns out, I shouldn't have doubted. You really can find vegan food anywhere. Seriously.
How? Do your research, and be prepared.
Finding Vegan Food Anywhere
-I found a lot of great listings on Happycow, supplemented with research on VK, Russia's largest social network. (You'll need to speak Russian or use Google translate – and be prepared for the resulting translator confusion!) If you don't find much on Happycow, always check social networks and local sites.
-Always have backup food and things you can eat on the go. Even if you're *not* on the world's longest railway journey! It's always a good idea to have food on you, just in case you end up somewhere that you can't find vegan options. To compile a list of food to take on the Trans-Siberian railway (where the only cooking facilities are a hot water heater at the back of each carriage), I had to be creative. In addition to brainstorming food that could be cooked in boiling water only (like rice noodles and couscous), I consulted vegan camping packing lists.
I'm still waiting to hear back from Paul and his wife, who I put the guidebook together for, after the trip. But I'm convinced the Trans-Siberian railway won't be a problem at all. The array of vegan options surprised even me!
Sick of research and want someone else to do it for you?
Not sure you can be vegan where you're going, or just sick of research and want someone else to do your pre-trip planning for you? I'm offering a limited number of personalised guidebooks on a pay-what-you-want pricing – email me where you're going and when and I'll send you more details. :)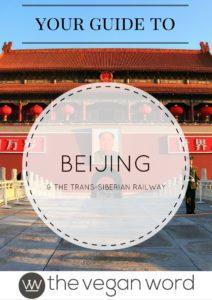 Want to see what on earth a vegan can eat on the Trans-Siberian railway and across Siberia and Mongolia? You can download a copy of my Trans-Siberian railway guide for free.
What's the weirdest place you've ever been vegan?