After reading about London's newest vegan shoe and fair trade/organic/eco-friendly clothes boutique, The Third Estate, over on Fat Gay Vegan, I knew I had to check it out. There are a number of great sites to buy vegan shoes on, but nothing beats seeing and trying them on in a shop. Previously, unless you were in Brighton and could go to Vegetarian Shoes or managed to make an appointment at Bourgeois Boheme (whose showroom is by appointment-only now), you were out of luck — until now.
The Third Estate offer an extensive selection of vegan men's shoes (which is great, since it can be tricky finding nice men's shoes that are vegan) and women's shoes (a smaller selection) from Vegetarian Shoes, Ethletica, Macbeth and Novacas. I was slightly disappointed with the women's shoe range, because I'm not a huge fan of Ethletica, Macbeth or Vegetarian Shoes — they all make nice shoes, but they're not really my style. Luckily, I found a style from Novacas that I liked, and the lovely people who own the shop were incredibly patient with me while I tried on the shoes in a couple of sizes and every single colour (I had trouble making a decision!). It was the best customer service I've experienced in a really long time; I was impressed! They were so friendly and welcoming, and even said they're open to suggestions of shoe companies they should try out. Which is great, because some of my favourite shoe brands aren't yet available in the UK and I'm hoping someone will stock them soon (I'm looking at you, Cri de Coeur and Olsen Haus). They also told me they will be stocking some accessories (such as bags or purses) from Bourgeois Boheme soon. I'll definitely be back to check out the new stock when it arrives.  Thanks again to the lovely staff for allowing me to try on so many different shades of the Novacas shoes: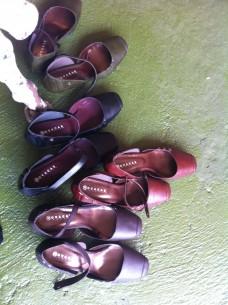 The Third Estate are having an opening party this Saturday, the 12th, with free food and discounts, so if you're in London you should definitely swing by! I'd be there but I have a good excuse for missing — I'm going to Latvia for the weekend! :)
Click here to get your FREE copy of the Vegan London Travel Guide!