Today's MoFo* prompt is "OMG! Barack Obama is coming over for dinner…what are you going to make?"
*WTF is MoFo, you ask? I haven't explained, mainly because I get a kick out of imagining everyone giggling at their computer/phone screens, but since so many of you have asked… Vegan MoFo stands for Vegan Month of Food, and it's a month-long blogging and social media challenge that takes place every September. The challenge is to post every day for the whole month. In past years, bloggers chose their own themes. This year, we have a prompt every day. This is my fourth year participating. You can find my past posts here:

2012: Places I've Been (recipe or food from a different country I've visited)
2013: Suitable for Non-Vegans (does what it says on the tin)
2014: Hungerlust (a vegan travel series, with travel stories, city guides, tips and interviews with vegan travellers and bloggers)
Well, MoFo (that's directed at the prompt, not you, gentle reader), when I hear "meet Barack Obama" it just brings to mind that time I met him and got stuck in a glass vestibule. Or more accurately, his security locked me in it. So first things first, we'd be having a word about that.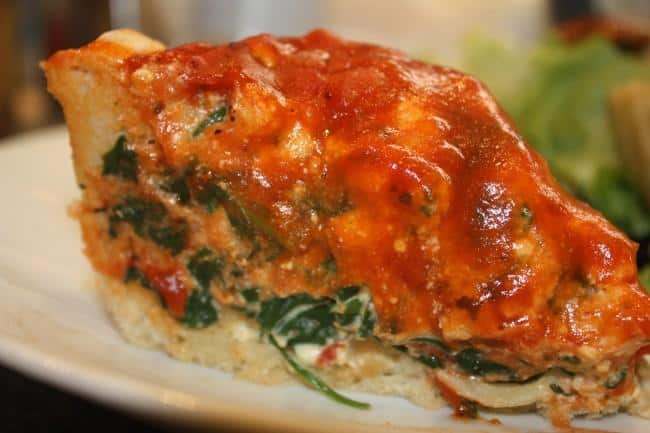 I'd probably make him deep dish Chicago style pizza because we're both from Illinois, and I make mine with a beer bread crust which makes it even more amazing.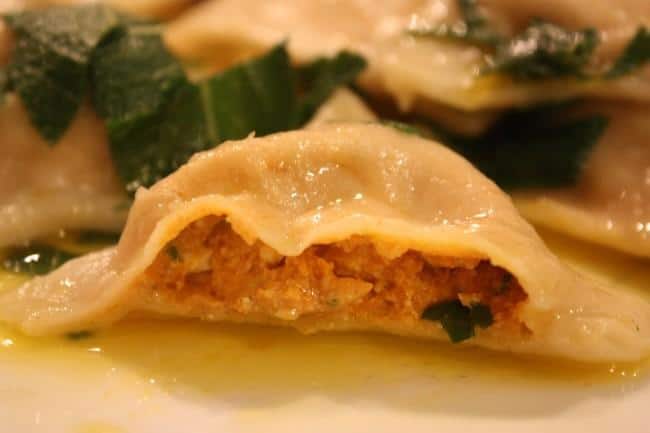 Or I'd make him this pumpkin and cashew cheese ravioli, because people love it when you stuff pasta for them.
But to be honest, if he'd turned up round my house today, it's more like I would have said "hey Barack, I've had a pretty stressful day, what do you say we check out this new vegan and mainly raw restaurant near my house? I can hardly keep up with all the new vegetarian and vegan restaurants opening in Barcelona, help me out, Barack!"
And what a good choice it would have been.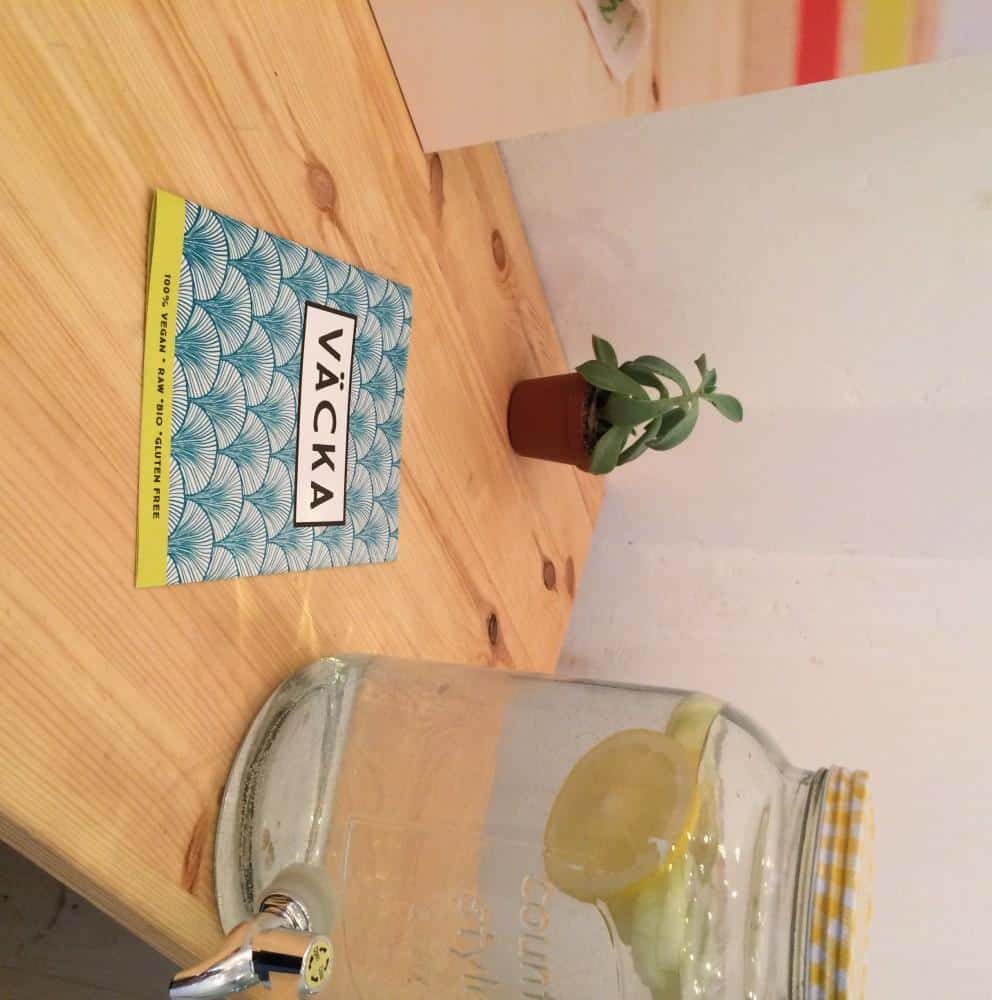 The restaurant is called Väcka, and it's just off Passeig de Gracia. They say "vacka" means "waking up", like waking up your conscience and your tastebuds. I'm not sure in what language (edit: I just looked it up and it's Swedish), but I forgot to ask them if it was a play on "vaca" (which means cow in Spanish, especially relevant since the owners are Argentinian, beef capital of the world).
Since Barack couldn't join me, I went without him today.  I was there at an incredibly early hour for lunch in Spanish time (12:30pm) so the kitchen hadn't churned out all the takeaway salads in a jar just yet. (Yes, like the cakes in a jar – my neighbourhood is just full of vegan food in jars at the moment)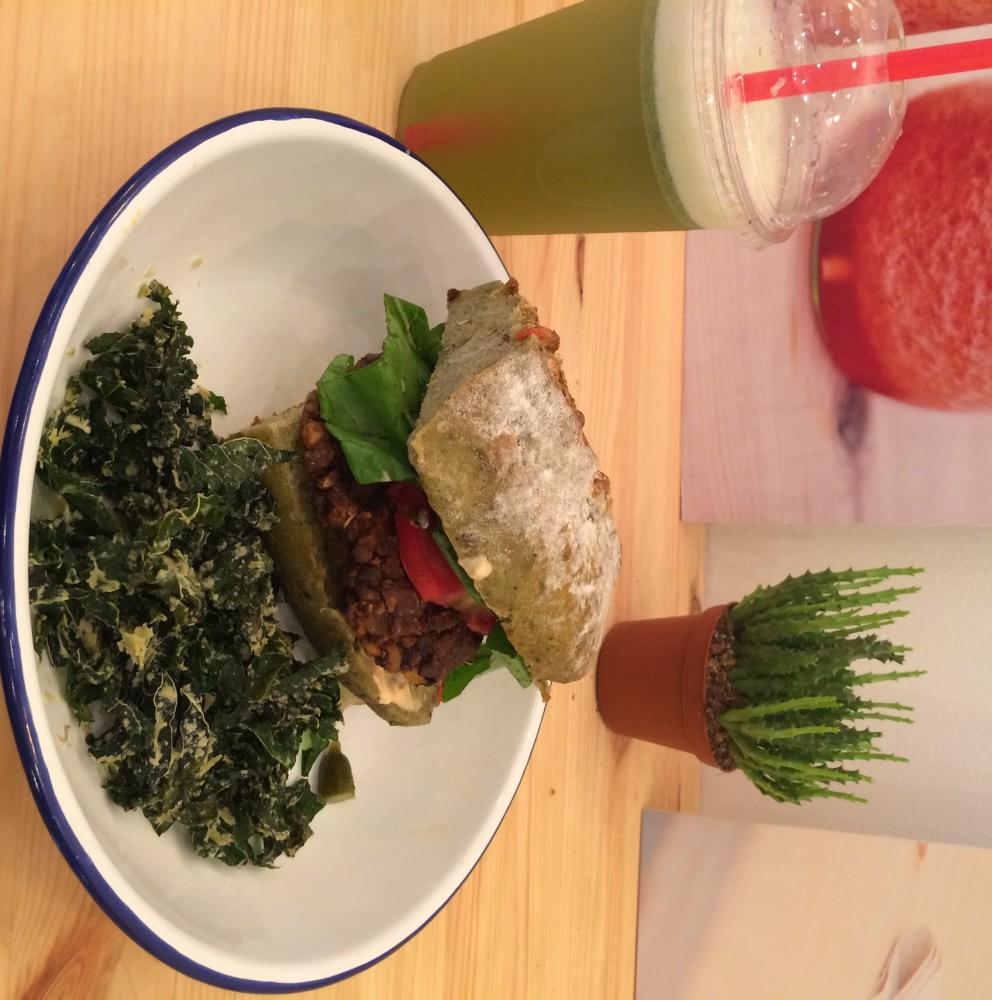 But I was able to order a seed burger with tomato, pickle and some sort of slightly spicy and delicious mayo. I think a slightly more accurate term would be nut roast, squished into a burger form. It was delicious, I just want to manage expectations here. It came on really good, proper, crusty bread, which I haven't found anywhere else in Barcelona. It also arrived with a side of kale chips, which in other circumstances might have disappointed but I was in the mood for some nice, healthy food. It also piqued my curiosity on where they procured kale, which I've never seen in Barcelona. Luckily they were very helpful and I should now be able to source my own kale!
I got the lunch menu which meant it came with either a dessert or drink. I opted for the "porteño" lemonade with ginger and mint (porteño is the term for residents of buenos aires, Argentina).
Also on the menu:
Lots of different salads in jars, including a tasty sounding taco salad
Raw ceviche
Savoury waffles
And sweet waffles (they do brunch). Which I'm definitely going back for. The waffle dishes are around €5 each and one comes with raw Nutella, another with berries and a chocolate bath.
I don't fully know what a chocolate bath is, but I'm pretty sure I want one.
Barack, join me next time?
Are you in Barcelona or planning a visit soon?  Want to get your free copy of Barcelona's 5 Best-Kept Vegan Secrets and a discount on my Barcelona vegan guidebook?  Click on the button below: