London doesn't always have the warmest summers, but I've been enjoying all the sun and warmth I can in our local park so far this month! Here's a roundup of my favourite picks of June and the summer so far:
'Our' park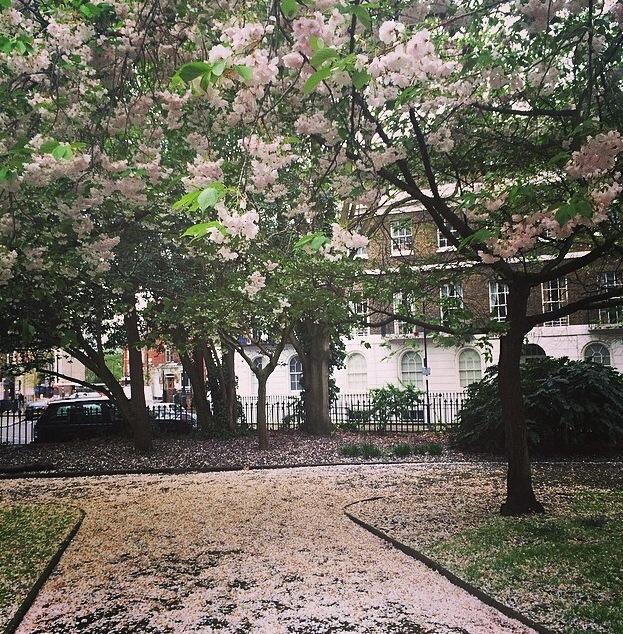 My boyfriend and I moved into a new flat in March, which we absolutely love. Apart from being three to four times bigger than the place where I used to live solo (whose nickname was 'the box' or even 'the shoebox'), it's got a pretty little patio (more on that below), loads of light, and is situated on a square. The square we live on, with a park in the centre, is one of the quietest parks I have encountered in London, despite being off a fairly main road. There are bigger and better known parks nearby and I think most people go to them so luckily few seem to have discovered our little square! Every time it's sunny we go sit in the park; sometimes we work on our laptops, sometimes I read my book, and we often have cava, which feels so decadent (but actually costs about the same as a bottle of wine!). There's nothing better on a sunny, summery day. We've also started getting up before work the last couple of weeks to do some exercising before work, and I can't get over how convenient it is to be able to go to the park across the street to exercise.
The patio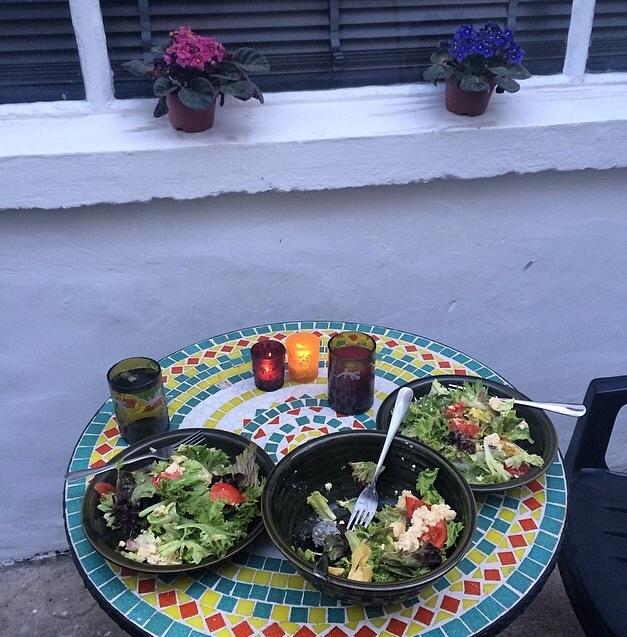 Our patio is a little bit odd, seeing as how we're in the basement flat. I like how I can look up and see trees in the park across and the sky, but it's slightly disconcerting to also see passerby, who sometimes look down on me curiously. Despite it not being the most private place, the street isn't busy so it's fairly quiet and not that many people walk by, so I love drinking coffee out there and eating the occasional breakfast or dinner on the patio. Also, as it's the first flat where I've had proper outside space (I had a tiny bit of roof space just outside my window in my old flat, which I used to perch on to read books, but it wasn't big enough to grow plants and even when I tried I forgot to water them — oops!), we've decided to grow a little herb garden. So far the mint and chives are thriving but we've somehow managed to drown the parsley and kill it. Oh well… Somehow our tomatoes are doing quite well and we've put out a few small flower pots which make the place feel more homely. It also came with a little tree and a mystery plant, which hasn't revealed itself but which I think might be a rose due to its thorns (anyone know of any other thorny plants it could be?). I also fulfilled my dream of having a mosaic table when I spotted one on Preloved just before we moved into our house. It was quite an epic journey going to get it, which involved dragging the (very heavy) table onto first a bus, then a train, and finally the tube, but it really brightens my day eating on it!
Flavoured waters
Recently I've started 'flavouring' my water sometimes, as I find a hint of herbs or fruit makes me more likely to drink water (which I am really bad at!). A new health food shop opened near my office last month, and I spotted cucumber water selling for something £4 per 1 liter bottle! I couldn't believe it, because infusing your water with flavour couldn't be easier…all you have to do is put some water and whatever herbs, veg or fruit in a pitcher or jug and leave sitting for a few hours until the flavour has spread throughout the water. You can even refill it with more water and keep reusing the herbs/fruit for a few rounds of water. It doesn't cost more than a few pence! My favourites are old standby cucumber and also strawberry and mint from the garden.
Smoothies
We get free breakfasts at work so for the last couple of years I've been having cereal with soya milk or jam and toast for breakfast most days — not a bad breakfast, but I'm ravenous by the time I usually get around to eating (I might get up at 7:30 but often by the time I have a chance to eat breakfast between meetings it might be 11, or even noon!). When we started getting up to do exercises last month, I couldn't take the wait, so I started eating all my breakfasts at home, even on days when we're not exercising. I felt a huge difference in eating a few hours earlier! I usually have either overnight oats (my favourite at the moment is equal parts oats, yoghurt and milk, plus a sprinkling of chia seeds, fresh cubes of mango and a dash of almond extract) or smoothies. My favourite smoothie is so rich it tastes more like a milkshake, and is made out of frozen bananas, a few tablespoons of oats (use steel cut for best results), a dollop of peanut butter, milk and a bit of unsweetened cocoa powder. Recently I discovered a new favourite smoothie (which I can also share with my banana-hating boyfriend — if I'm nice enough to share!), peach-strawberry matcha smoothie (recipe to follow soon).
No-cook recipes
Thanks to living in a flat that has more than one room, cooking in the summer hasn't been as much of a nightmare as last year in my tiny studio, where the kitchen was next to my bed and there was no hope of containing the heat of the oven or even the steam from boiling pasta away from my living and sleeping area. And our basement flat is in fact pretty cool, even when it's hot outside. Still, it's not nice to slave away over a hot oven in the hottest days of summer (especially if you'd rather be reading a book outside!) and there's something very refreshing about having a light yet filling salad or chilled soup. Favourites include my perfect salad, cannellini-bean artichoke salad, gazpacho (recipe coming soon), Asian style salad with peanut dressing(if you leave out the cooked quinoa!), and Caesar salad (if you leave out the vegan chicken slices – replace with tinned chickpeas and/or avocado to make it more filling). Oh, and apart from mains, ice creams of course go down well in the heat too!
'New' site
I was *finally* able to make my site mobile optimised a month ago, thanks to my boyfriend, who upgraded my whole theme. While the site may look the same, it's actually an entirely new installation of the theme which is fully responsive! Happy to have finally joined 2014 (or even 2012/3?).
Comment
A comment from reader Dave on my walnut ravioli post absolutely made my month! "Holy Crap! This is delicious!
My lovely wife and I made the walnut ravioli with Vodka Cream sauce, also made some simple ravioli stuffed with home made vegan cheese ( Almond flour, garlic, lemon juice, salt, water, olive oil, blended ) mixed with random green herbs and used the same sauce. Terrific! We used won-ton wrappers and made 4 ravioli with each wrapper ( lazy ..). Anyways, this set of recipes is now added to my all time favourites list. Thank you!!" Thank YOU, Dave! :)
Puppy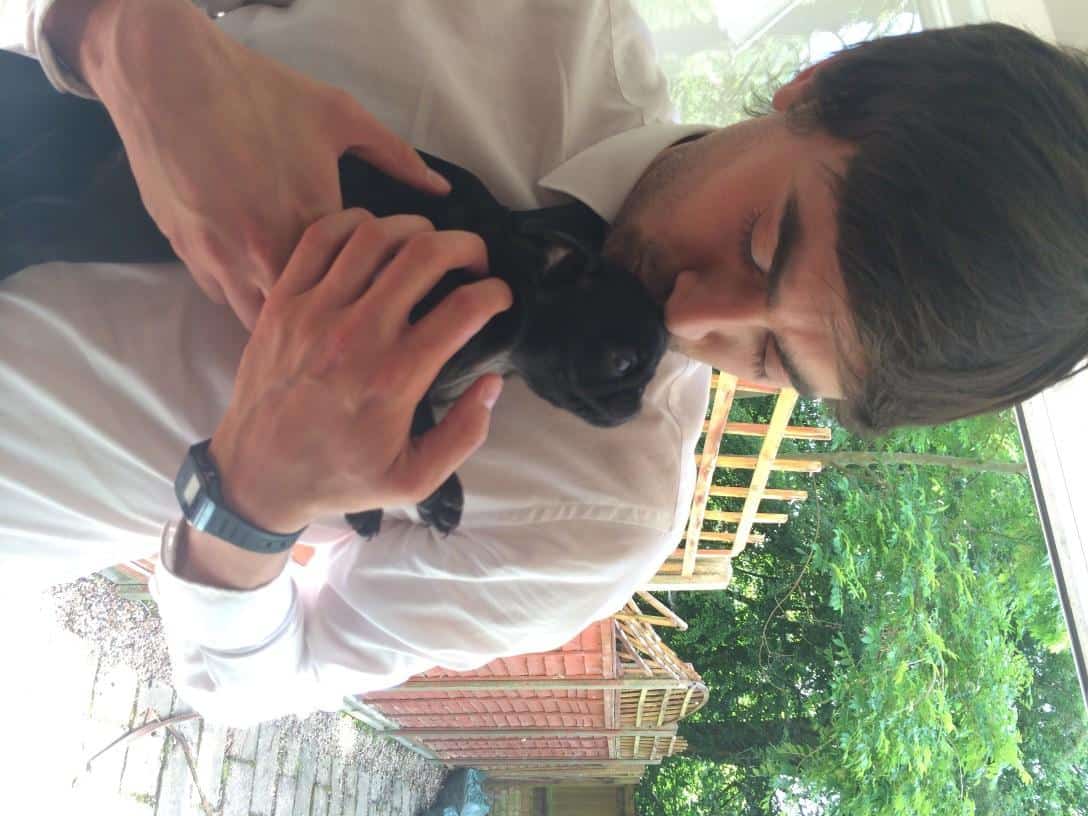 The most exciting meeting of the month was when, after attending a wedding in the area, I got to meet my boyfriend's mum's new puppy, Betty (pictured above with my boyfriend)! She was the friendliest little pug I've ever met – inquisitive, she came straight up to me and said hi, and my heart melted! :)
Contributing to One Green Planet
Last but definitely not least, I'm super excited I've been accepted as a contributor to One Green Planet and will have articles regularly published over there! If you haven't checked out One Green Planet before, it's full of informative and interesting articles about all sorts of topics, from vegan recipes to health, politics, lifestyle and more!