The brand new edition of my Amazon bestseller, The Essential Vegan Travel Guide, is out now!
The paperback is normally $14.95; get your copy for $11.95 until the 14th of April, midnight EST.
The new edition is the longest and most comprehensive yet; inside I cover how to plan your vegan vacation step-by-step, from finding vegan or vegan-friendly places to eat, to where to stay, to navigating travel with non-vegan companions.
The book also has sections on vegan retreats, tours and cruises, plant-based camping and vegan-friendly road trips.
What will you learn?
You'll learn what to pack on the plane and how to find vegan-friendly and airline-friendly toiletries, and you'll even discover emergency recipes you can make in a hotel room, from couscous in a coffeemaker to burritos you can prepare in the hotel.
What's new?
The newest section in the book is about vegan travel activism and how you can spread the vegan word while on the road, from education to advocacy and activism.
I've included tips and bright ideas on how you can incorporate advocacy and activism into your travels, along with reader stories and examples.
The Essential Vegan Travel Guide: 2018 also features a list of the most vegan-friendly cities in the world. This is an expanded list (in previous editions I featured the top 10 vegan cities; this year, as the world becomes increasingly vegan-friendly, I've featured the Top 25 Vegan-Friendly Cities worldwide). In addition to the top cities for vegan visitors, I've included some of the best restaurants in each and my favourite vegan guide to each.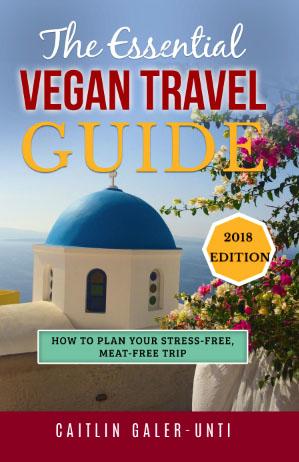 How to get it?
Order your copy before the 14th of April and get 20% off!
Click here to order on Amazon.
What have people said about Amazon Bestseller The Essential Vegan Travel Guide?
"I am new to veganism and am planning a two week trip this summer to Rome, Italy and India. I was so nervous! I only speak English and this will be my first trip abroad. Thank you for the recommendations and for the phrase wallet-card (something I would never have thought to bring)! This book has given me some confidence about vegan travel and the importance of preparedness." – Amazon review

"I was incredibly excited about how potentially life-changing this book could be! The Essential Vegan Travel Guide is packed with travel tips for vegans to ensure you won't starve while travelling, and you won't have to resort to eating animal products either ;) and the best thing is, Caitlin's methods can be applied to ANY travel destination!" – Kyra, Vie de la Vegan
"It's no exaggeration that the word "essential" is in the title. Divided between both practical and fun sections, like How the Hell Do I Find Somewhere to Eat?, Preparing for Your Trip, and Emergency Recipes for the Road (like Couscous in a Coffeemaker!), Galer-Unti seems to have all bases covered." – Vegan Outreach
How to Order Your Copy (And Get 20% Off)

Order your copy now and get 20% off — $11.95 for the paperback (usually $14.95) on Amazon until the 14th of April!