Edit: Milk Bar changed hands and no longer offer vegan breakfast!! :( Ask for them to bring it back!
I am coffee-obsessed and always looking for the best coffee shops in London. I had heard good things about Milk Bar in Soho (sister coffee shop to Flat White), but when I heard they do vegan breakfasts that sealed the deal for me. I had to go!
The ambiance of Milk Bar is trendy and cosy but dark (they've opted to paint one of their walls black). They've got fashion magazines to read and there were plenty of seats available when we were there mid-afternoon Sunday (this is a huge bonus in Soho!).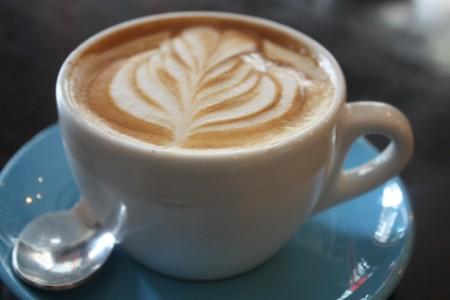 The flat white, at £2.50 + £0.50 for soya (Bonsoy – the best of the best soya milks), didn't fail to impress. It was smooth with fruity overtones, although it was just a touch too bitter at the end for my tastes.
The food menu was an unexpected bonus. Most coffee shops don't do vegan options (although more and more are offering them!), and I was impressed that Milk Bar have a range of vegan options, plus gluten-free options! In addition to the French toast, which I had, Milk Bar offer beans on toast, avocado and coriander-lime spread on toast, and banana bread.
The French toast was served with a caramelised banana (yum!), strawberries, blueberries, icing sugar and maple syrup. I could be wrong but the maple syrup didn't seem 100% pure — it would have been better with pure maple syrup but it was delicious nonetheless. I particularly enjoyed the addition of caramelised banana, and I thought the French toast had just the right amount of cinnamon. It was cooked fresh to order, and made the entire coffee shop smell delicious. I'd definitely go back for brunch!