I read about G&T, an almost entirely vegan cafe in Bethnal Green, a few months ago over on Vegetarian London and immediately wanted to check it out, especially after reading a stellar Timeout review. I suppose that's not all that unusual, considering I have a strong desire to sample all the vegan restaurants in London/England/the world, but there was one thing in particular that hooked me on the thought of trying G&T: great coffee + vegan food. I'm obsessed with coffee, but it's sadly rare to find a place that does both fantastic coffee and good vegan food. Most places force you to choose between one or the other; there are some lovely restaurants that do amazing vegan food and decent coffee, and there are tonnes of world-class coffee shops in London that can make a killer flat white but have little (or no) vegan food options. I wouldn't say G&T coffee ranks alongside the likes of Taylor Street (if you haven't had coffee here, do it soon), but they do a really good coffee as well as fantastic vegan food. One thing I regret is ordering a flat white (an Australian/New Zealand coffee) in a cafe owned by an Italian! That was silly–next time I'll definitely get an espresso or cappuccino. :)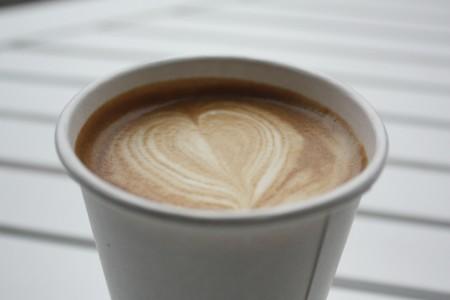 Everything on the G&T menu is vegan, apart from cow's milk, which they offer as an option for coffee. One thing that made me EXTREMELY happy is that they offer a 5p *discount* for soya milk (and they use Bonsoy, the gold standard of soya milk for coffee). It's so refreshing to see a cafe that reward you for drinking soya rather than penalise you by making you pay more. They do this to encourage customers to try soya. G&T opening hours seem geared towards people picking up a morning coffee or sandwich over their lunch break, but they are open Saturdays too.
They offer a breakfast option which I'd love to try some Saturday morning, but on the day I was there I opted for lunch. I had a Mediterranean tofu sandwich (£4.50 I think) and the aforementioned flat white (£2.45). I was slightly wary of this option, as I don't normally like tofu in sandwiches (most places don't season it properly and therefore it can make for a very bland sandwich). The tofu in the G&T sandwich, however, was perfectly marinated and seasoned (but not too heavily — it wasn't overpowering in its seasoning and balanced well with rest of the sandwich components). The Mediterranean tofu sandwich comes on a hearty seeded bread with tomato, sprouts, salad leaves and homemade mayo, which was amazing! I'm not usually a fan of mayo but I loved theirs. All food is organic and healthy; a lot of times I'm a bit scared of food that bills itself as "healthy food" but I really enjoyed G&T's.
Naturally, I also had some sweets (provided by Manna): a gluten-free almond & plum muffin, and a carrot cake muffin which I sadly ruined by leaving it on my counter for several days (oops!). Again, I had a pleasant surprise with the almond-plum muffin; I'm not often a fan of the texture of gluten-free baked goods, but I don't think I'd have known the almond & plum muffin was gluten-free if I hadn't seen the sign. My only complaint was that it could have contained more plums. But overall, like most Manna food, it was delicious.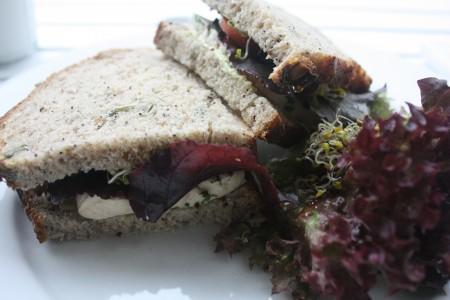 I really enjoyed G&T but I wish it were more conveniently located — Bethnal Green is not a part of town I frequent often. Also, the shop is really tiny, with just a counter and a few shelves (stocked with dried and canned goods and a few interesting cookies from Italy), plus a couple of tables outside. I had my food and coffee outside, but because it's on a busy street, the noise from traffic was pretty loud. I imagine it might be difficult to hear someone else if you were trying to have a conversation. On the other hand, because there was a lot of foot traffic on the street as well, it was great for people watching. I spoke to the owner, who told me most customers are local, which makes sense. Interestingly, most customers aren't vegetarian or vegan (she guessed as low as 3-5%); I think this is great as they are introducing veganism to more people and showing them how great vegan food can be. The owners were really friendly which always makes for a good customer experience! Although Bethnal Green is a bit far, it's fairly convenient for me to get to on the Central line so I'd definitely go back. I just wish it were closer to me so I could pop in for coffee and a muffin or a sandwich more frequently!
G&T
204 Cambridge Heath Road
E2 9NQ
Mon-Fri 7:30-6:30
Sat 9-5:30