Celeri is a vegetable-focused restaurant whose head chef Xavier Pellicer is former chef of Can Fabes, one of the first restaurants in Spain to receive Michelin stars. Celeri, which is located in a spacious and airy high-ceilinged space, just below the Woki Organic Market near Hospital Clinic metro, is different to most restaurants, and not just because you might be seated next to the kitchen (or even in it), watching the kitchen staff prepare your food. Here, the menu is divided into sections by vegetable. Each section focuses on a different seasonal, organic and usually locally-sourced vegetable and within each vegetable section there is a vegan option, a vegetarian dish and an omnivorous plate. The focus is on the vegetable, and you won't find tofu, seitan or even breads, pasta or rice. Here, the vegetable is king, and I loved every bite.
We decided the best course of action would be to ask the server to bring us a selection of vegan plates for the four of us, as many dishes as he thought it would take to fill us. He said he'd recommend around two plates per person, so we ended up sampling nearly all the vegan dishes on the menu. Bear in mind the plates are pretty small so you do need at least two a person. This is definitely a place to go with a group if you want to sample everything! The cost was around 30 Euros per person including dessert but excluding drinks, which wasn't bad considering the quality of the food and all the different plates we got to taste.
Every dish was beautifully presented, imaginative and unique to the restaurant. I love how they played with flavours and textures and kept the focus on vegetables. You know that a chef is talented when they make you enjoy vegetables you don't normally like – in my case, beetroot and mushroom, or get excited about vegetables that are normally supremely boring such as cabbage. Some say that the true test of a chef's talent is how they prepare vegetables. I've heard that meat is relatively easy to prepare and difficult to get wrong, but standout chefs do vegetables well. Technique and of course quality of vegetables is most important and Celeri really shone on both counts. Just make sure you order at least 2-3 dishes a head – the plates are small!
So, what did we eat?
Spiced crispy bread (not pictured) and hummus with turmeric and garnished with flowers: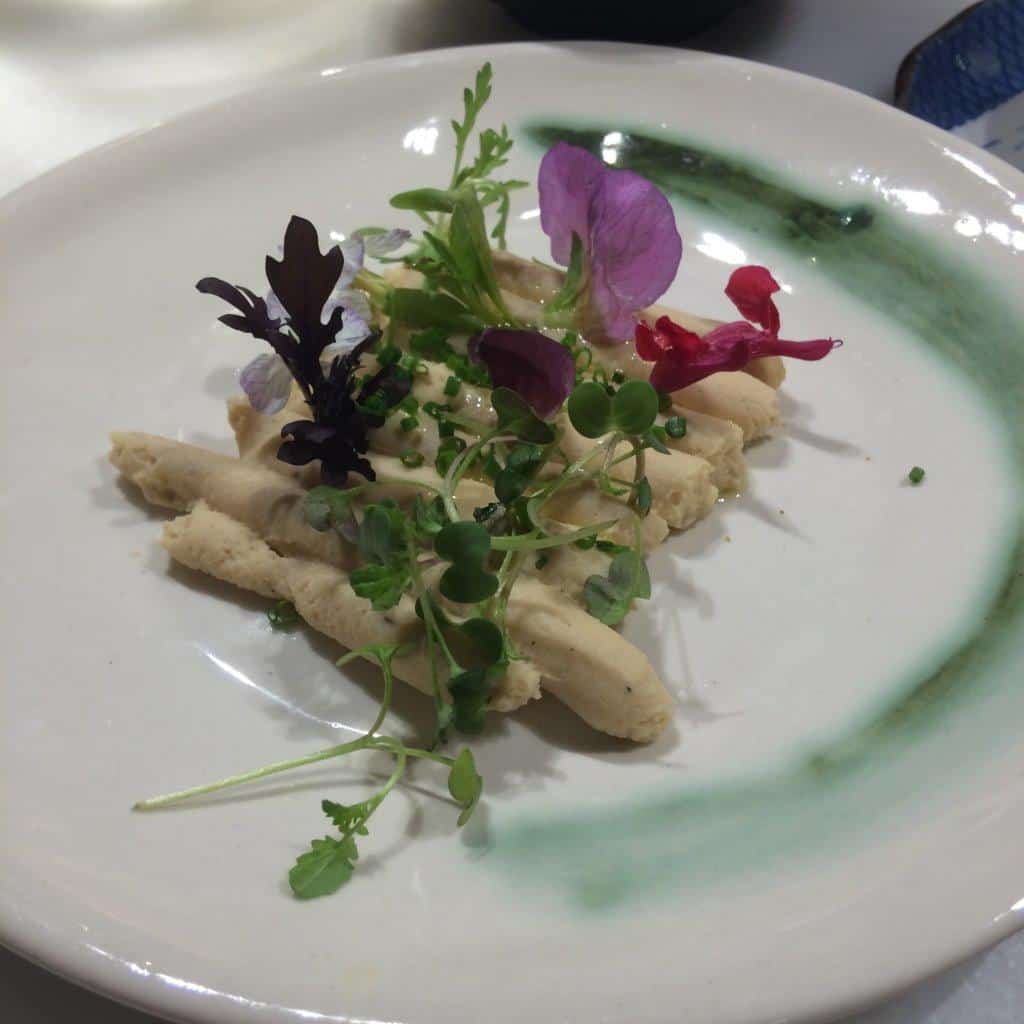 Roasted cabbage (served cold) with shallots, pickled radish and mustard oil: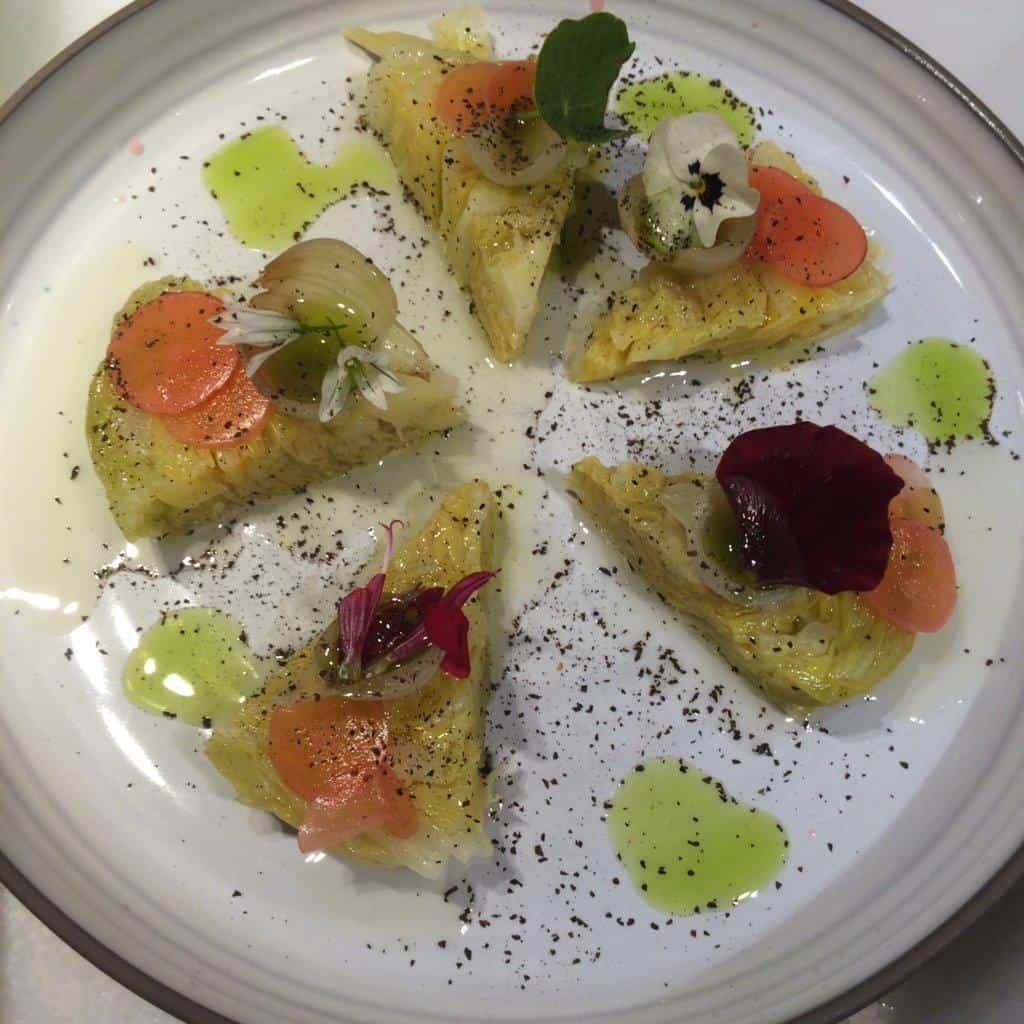 Beetroot and tomato gazpacho with sherry grapes, dehydrated beetroot slices and flowers: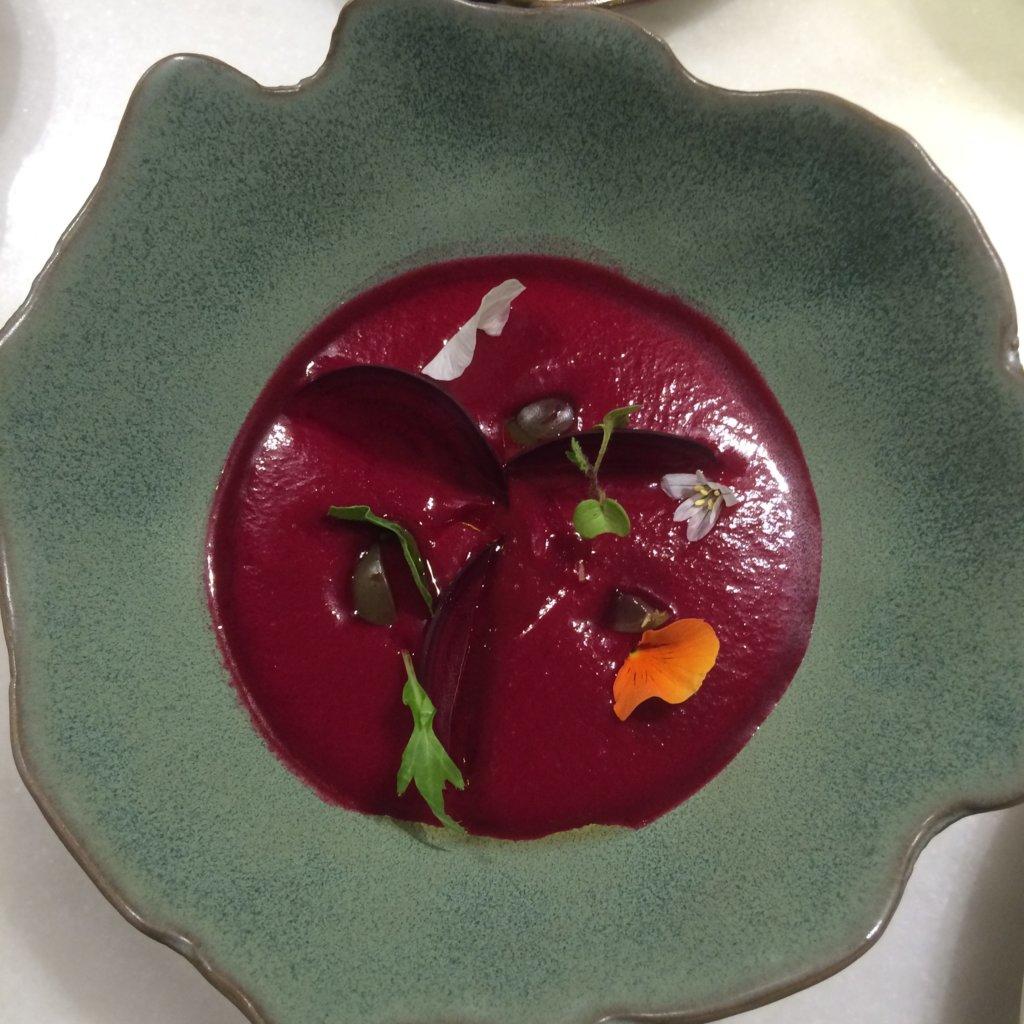 Pumpkin with pumpkin puree and garnished with greens: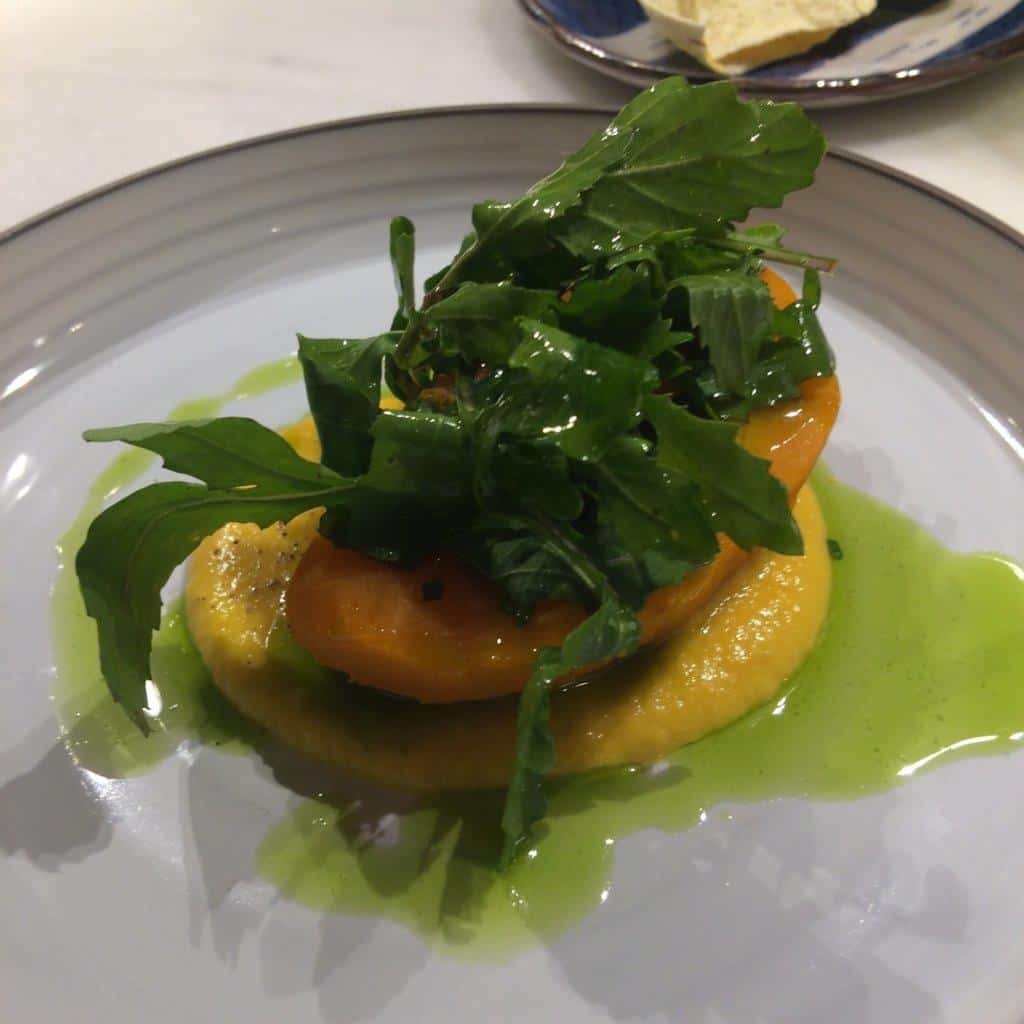 Salty and smoky caramelised roasted aubergine, crispy on top and tender within (described in the menu as "aubergine prepared as caviar, with aromas of Mahgreb"):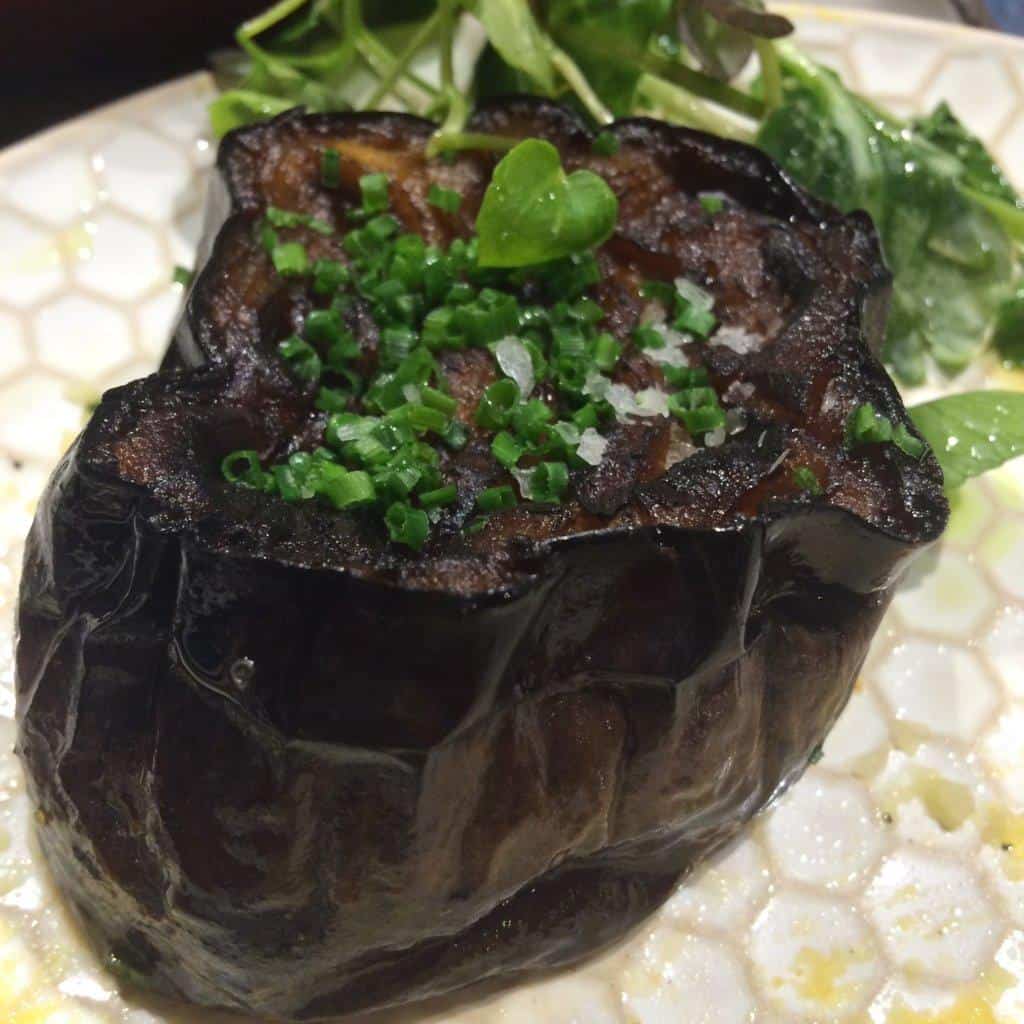 Tender and creamy potatoes in a clear vegetable broth with nettles and seasonal mushrooms: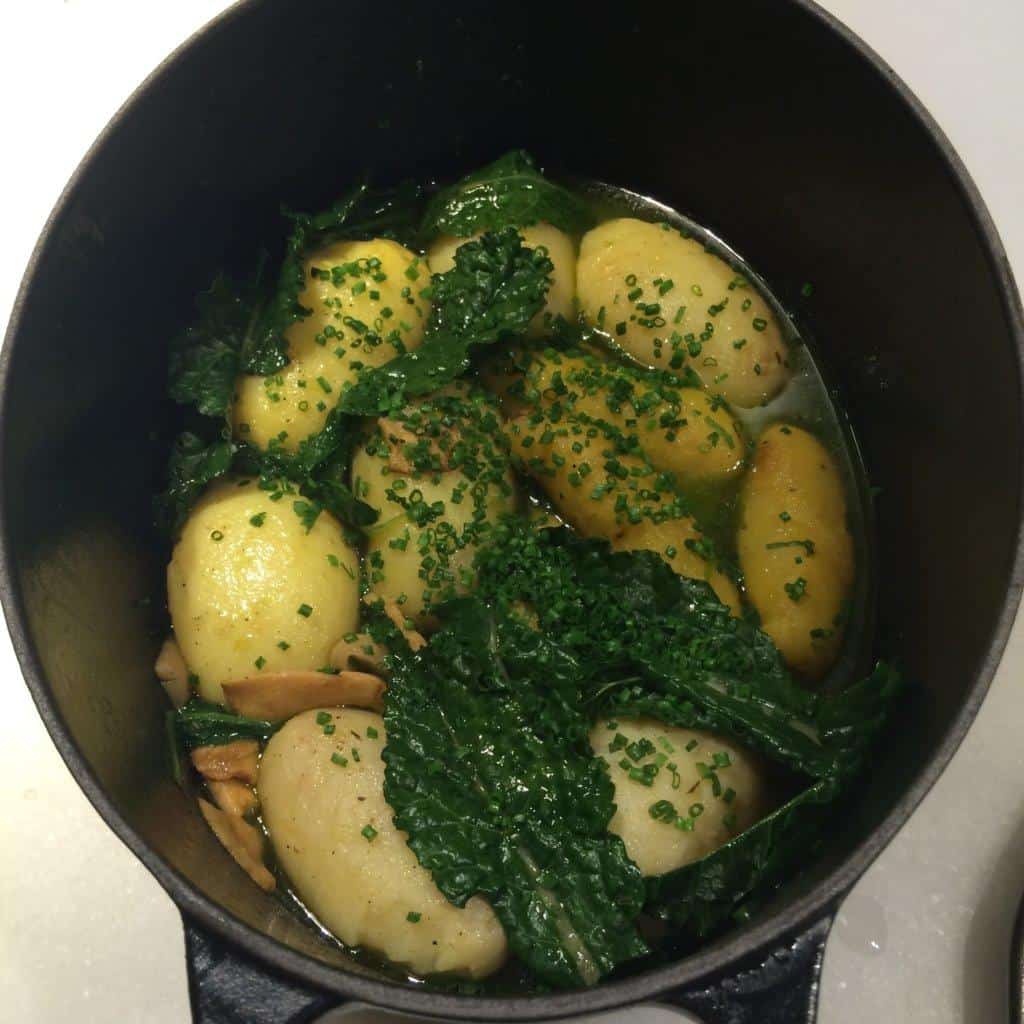 Potatoes mashed with herbs, then fried, topped with green beans and rossinyols, a local mushroom: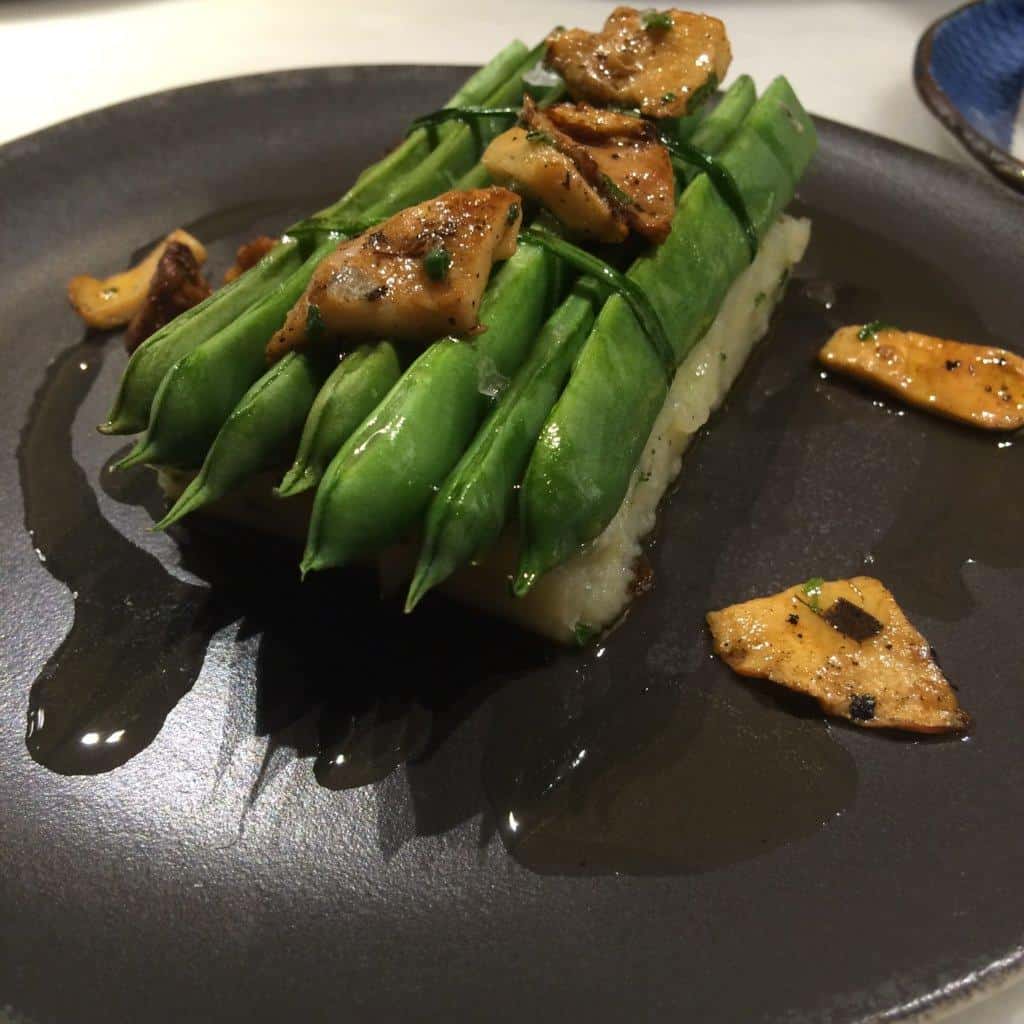 For dessert, citrus soup with strawberries, mandarin oranges, pomegranates and sorbet: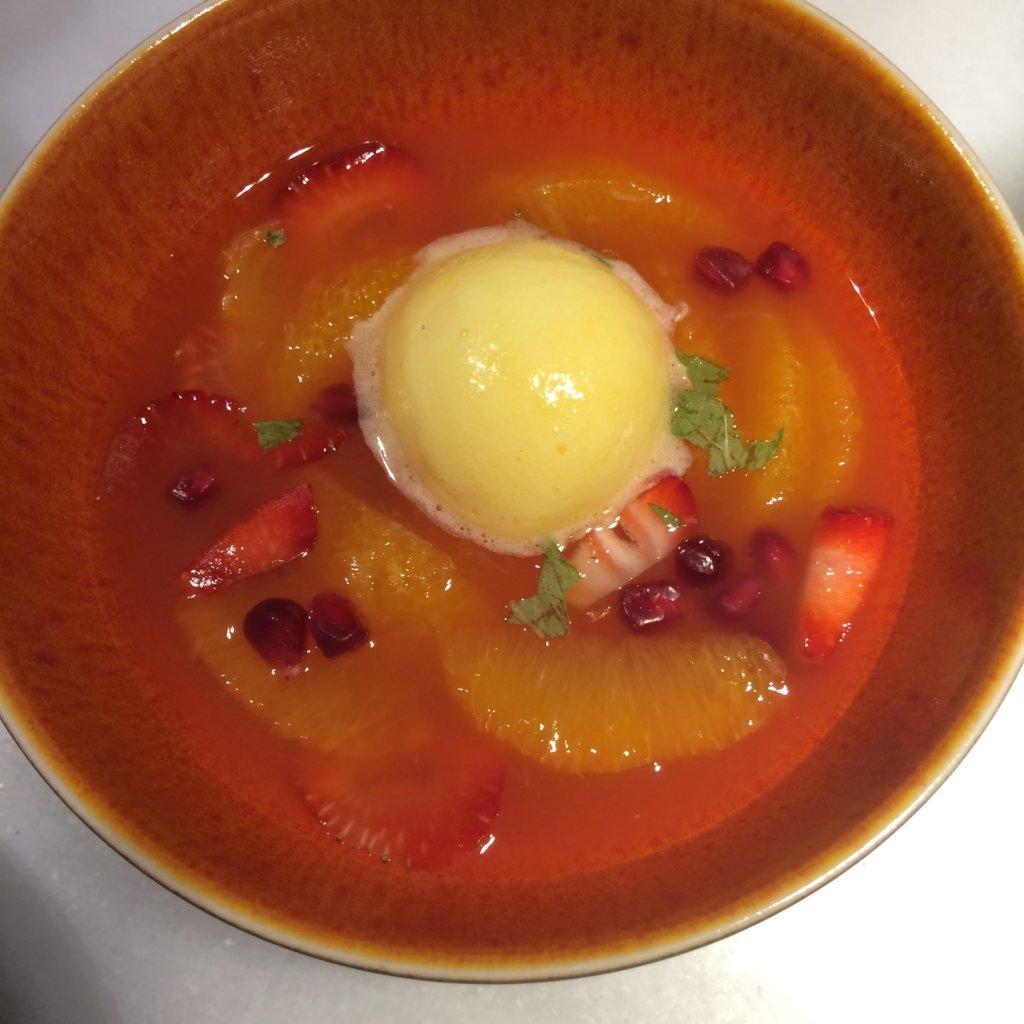 If the way a chef treats vegetables is a measure of their expertise, then Xavier Pellicer is a very talented chef indeed.

When to go to Celeri?
If you love vegetables and want to eat beautiful, delicate dishes in which they star.
You want to visit a restaurant with non-vegetarians who aren't up for going to a veggie place but still have plenty of vegan options.
A special occasion or when you want to impress, as the plates are small and you can expect to pay around €40 for 2-3 plates per person, drinks and dessert. (Translation: This is a gastro experience, not a place to carbo-load!)
Celeri
Website
93 252 95 94
Passatge Marimon 5
Barcelona 08021 (Nearest metro: Hospital Clinic)
Mon-Sat 1pm-4pm / 8pm-midnight
Closed Sundays
Want to know what else Barcelona has to offer vegans? Click here to get your FREE copy of Barcelona's 5 Best-Kept Vegan Secrets!