When I heard a new vegan restaurant had opened in Barcelona two weekends ago I rushed over as soon as possible.  A friend and I had dinner there two days after it opened, making us some of their first customers.  In upscale Eixample, Armonia looks pretty – all light wood, with a huge table in the front room (perfect if you want to have a larger dinner for 8 or 10).
As some of the first diners, I think we were witness to some growing pains (like, they hadn't even gotten their credit/debit card reader yet) so let me just preface this by saying that this is a review of a very fledgling restaurant that may change and I hope to get back in the next few weeks to try it again.
My advice to you for now: bring cash and eat tapas, not from the mains.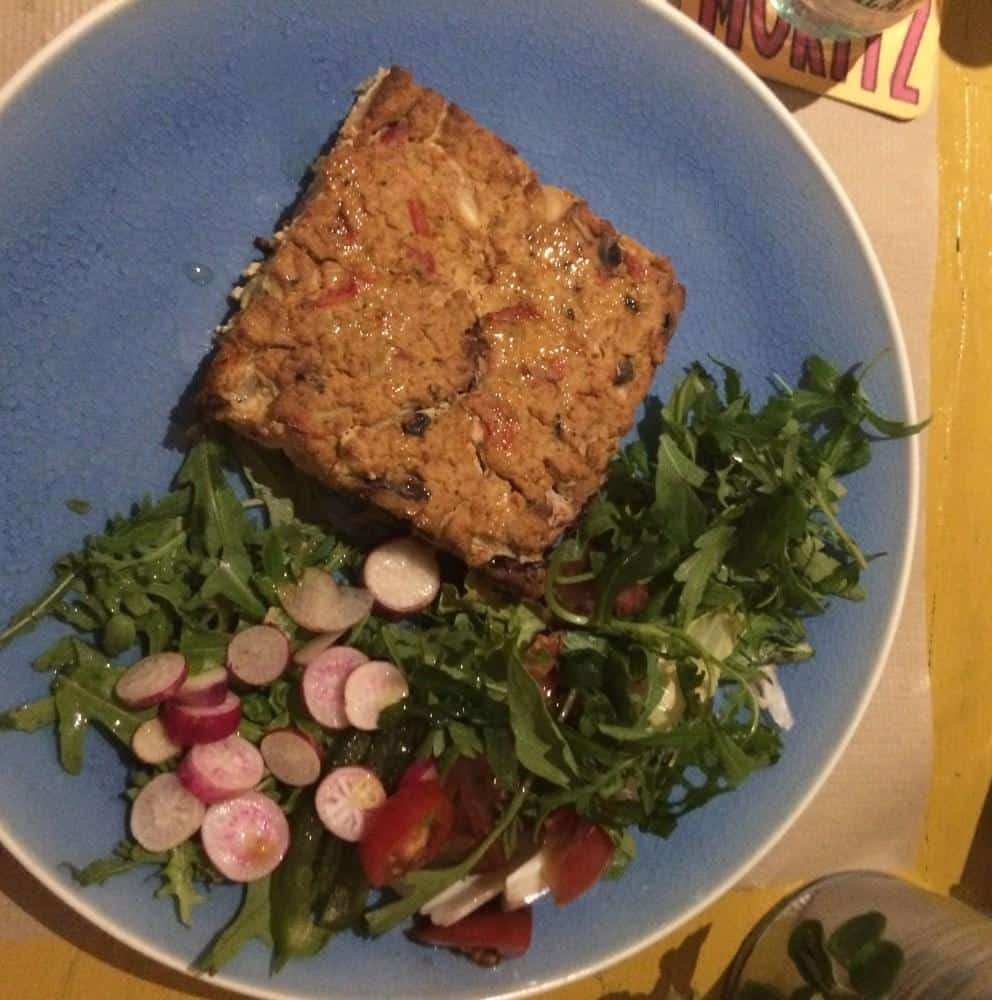 Armonia has a tapas menu and a mains menu.  We just ordered mains but they brought us some free tapas (lovely!).  The mains were ok, but I have a couple of nitpicks here (like I said, it's a completely new restaurant so they are going through some growing pains).  My friend had the chickpea burger, which was nice but a bit dry – could use some sauce – and which came on a pita bread.  Nothing wrong with that, but I think it would be worth mentioning on the menu just to avoid the surprise (as luck had it, my friend asked ahead of time and they told her it was going to come on pita).  Because otherwise, I would have expected a burger bun, and been very surprised when this cracker-like thing came out.  I had the quiche, which was nice but very crumbly – as soon as I cut into it it started crumbling apart.  I think it was made out of tofu which wasn't holding together (which is why I think the addition of cashews to quiche is always a good thing :)).  It came with a side salad that was kind of boring – just some leaves, radishes and tomatoes with a drizzle of some dressing (I think it was oil and vinegar).  And not nearly enough dressing for my taste (although I do like a lot of dressing!).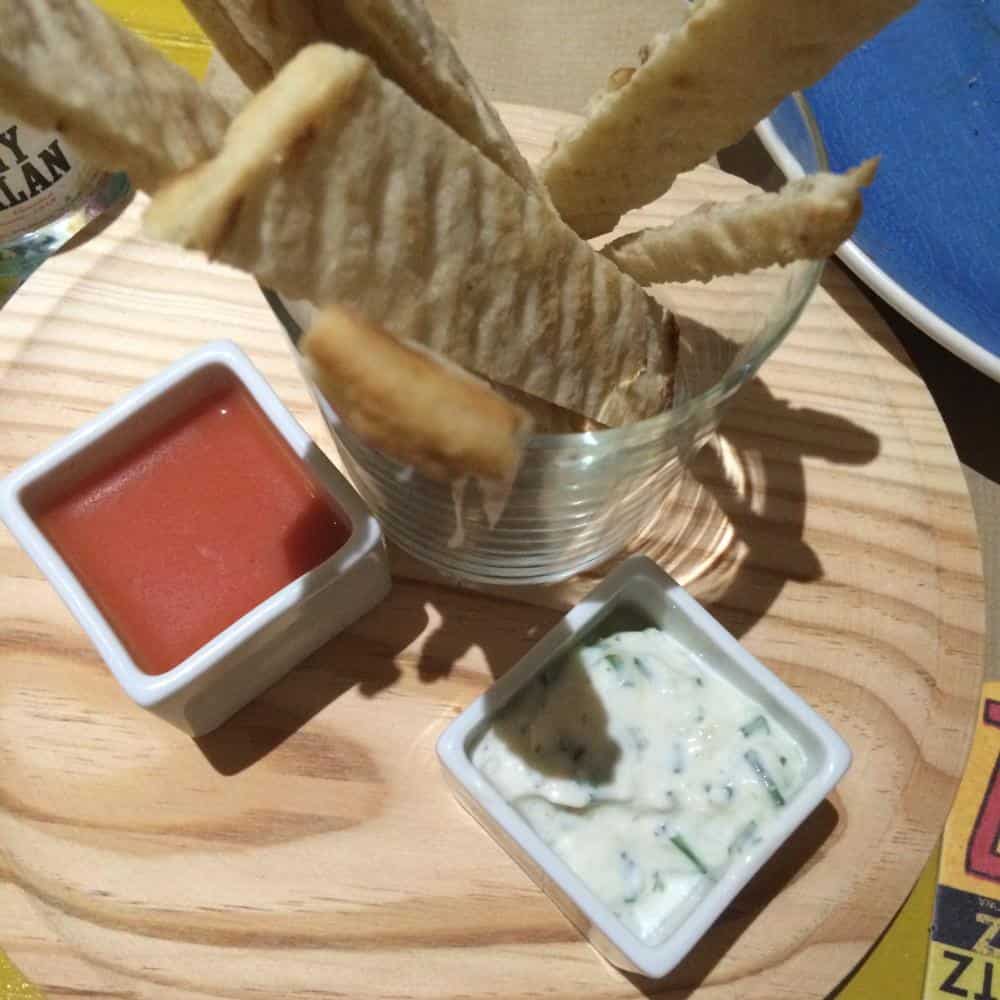 We were also brought a few free tapas: gazpacho, tzatziki with bread and croquetas (fried balls of smoked tofu, in this case).  The gazpacho was pretty standard gazpacho although it confused us slightly with its placement next to the tzatziki (are we meant to dip the bread in it?) but I think this is just because they'd brought us a small sample.  The tzatziki was really nice. I haven't had tzatziki in ages but I think it tasted quite a lot like non-vegan tzatziki.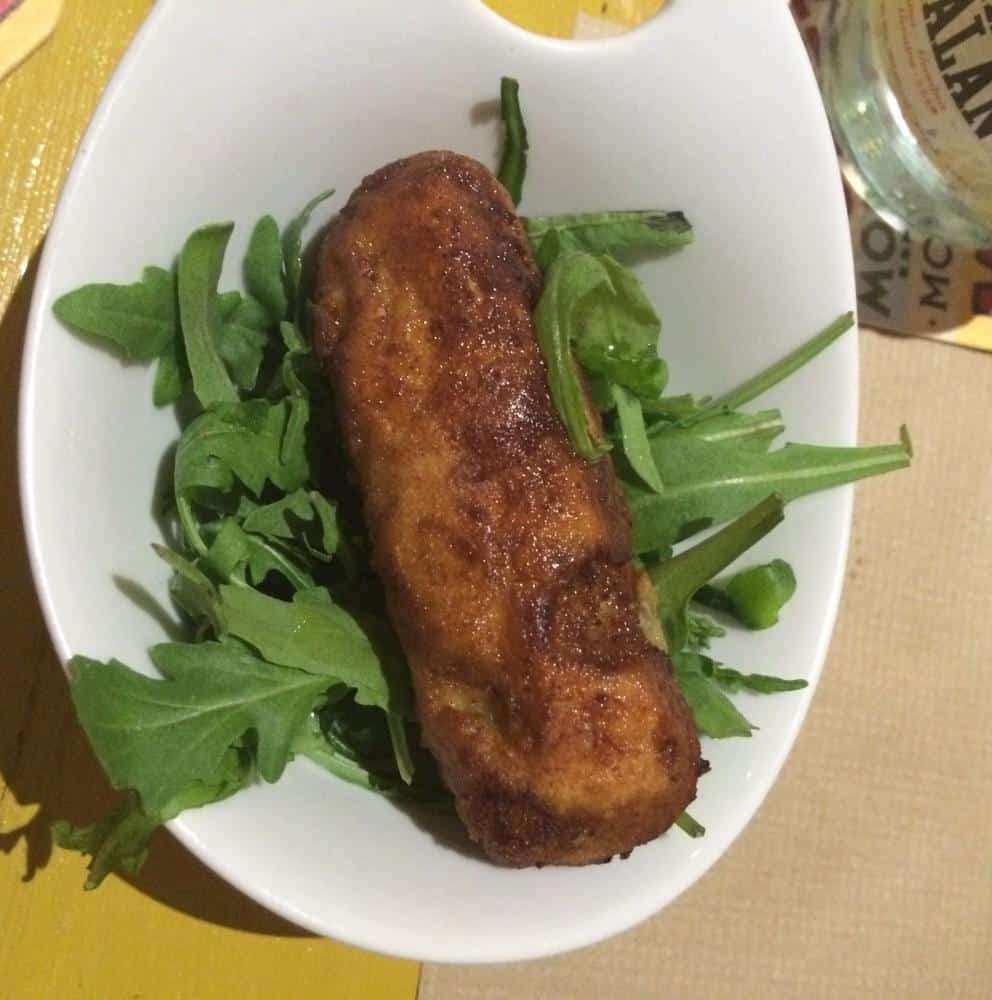 The croquetas – or should I say croqueta since they just brought us one – was amazing.  I know it kind of looks like a weird little sausage.  But it isn't.  It is amazing crispy friedness (is friedness a word?).  Of course, it's hard to go wrong with anything fried, but this was like a perfect ball of crispy on the outside and soft and creamy on the inside.  I've never had croquetas before but they're usually stuffed with meat, from what I've heard, whereas this was very different, it was like a soft cheese on the inside.  They said it was smoked tofu but it seemed more akin to a cashew cheese to me.  Imagine a fried ball of cashew cheese in a crispy breaded coating.  You see where I'm going.  I wanted a whole plate of these.
Now, on the dessert side, we were presented with 3 options:
-Whole wheat crepes with caramelised apples
-Banana and another fruit I can't remember (papaya?) ice cream
-Fruit salad with mint
Fruit salad with mint?!  What????  That's the standard option in non-vegan restaurants!!  I would expect something different in a vegan place.  Like I said, they've just opened so I'm really hoping this is one option that will get deleted off the menu very soon.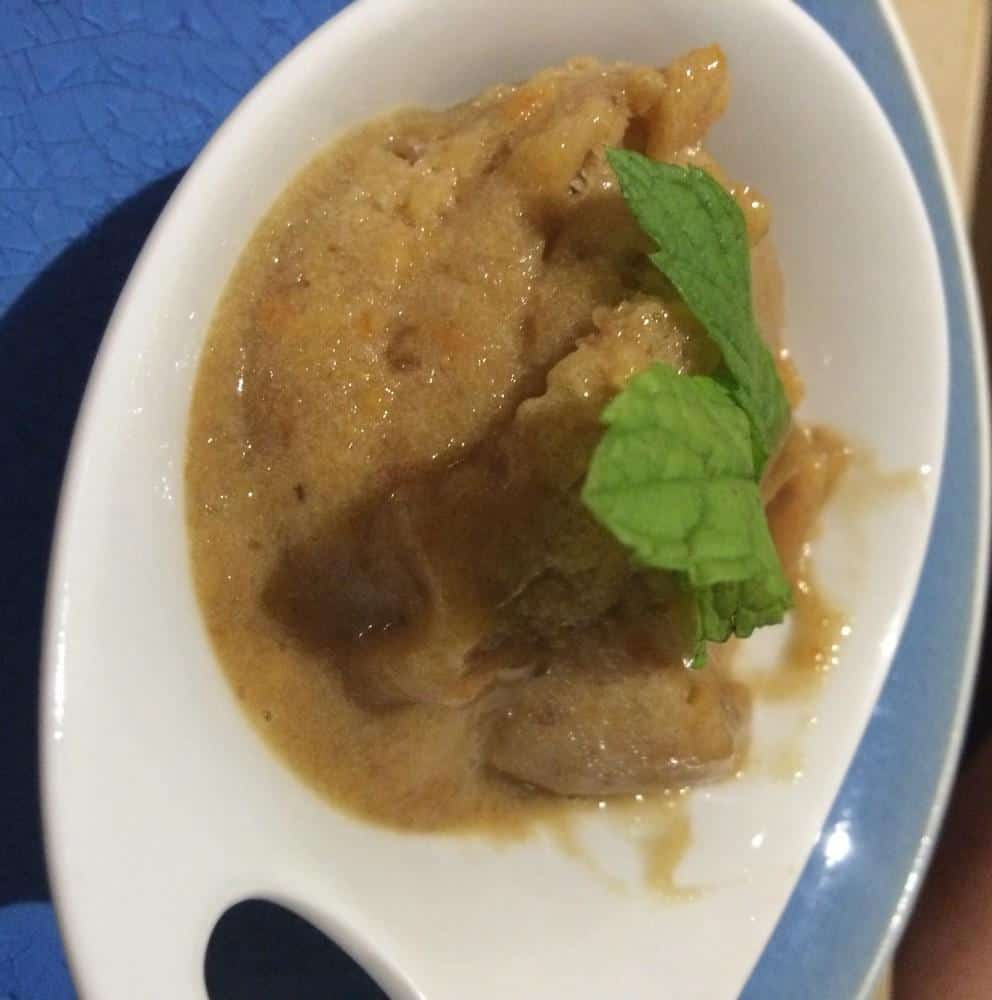 My friend ordered the banana and papaya (or something or other) ice cream, which was clearly banana soft serve.  Which is nice but again, I think this should be stated on the menu (to be fair, perhaps it was – we were given the dessert options orally and maybe the wait staff forgot to mention this).  I mean, if you go in expecting a standard ice cream it can be a bit shocking to the taste buds to have an ice cream made out of blended bananas.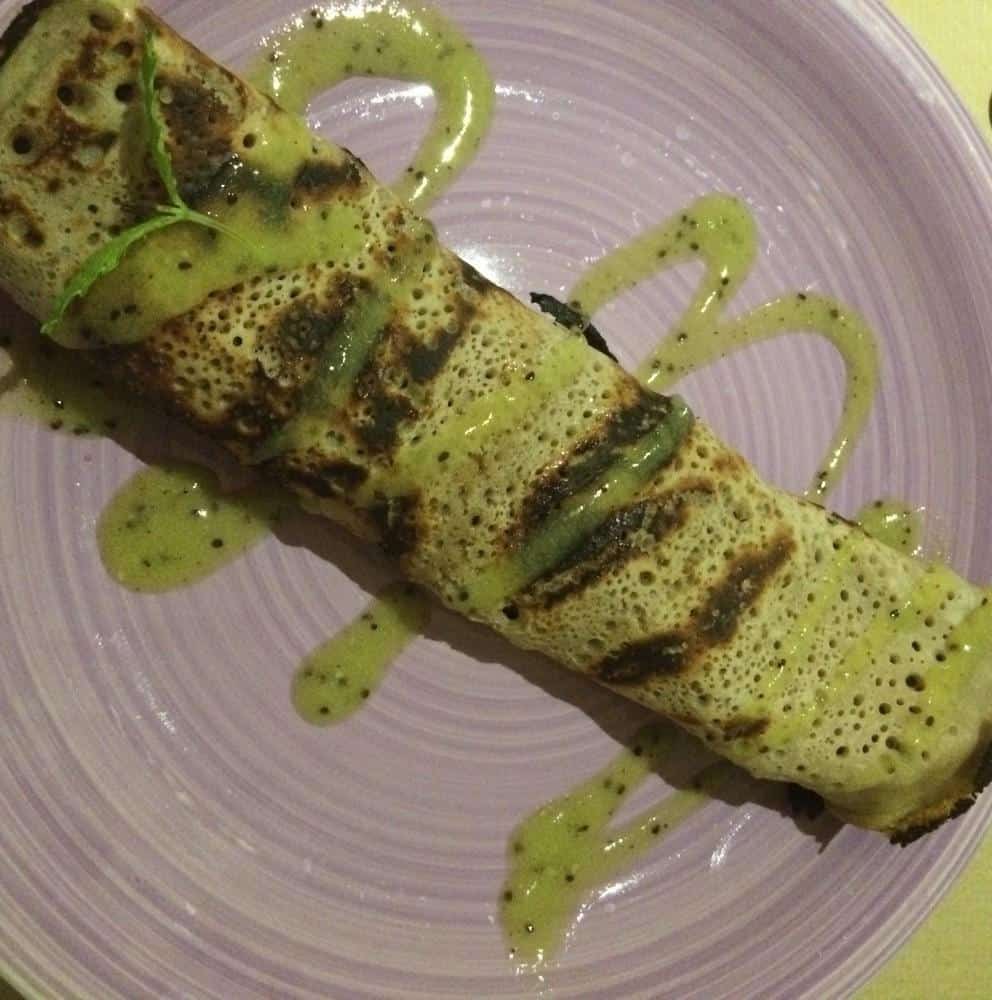 I ordered the crepes which tasted like Christmas.  I would have preferred non whole wheat crepes, just because when I'm eating dessert I like it to be as unhealthy as possible (I mean, it's dessert!), but that might just be me. :)
So, in summary: if you go to Armonia, go for the tapas rather than the mains, which were disappointing.  And get the croquetas.  Probably a few orders of them.
Have you tried Armonia yet? What was your experience?
Are you in Barcelona or planning a visit soon?  Want to get your free copy of Barcelona's 5 Best-Kept Vegan Secrets and a discount on my Barcelona vegan guidebook?  Click on the button below: