I love going to Vx and discovering new weird and wonderful vegan products from around the world — Rudy (owner of Vx) always gets the most interesting stuff in!  In the past few weeks I've tried (and will review below) the following items:
Vegg — yes, the product purports to be an egg yolk replacer!
Fry's Pops — vegan popcorn chicken
Airy bittersweet chocolate — a vegan take on Aero (bubble-infused chocolate bar popular in the UK, Canada, and other countries)
Cheese curls (does what it says on the tin)
Vegg
I read about the Vegg vegan egg online a few months ago and was torn between being impressed and completely freaked out.  This guy apparently figured out how to make a vegan egg replacer that smells and acts like the real thing (now all we need is a vegan egg white substitute so we can make vegan meringues!).  I was actually never a fan of eggs in my pre-vegan days, but curiosity got the better of me and I had to try this product.  You mix it with water in a blender to make a whisked egg replacer.  I was warned that this freaky product smelled just like eggs — well, that part was true at least.  I used my Vegg mixture to make tortilla espanola, the only egg-y food I remembered enjoying.  I was slightly disappointed that the tortilla didn't hold together better, but the taste was pretty spot on (from what I remember, which isn't much).  I also fed a bite of the tortilla to a (non-vegan) Spanish friend, and he said it was good could but could use more egg — I'm not sure he even realised it was vegan.  I'm going to try again with more of the egg mixture and see if it holds together better.  While the flavour was good, the packaging is really terrible.  An aluminium bag with a black and white label?  Worse, the label carries almost no instructions on how to use the product (luckily I was warned by Rudy to only use a small amount of the powder — if I'd used the whole bag I would have ended up with the equivalent of a couple dozen eggs).  It does, however, tell you can find more information on their website….which, incidentally, looks like it was designed in 1996.  A for product, F for design.
Fry's popcorn chicken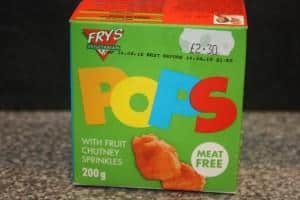 Disclaimer: I have never in my life had chicken.  I have no idea if Fry's pops taste anything like chicken.  I am normally not a big fan of mock meat, but chicken is the exception.  I used to enjoy Morningstar Farm's chik nuggets in my pre-vegan days (not sure if these are vegan) and I like the vegan sesame chicken strips at Loving Hut.  I was not a huge fan of Fry's pops, however.  They weren't as crispy/crunchy as I imagined they would be.  Perhaps that's because I baked them, rather than fried them.  The taste was okay — not sure if it's anything like chicken.  B-. I might buy this product again.
Airy chocolate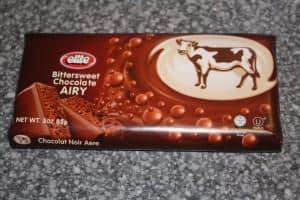 Seriously, what is with the packaging on some vegan products?  The packaging on this chocolate is pretty horrible (and naming it Airy? really?).  The Airy is a vegan take on Aero, bubble-filled chocolate.  I recently tried Aero for the first name when I discovered Cyber Candy (a candy shop that stocks international sweets) sell Canadian 70% dark chocolate Aero, which are accidentally vegan.  The dark chocolate Aero I had from Canada were pretty good, but I couldn't help thinking it would be nicer in (mock) milk chocolate.  Enter the Airy.  As soon as I saw it, I knew I had to try it.  I love bittersweet chocolate — in fact, I think it may be my favourite kind of chocolate, a perfect balance between milk and dark. Unfortunately the Airy was a HUGE disappointment. I actually couldn't finish the bar.  The chocolate tasted chalky and had an unpleasant taste.  Definitely not buying this one again.  Guess I'm back to trying to find someone in the UK who stocks my favourite chocolate, the Lindt bittersweet bar (seriously the best chocolate ever).
Cheese curls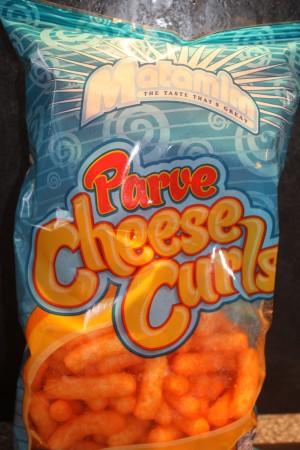 Again, weird packaging.  There is absolutely NOTHING about this package that gives away its vegan credentials.  Also, these contain MSG — but I figured what the hell, one bag is not going to kill me.  They taste just like I remember cheese curls — full of chemical goodness. :P  I'm pretty sure regular cheese curls are 99% fake anyway.  These were spot on, and I'll definitely be going back for more (although I'm probably going to limit intake because of the MSG factor).  I fed a few to unsuspecting non-vegan colleagues, and none of them guessed it was vegan.  Now I'm just trying to figure out why all these people think I'm walking around with loads of non-vegan stuff!