How did you celebrate Vegan Pizza Day?  I celebrated by testing out MozzaRisella, a new vegan mozzarella from Italy made out of rice, which I bought at Vx.  I have to admit that while I enjoy making homemade cashew or tofu vegan cheese, I'm not really a huge fan of storebought vegan cheese.  In fact, I'm a really tough sell — I'm not even a big fan of Daiya or Vegusto (considered by many the gold standards of vegan cheeses).  However, when I heard about MozzaRisella, I was intrigued.  It looked like mozzarella di bufala, a component of pizza napoletana.  And I hoped that since it was from Italy, they'd do a pretty good vegan version of mozzarella di bufala.  The end result (pictured above) was a mixed bag.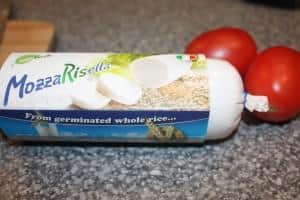 Positives
Like many vegan cheeses, MozzaRisella was difficult to melt from just the oven alone, but a couple of minutes under the broiler and it was bubbling and melting away — +1 for MozzaRisella.  I haven't had mozzarella in a long time, but this was pretty close to what I remember mozzarella tasting like.
Negatives
I was slightly disappointed with the consistency.  It felt kind of thin, and left a weird coating on my teeth; I'm guessing the consistency is rather thin because it's made from rice (kind of like how rice milk is thinner than soya milk).  I guess it's better for allergy sufferers because it's dairy-, soy-, and gluten-free because it's made from rice…which is great…but I would have liked it to be a bit thicker/creamier, like mozzarella.
Conclusion
Despite the consistency issue, I'd use MozzaRisella again; it's probably the best vegan mozzarella di bufala I've tried.  But in the meantime I'm going to try making homemade vegan mozzarella (this recipe uses cashews so should presumably be pretty rich) to see how that turns out. The hunt for the perfect vegan mozzarella for pizza continues… :)