Warning: Do Not Read If Hungry
I was in Portland recently for the 2nd Vida Vegan Con, a vegan blogger conference. How can you not love a weekend of eating, lovely vegan bloggers, and a place that sells vegan doughnuts? I met some lovely people, learned loads, and ate even more. Mainly I just ate. And ate and ate. If you don't want to drool/have fits of food jealousy, I suggest you click away now. Okay, those of you who are left…are you ready? Don't say I didn't warn you!
Pre-conference munching: And Cafe, Voodoo Doughnuts, and White Owl Social Club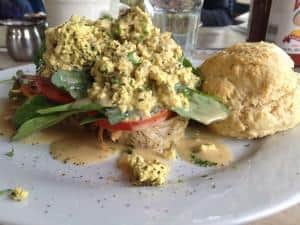 I started off the first day of my stay in Portland right with brunch at And Cafe, which is a diner-style mostly vegan cafe that does amazing things with brunch. Hash brown nests? Yes please. Why does no one in London offer brunch like this? I had a coffee (essential for jetlag recovery!) and hash brown nests filled with vegan sausage crumbles, scrambled tofu, tomato, and salad leaves, and drizzled with Hollandaise sauce. It was served with a biscuit (a Southern biscuit, not an English biscuit like a Hobnob!), which was warmed and perfect with some vegan butter. Whoever came up with the idea of stuffed hash brown nests, I salute you. And at $11 (around £7) it wasn't terribly expensive.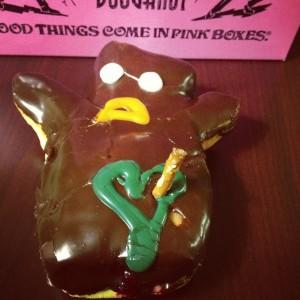 As if I didn't eat enough for brunch, I decided I had to have a doughnut next. Portland is home to Voodoo Doughnuts, a doughnut shop so famous I've seen it featured on the Food Network. It's a quirky little shop that sells doughnuts by the coffin (yes, that's right, a coffin full of doughnuts), and makes jam-filled doughnuts shaped like little men with pretzels through their 'hearts'. They have three display trays full of doughnuts, one of which is fully vegan! I had heard that their cake doughnuts are a bit disappointing and overly banana-y (they use banana as an egg replacer), so I opted for the yeast raised doughnuts. I prefer those anyway. I had a creme-filled, chocolate iced doughnut, a creme-filled, maple iced doughnut, a peanut butter and Oreo doughnut, and a voodoo doll doughnut. They were all delicious, so delicious I went back a second time before I left Portland. My first time I went to the second location (outside the downtown) so the queue was much shorter. The second time I had to wait half an hour! But it's worth it, and a definite must-visit if you're in Portland.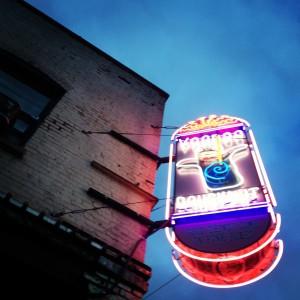 My favourite part about the shop, besides the delicious doughnuts, was that they had "vegan cock" listed on the menu for $3.25. Where else can you get vegan cock at those prices?! But the best part of the doughnuts was the flavour. They tasted just like non-vegan doughnuts to me — very unhealthy, just the way I like my doughnuts! I am sick of places that try to make healthy vegan desserts. I don't want my desserts to be healthy! They're dessert! If I want healthy, I will eat a salad. Right before I eat my doughnuts.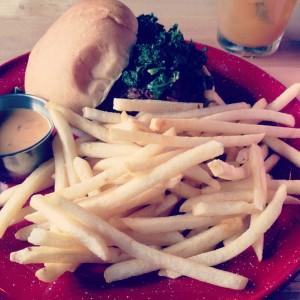 The day before the conference started, there was a pre-conference meetup at White Owl Social Club, a vegan-friendly bar. Bars in Portland are required to serve food, and it seems a fair few of them do vegan options, since Portland is a very vegan-friendly city. I tried the jackfruit burger. I've seen so many pictures of jackfruit tacos and burgers on Pinterest and blogs recently that I really wanted to try it, but wasn't sure where to buy it in London. It looks very meaty but the texture was a bit odd to me, and I found it a bit lacking in flavour (although the sauce they served on the side was nice and added a bit more flavour). As a lifelong vegetarian I can't really compare to regular burgers, but I did note it's not as chewy as most veggie burgers.
Conference Eats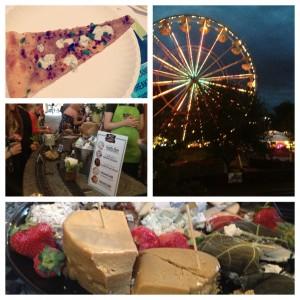 I thought I eating well pre-conference, what with the doughnuts, the hash brown nests, and the burger. That was until I entered Vida Vegan Con and saw the huge array of food. We spent three days getting our faces stuffed full of samples, breakfasts and lunches, and were given massive goodie bags to take home. A sampling of what I ate: a nacho cart from Teese, a sandwich buffet with at least 30 sandwich topping options, a sundae buffet (pictured above), a vodka root beer float, a breakfast with plates provided by some of Portland's best veggie spots (breakfast pizza from Sizzle Pie pictured above), a formal event with a cheese platter prepared by Miyoko Schinner of Artisan Vegan Life (pictured above), and more. I also got a chance to go to the vegan mini-mall,which hosts Sweetpea Bakery, Herbivore clothing shop, Food Fight! vegan grocery, and a tattoo place. I just got back home and can't wait to try all the samples I got at the conference, as well as the treats I picked up at Food Fight.
Post-conference eating: Sizzle Pie, Vege Thai, and Departure Lounge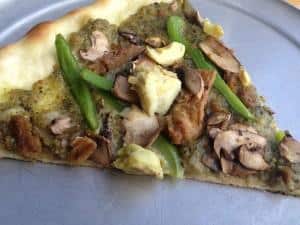 You'd think I would have had enough eating at the conference, considering how stuffed I was every day (and how tight my jeans got!), but post-conference there were still Portland restaurants calling me. So I continued to stuff my face. First up was Sizzle Pie; after trying their breakfast pizza at the conference, I wanted more. A few friends from the conference and I went down after the close of VVC. We had the New Maps out of Hell, which consists of pizza with creamy basil cashew spread, soy curls (a Portland thing, they are a bit like seitan but made out of soya), and your choice of three veggies (we had mushrooms, peppers, and artichoke hearts). I also had a Caligula salad, which is essentially a vegan Caesar, and a beer. I thought that balanced out the greasy pizza, although to be fair, Caesar's not all that healthy. But it was very delicious! The salad plus one third of the pizza (we split it) came to just $10/£6.60.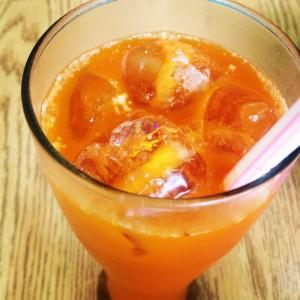 I spent the day after the conference doing some post-conference restaurant-hopping before flying back to London. I was craving a vegan Thai iced tea, and I'd heard rumours that Vege Thai do them, so I headed there for lunch. I wanted to check out Vege Thai after hearing about them during the Intrepid Herbivores screening (if you haven't checked out the Intrepid Herbivores, a vegan travel documentary, you should!). And it was true, they had coconut milk Thai iced tea. Yum! I think I prefer it to the dairy version! I also got a papaya salad, because I used to love those and haven't had one in ages. It was nice but not spicy enough for me and just a touch on the too sweet side. I also got a panang curry with tofu and vegetables, which was good although again, on the less spicy side. I should have added some chilli sauce but didn't think to ask for some for my table (next time). Panang is my favourite curry. It's a Thai curry that's somewhat similar to a red curry but thicker (it's traditionally made with coconut cream rather than milk) and contains elements of Indian, Malaysian, and Burmese curries and it's really flavourful and delicious.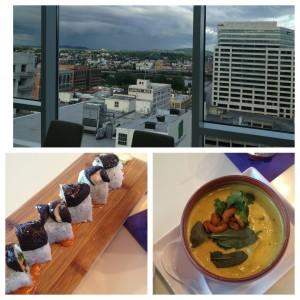 For my final dinner in Portland, I went to Departure Lounge, which is on the 15th floor of a hotel downtown and boasts a swanky interior as well as amazing views over Portland and delicious food. Although the restaurant is stylish and well-located, it didn't seem overly snobby, which I liked. I had the shiitake sushi with avocado, lettuce and spicy carrot cream, which was delicious. I also had the golden cashew curry, which was also really tasty — it was the perfect balance of flavours. Plus the restaurant views can't be beat! It was on the more expensive side of restaurants I've dined at in Portland — the sushi, curry and a juice set me back $27 (£18), but considering the location and the quality of the food, it was well worth it!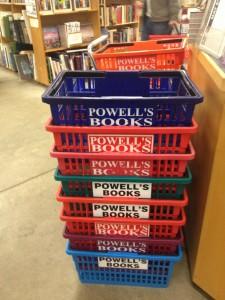 On a non-food related note, I also visited Powell's, the largest new and used bookstore in the world. It takes up an entire city block, has its own maps, and has a print-on-demand book machine. It is awesome and well worth a visit for book lovers and non-book lovers alike. As an added bonus, it has a small cafe with free wifi, coffee, and vegan baked good options from Sweetpea! I left Portland several pounds heavier and very satisfied, and inspired from all the talks and lovely people I met at VVC. For a city its size, Portland has a tonne of vegan options. I only scratched the surface!