I've said it before: I can hardly keep up with all the vegan places opening in Barcelona. But, I slog on and keep visiting all the new ones anyway. ;). You know, in the interest of reporting them to you.
The newest addition is Petit Brot, a juice bar in Raval. They also sell a few raw products, such as kale chips, homemade nut milks and a plate of the day (which, when purchased along with a juice, comes with a discount and is €12,50 total).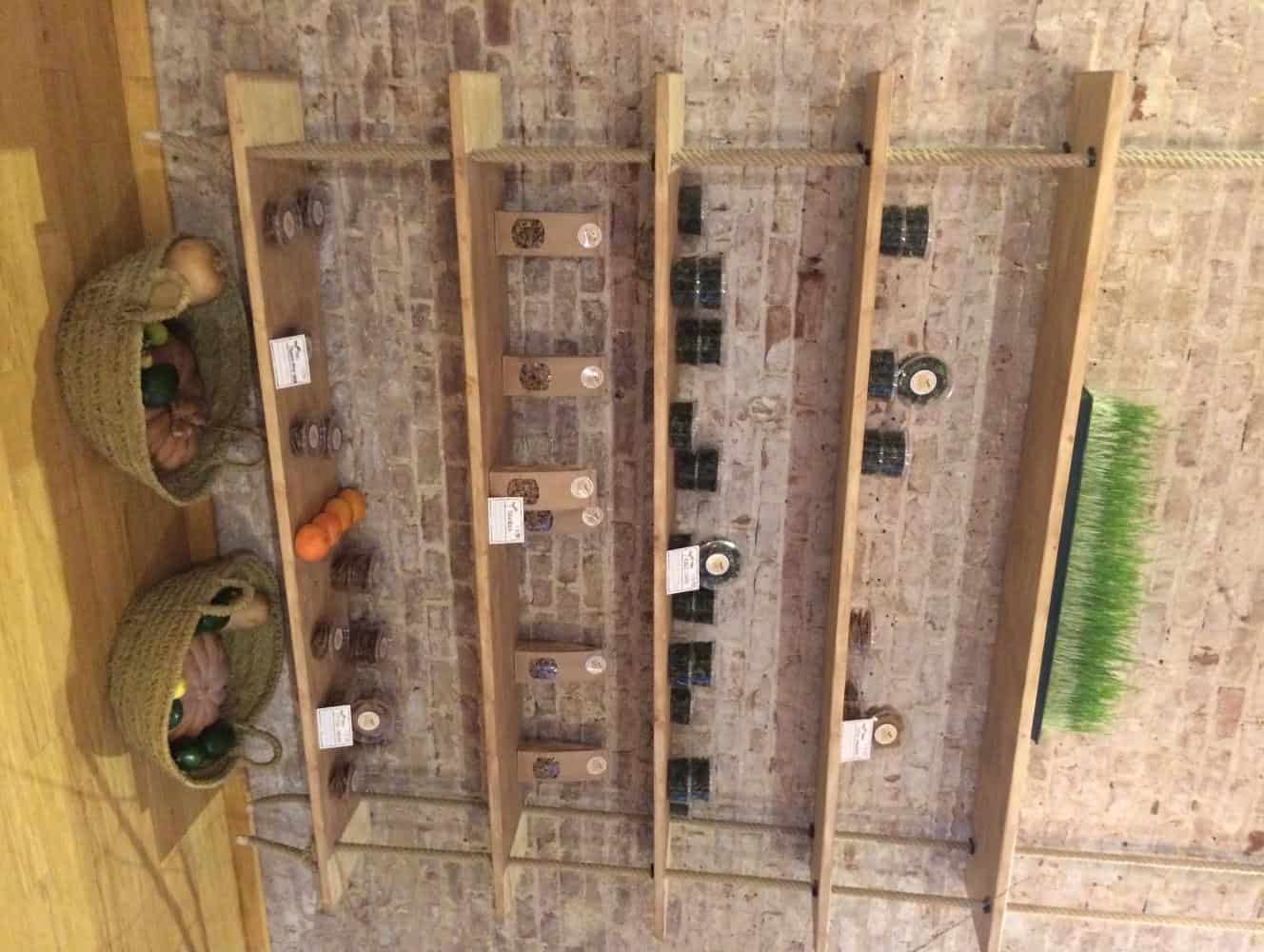 The space is beautiful and it is clear how much care went into creating it. I had the chance to sit down with the lovely owners, Laura and Aleš, who explained how they ensured everything was eco-friendly and preferably locally sourced.  They first thought of opening a place over two years ago, and you can see how much thought went into it, from the toxin-free building materials (including the handmade shelves) to the compostable food and drink containers to the homegrown sprouts carefully cultivated underneath the windows.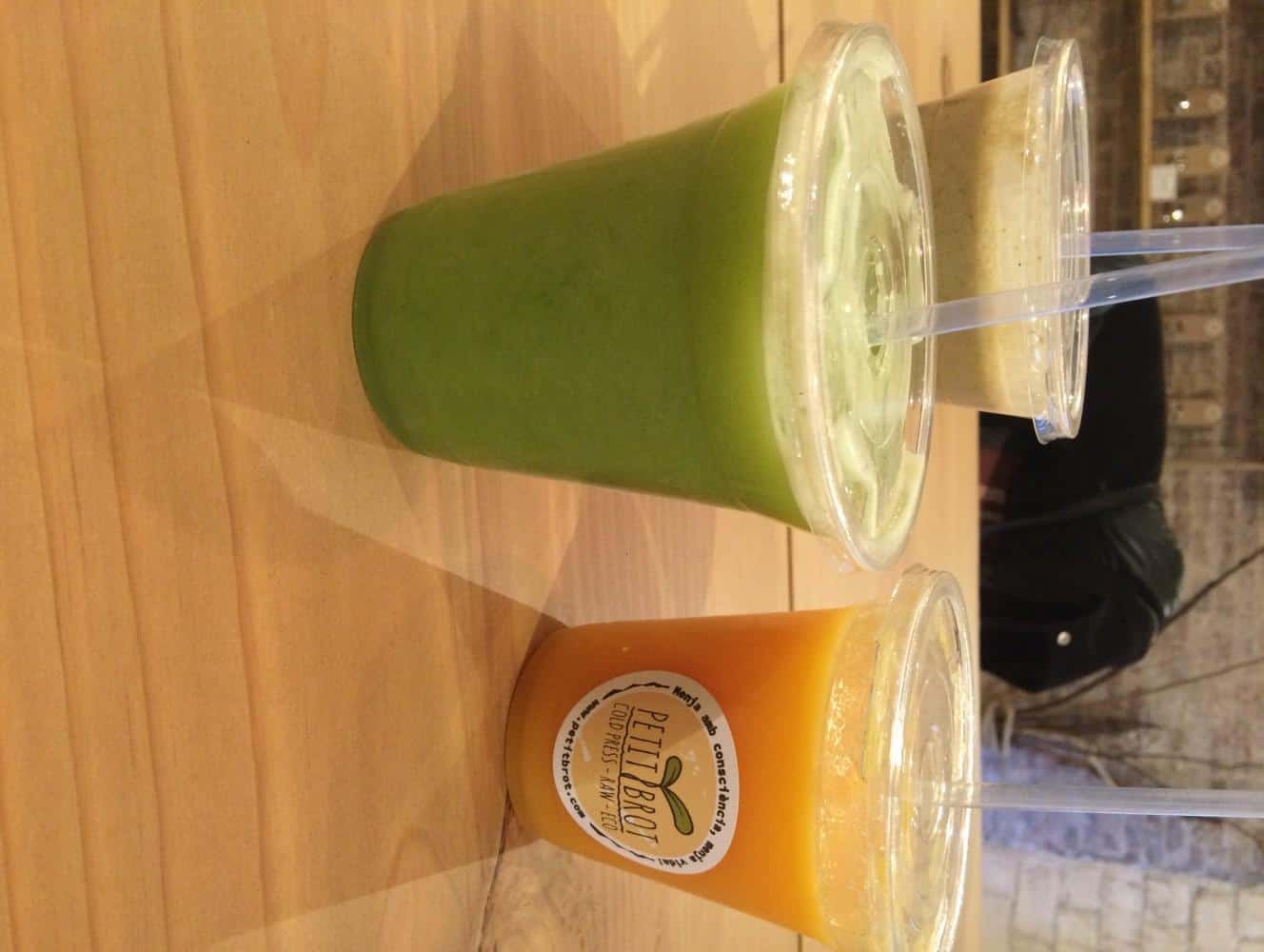 Petit Brot's menu consists of living juices (raw and cold pressed) and smoothies. They also sell wheatgrass shots and the aforementioned dehydrated kale chips, nut milks and some raw desserts (all sweetened with only dates or stevia) for takeaway. They also typically offer a salad and a dish of the day, such as cauliflower couscous with a raw Thai coconut curry or the raw courgette spaghetti bolognese available on the day I visited.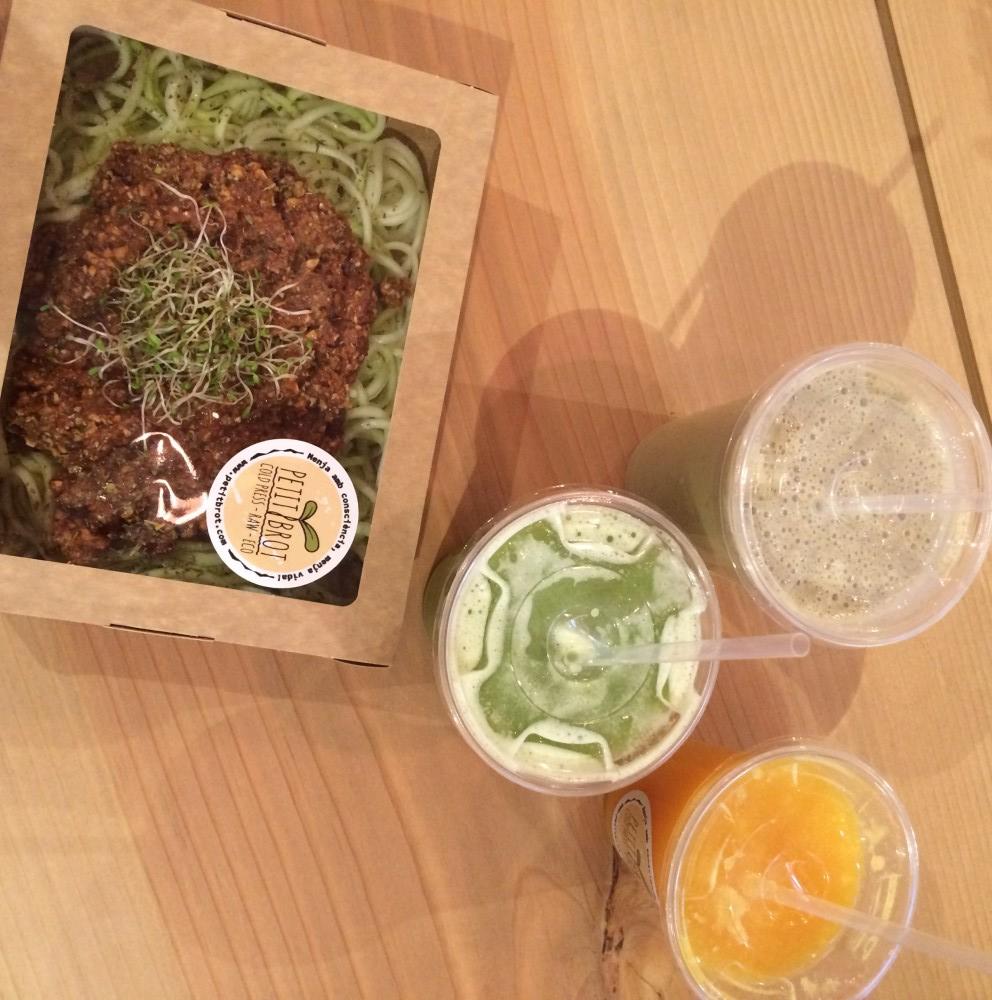 Laura and Aleš told me they don't consider themselves a restaurant and the food they prepare is the sort of simple, homemade and healthy food they normally eat; they simply want to share their food and their healthy lifestyle/philosophy with others. That having been said, I thought the courgette bolognese was delicious. The sauce consisted of tomatoes, various nuts and spices and the courgette noodles provided a contrasting crunch.  It was quite a generous portion and between that and the juice, I wasn't quite able to finish the side of raw crackers and kale chips they nicely offered us (don't worry, I took the kale chips and crackers home and polished them off later!).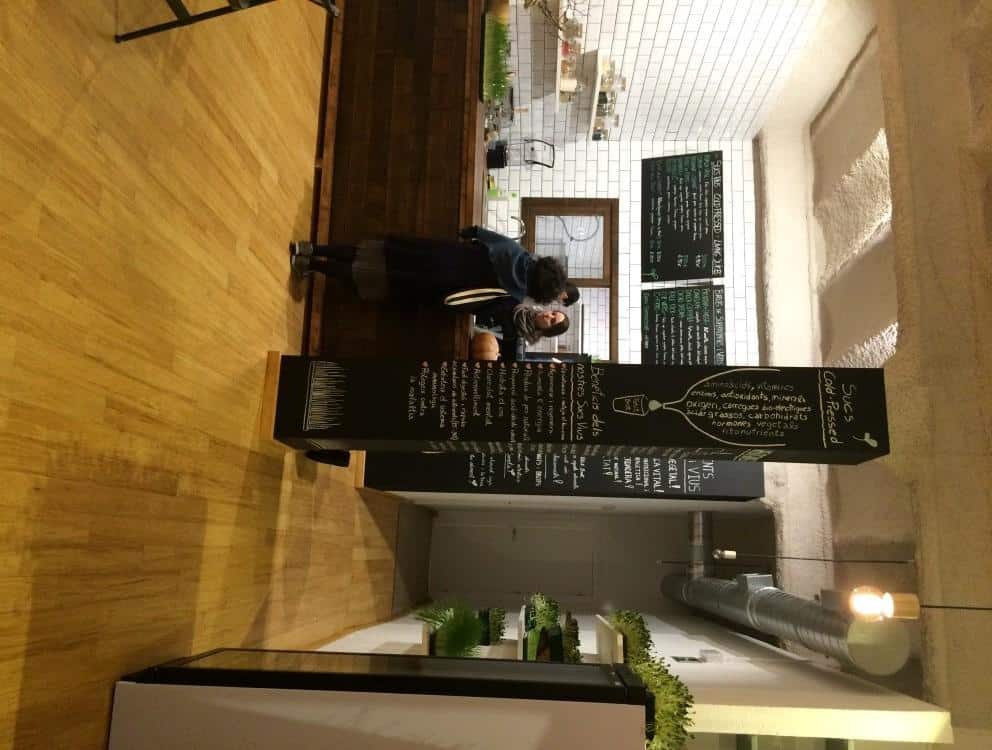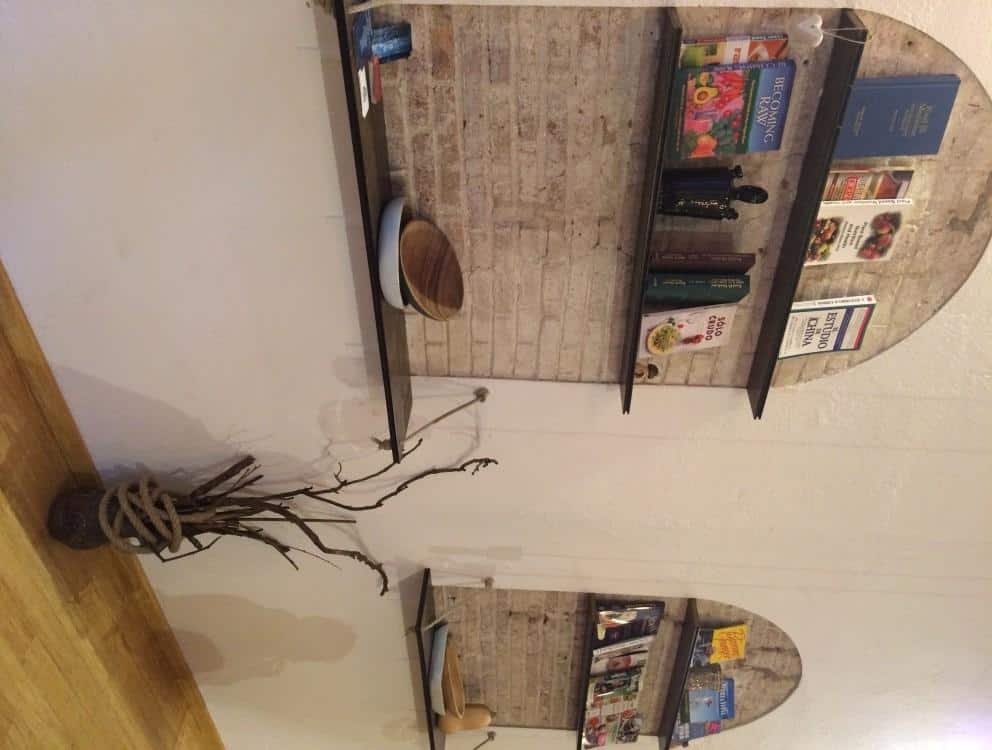 For my juice, I asked Aleš for his professional suggestion, as he and Laura pride themselves in being able to personalise juices to suit customers' tastes. I like my juice fairly fruity and sweet and not overly so, and Aleš recommended one that turned out to be perfect for me – the "Relax and Calm" juice (is it that obvious that I need to chill out? ;)) which consisted of pear, fennel, cabbage, cucumber, lemon and ginger. I have to admit the idea of cabbage juice struck fear into my heart (and tastebuds) but this magical elixir definitely balances it out. So I felt healthy and satiated!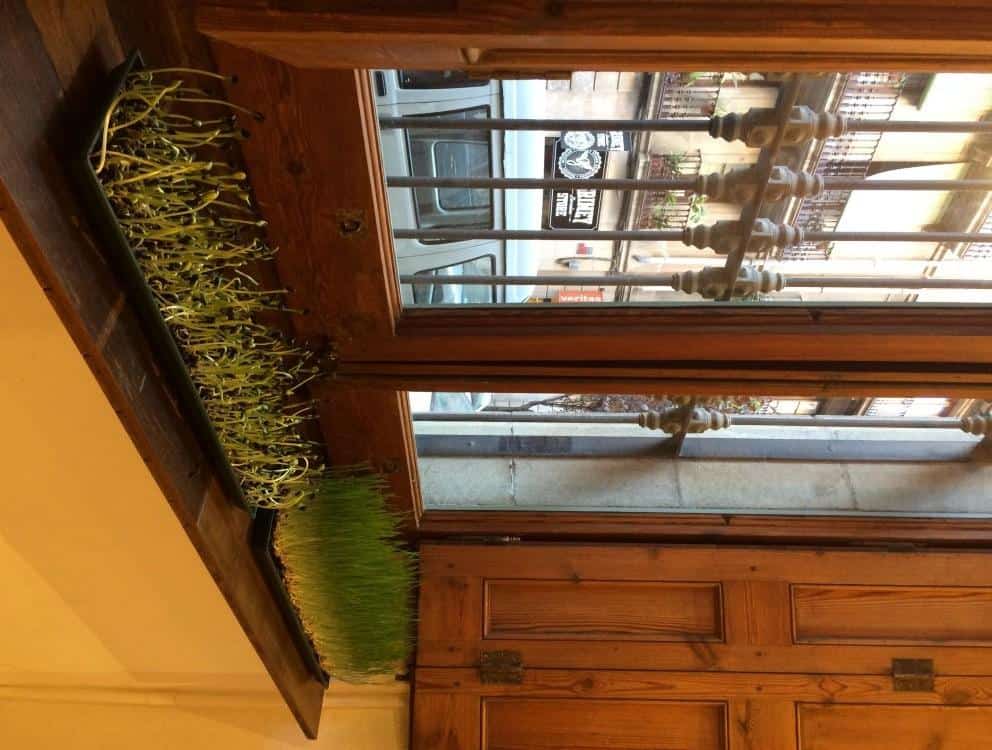 While Laura and Aleš emphasised that Petit Brot is a juice bar, not a restaurant, and they only offer a few dishes of homemade food, I did find the food really tasty. It's also nice to find a restaurant where such care is taken in all aspects, from eco-friendly and locally-sourced decor to healthy and ethical food. If you want to support an ethical business and have some healthy juice (and maybe a spot of food too) to boot, check out Petit Brot.
P.S. Only after I left did I read that they make raw, vegan cheese. How did I miss this?! Has anyone tried it? I need to go back soon to test it – I consider it my duty to try homemade vegan cheese everywhere I can!
Are you in Barcelona or planning a visit soon?  Want to get your free copy of Barcelona's 5 Best-Kept Vegan Secrets and a discount on my Barcelona vegan guidebook when it's out in May?  Click on the button below: