**UPDATE: Giveaway has now ended but you can still get the book for sale for just $1.99 (50$ off!) until midnight EST Sunday, 29th of April!! Get it for sale here!**
To celebrate my 10 year veganniversary…
I want to give you a copy of my Essential Vegan Travel Guide FOR FREE!
Get it free until midnight EST Wednesday the 25th of April, 2018.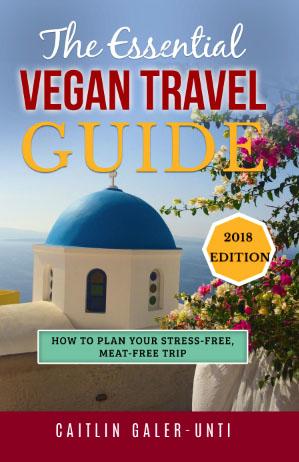 Ten years ago when I first went vegan, I never imagined I'd one day write a vegan travel guide, or that the vegan lifestyle would have grown so much. I always saw it as the future (and still do) but wouldn't have thought it would grow so much, so fast.
I could never have dreamed up aquafaba (an egg white replacer made of chickpea water) being used to make cocktails in high-end bars around the world. I never would have thought my adopted city of London would have half a dozen weekly vegan markets, that major retailers and restaurant chains would be offering vegan ready-meals and vegan cheese pizzas or that by 2018, 7% of the population of the UK would be plant-based.
When I went vegan, it was tougher navigating my way around. You couldn't pick up vegan cheese in the supermarket, and I relied on newfound vegan friends (who I met mostly through a vegan forum online) to help me find vegan products.
Whilst I'm incredibly lucky to have a ton of vegan food within 100 meters of my house here in London, it's not like this everywhere in the world (yet).
And when we go away on holiday (or move abroad!) it can get tricky.
Vegan food is available in just about every corner of the world, but if we don't know what we're looking for (such as local accidentally vegan dishes) or how to find it (using the internet in weird and unexpected ways to find vegan food) we can start to get frustrated. Or worse, resort to eating non-vegan food while travelling.
But it doesn't have to be this way!
I wrote my vegan travel guide to help you find vegan food no matter where you go in the world.
For the next 48 hours, I'm giving away copies of my book for free!
It's my way of paying forward all the help I received when I first went vegan.
I hope that if you're new to veganism, or new to travelling as a vegan, the book will help you find your way.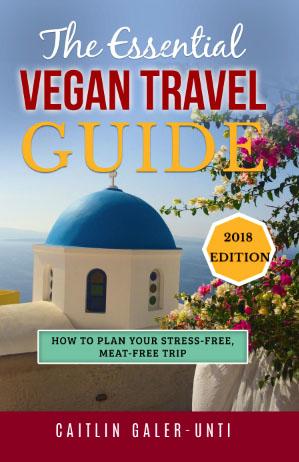 Click here to download a copy.
Get it free until midnight EST Wednesday the 25th of April, 2018.
It's completely free — no catch — but if you do want to pay me forward, I'd love a review on Amazon after you finish reading it! (Details + Amazon link inside book)

Note: The way Gumroad works (the platform I'm using to distribute it for free) is that you can offer a book for $0 but it gives users the options to 'name a fair price' (meaning you can pay as much or little as you want for the product). I'm not able to remove this option and just set it at $0 but you can just enter $0 and get it for free…
Enjoy the read! :)