Today is the final day of the Vegan MoFo blogging challenge and the topic for today is fusion food.
This is a recipe I posted last year, but I think it's worth revisiting, because it's that good.
My fusion dish is…Vietnamese and Cuban!
What?!
I know, it doesn't really sound like a combination that would work…
But then again, can you really argue with an alcoholic salad wrap?
I didn't think so.
We start with Vietnamese summer rolls, sometimes confusingly referred to as spring rolls, which conjures up images of fried rolls (like you might get in a Chinese restaurant).  Nope, these are not fried – they usually consist of fresh vegetables and herbs, cooked rice noodles and sometimes tofu or meat, rolled up in a rice paper wrapper, which is like a chewy sort of burrito-style wrapper.
The best part of Vietnamese summer rolls is peanut dipping sauce.  (Obviously.)
But I decided to one-up the peanut dipping sauce, and add alcohol-marinated tofu.
This is where the Cuban fusion comes in.  Mojitos are Cuban in origin and usually consist of white rum, mixed with sugar, mint, lime and soda water, served over ice.  The perfect refreshing drink.
And the perfect match for a Vietnamese summer roll, in my opinion.  Summer rolls often contain fresh herbs like mint.  Rum? Okay, not usually…but it works.  Oh yes, it works.
Vietnamese Summer Rolls with Mojito-Marinated Charred Tofu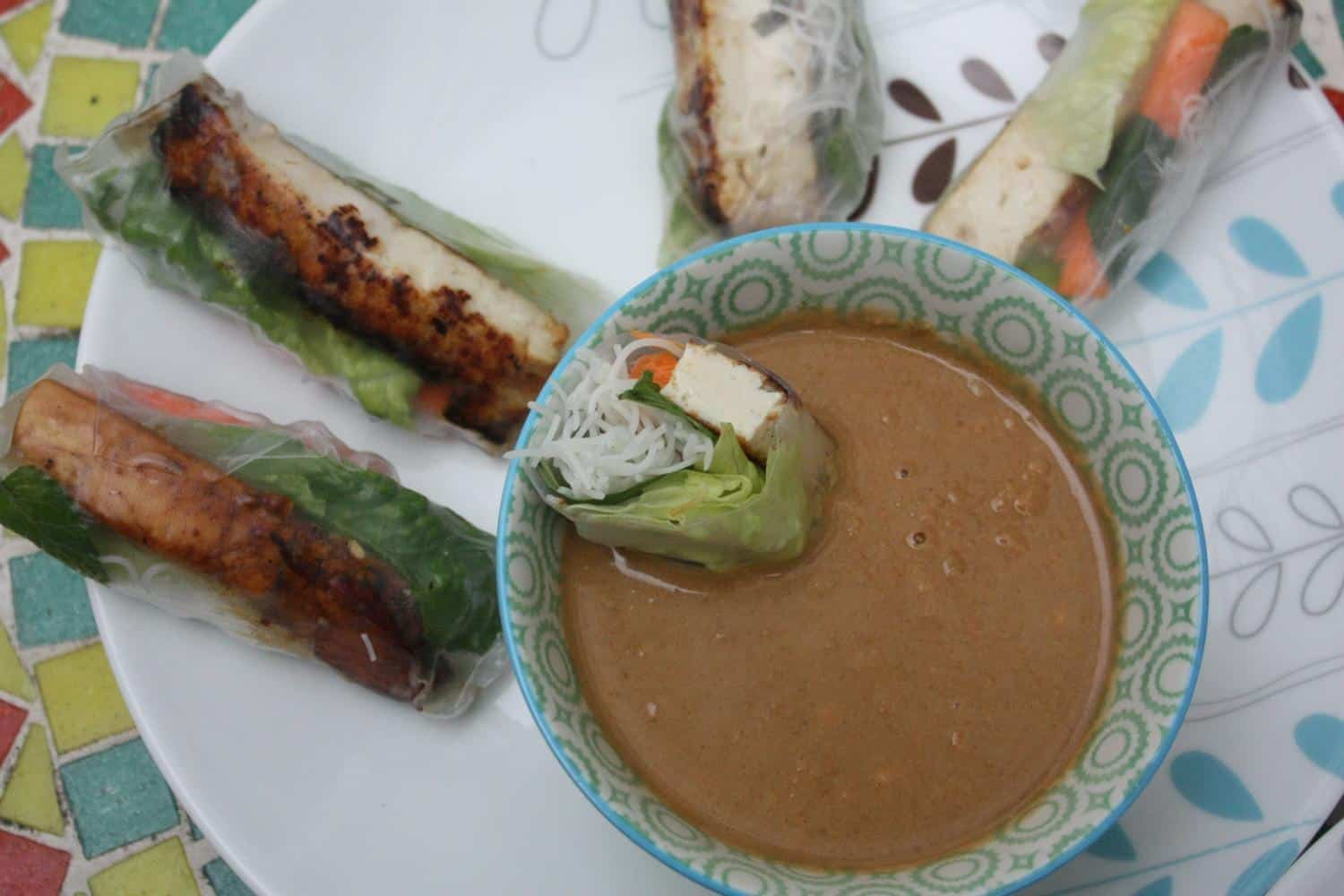 Makes about 16 summer rolls
Ingredients
400g (about a 1 lb block) mojito-marinated charred tofu (recipe below)
2-3 carrots, peeled and cut into sticks
1 small head of lettuce, chopped
200g rice noodles, cooked and rinsed under cold water according to package instructions
Fresh herbs (such as Thai basil, mint and cilantro/coriander)
Rice paper wrappers (buy in an Asian supermarket or online, such as these)
Peanut sauce (recipes below)
Other vegetables or herbs if desired (optional)
Instructions
Put the rice paper wrapper on a large plate (make sure the smooth side's facing down on the rolling surface) and brush with a wet pastry brush on both sides.
Fill with a little of each ingredient, then roll up (see a video on how to roll them here – skip to around 1:30 to see the rolling technique and ignore the complicated soaking method!).
Serve with a bowl of dipping sauce (choose your favourite one) and dip and enjoy!
Mojito-Marinated Charred Tofu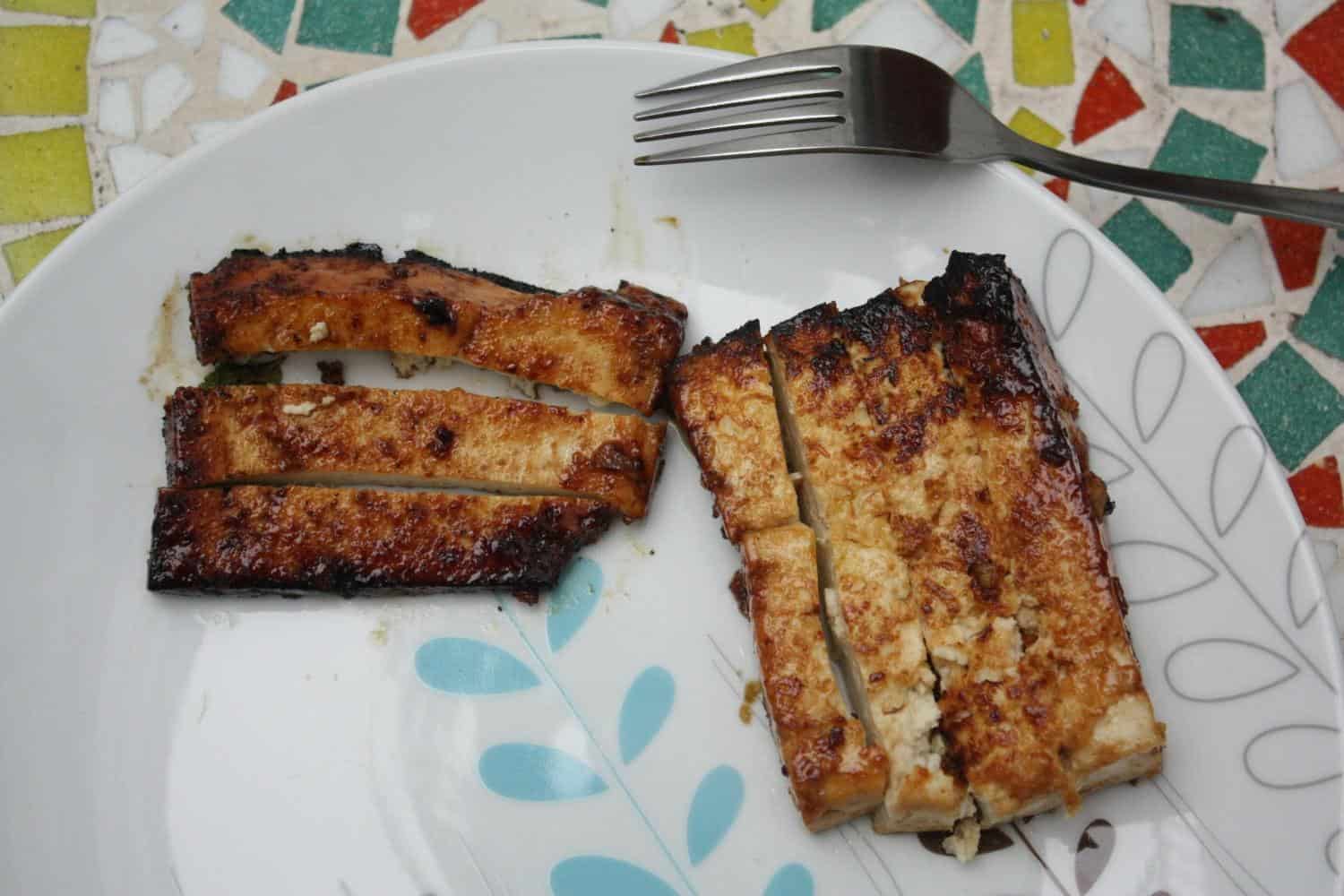 Ingredients
400g (about a 1 lb block) firm tofu, pressed to remove liquid
1/4 cup rum
3-4 tbsp chopped fresh mint leaves
1 tbsp freshly grated lime zest
1/2 cup lime juice
3 tbsp agave nectar
2 tbsp canola/rapeseed or vegetable oil of choice
1/2 tbsp salt
Instructions
Press the tofu to remove liquid, then cut in half widthwise, then each half in half again heightwise to make four pieces.
Mix all other ingredients to form the marinade, then pour the marinade over tofu pieces in a leak-proof tupperware container.
Leave it in the fridge to marinate for at least 4 hours.
Heat a nonstick skillet with a little oil over medium-high heat.  Once the oil is hot, place some marinated tofu matchsticks in it (they should sizzle).  Don't overcrowd the pan!  Make sure they're not too close together.  Spoon a little of the excess marinade over the top of each piece of tofu, taking care if you have a gas stove (remember, there's alcohol in it!).  Cook for a few minutes, until brown spots start to appear on the bottom, then flip over, coat with a bit of marinade, and repeat the process until both sides have enough blackened/charred spots for your liking (see the pictures).
Once charred, remove from heat and place on a plate to cool down.  Cut each quarter into four more matchstick-shaped (long) pieces.
Peanut Dipping Sauce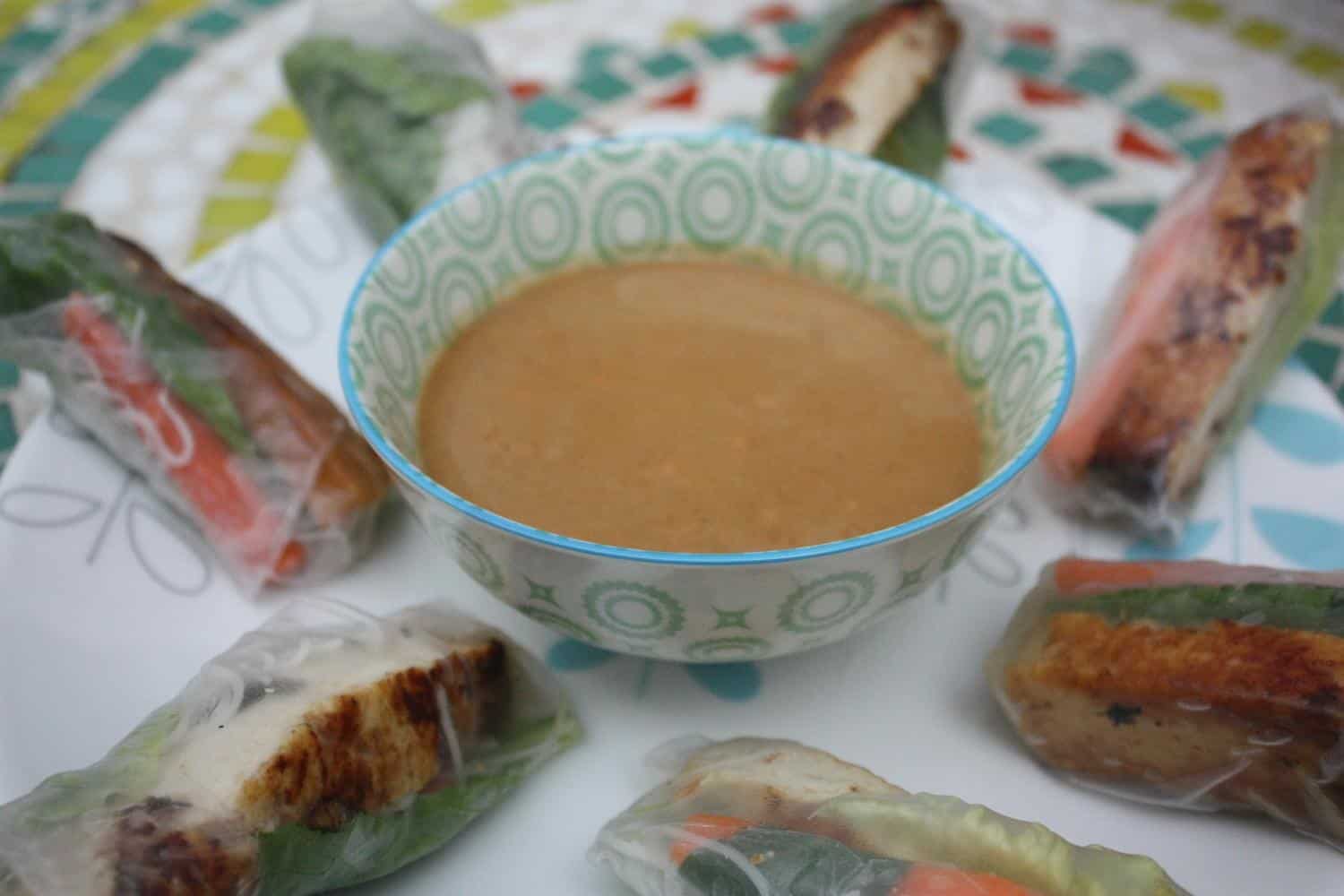 Ingredients
1/4 cup peanut butter
2.5 tbsp rice wine vinegar
2.5 tbsp soy sauce
3-4 tbsp water
Dash of dried ginger powder
1 tbsp lemon juice (optional)
Dash of garlic powder (optional)
Dash of hot sauce (optional)
Instructions
Mix all ingredients together until the peanut butter has dissolved and it's a creamy but thin texture.