Hello and happy 2014!  I celebrated New Year's Day by making this soup, which was easy to assemble, not too expensive, and delicious – perfect for New Years day or any lazy day!  Black-eyed peas (also known as black-eyed beans) are also traditionally considered lucky New Years food in the American South.  I came across a recipe for Tanzanian black-eyed pea and coconut soup randomly over on Culinary Cheapskate, who'd adapted it from a recipe by Crescent Dragonwagon (who has quite possibly the best name ever), and I've, of course, adapted it again and removed Tanzanian from the name because I'm not sure at this point after all the adaptations if it's Tanzanian at all.
This soup comes together really quickly – you could have it ready in under half an hour, or you can leave it simmering for a few hours while you do other things, if you prefer (as I did – I left it while I watched a film and it was done and warm and perfect when I was ready to eat it).  I imagine it would also come together well if you put the ingredients in a slow cooker in the morning and left it on low heat all day while you were at work.  My non-vegan boyfriend also loved this soup, which means this recipe gets the Suitable for Non Vegans stamp of approval!  And like many soups, it tastes even better as leftovers the next day, as the flavours will have had more time to meld.
Coconut Curry Black-Eyed Pea and Spinach Soup
Curry powder is the key to this soup, as the main spice here.  What's crucial is using a curry powder you love.  If you love spicy food, go for a spicy curry powder and add the additional cayenne pepper.  If you don't like your food hot, opt for a mild curry powder with less kick and leave out the cayenne!
Serves 4
Ready in 30 mins or less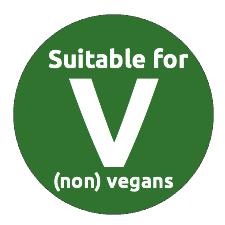 Ingredients
1 tbsp olive oil
Medium onion, chopped
1 clove garlic, minced
1cm cube fresh ginger, grated (optional)
2 tbsp curry powder
1/2 tsp cayenne (optional)
Bell pepper, stem removed, de-seeded and chopped
400g tin chopped tomatoes
400 ml coconut milk (1 tin)
1 litre vegetable stock
800g black-eyed peas (2 tins)
250g fresh spinach
Instructions
Heat the olive oil over medium heat in a large saucepan.  Once the oil is hot, add the onion and fry until translucent and just beginning to brown.  Add the minced garlic and ginger and fry until the garlic brown.
Add the curry powder and cayenne, if using, and fry, stirring, for 1-2 minutes, then add the tin of chopped tomatoes and cook for another 1-2 minutes, until softened.
Add the chopped bell pepper, coconut milk, vegetable stock, and black-eyed peas and turn the heat to high, bringing to a boil.  Once the soup has begun to boil, reduce heat to low and simmer for 3-5 minutes, or longer.  You can leave soup on a low simmer for an hour or longer if desired.
Five minutes before you plan to eat the soup, add the fresh spinach and stir into soup, cooking until wilted, 3-5 minutes.
Remove from heat and serve.  This soup tastes great the next day too!
P.S. Have you heard of
Extra Veg
, run by Helen at
Fuss Free Flavours
and Michelle over at
Utterly Scrummy
?  It's all about kicking 2014 off right with an extra dose of vegetable wherever you can get them in.  One thing that's great about this soup recipe is that I totally managed to sneak in some spinach which I had sitting in the fridge which wasn't called for in the original recipe I found – but in fact I think you could easily add any extra veg you want, to get a bit of extra nutrition in!  Talk about a great way to start off 2014 :)