French food has always been the only cuisine I actively dislike.  I know, I know, it's considered by many to be the finest cuisine in the world.  But I'd much rather eat Thai, Ethiopian, Vietnamese, Italian, Mexican, Chinese, Spanish, Moroccan, Japanese, Lebanese…   Stereotypically stuffy, and historically very, very vegan-unfriendly (the government even banned vegetarian food in school lunches), French food just didn't appeal to me (well, apart from the pastries – oh god, the pastries!)  That is, until now.
Recently, however, Paris has blown me away: it's come a long way since the dark days when I first visited, when you could count vegetarian restaurants on less than one hand, and the waiters sniffed when we asked for vegetarian food, not to mention vegan (it was my pre-vegan days).  The last time I went there I was able to enjoy delicious vegan food at upscale restaurants like Gentle Gourmet as well as vegan burgers and cookies at M.O.B.  And apparently it's even more vegan-friendly since my last visit!  And more recently, a very, very French restaurant in London surprised me as well.
When my colleague first suggested going to Chez Elles as a welcome lunch for two new starters in our team, I said yes with some trepidation.  I quickly fired off an email to ask if they could prepare a vegan meal for me with advance notice, but I assumed I'd receive a no.  Instead, I got a very friendly reply stating that of course they could accommodate me.  When I asked if I needed to give advance notice, they told me I could simply turn up, request a vegan menu, and the chef would prepare something for me on the spot!
I am very impressed with any chef that has the creativity and wherewithal to prepare a vegan meal without any notice.  After nearly  six years of veganism I know how easy it is to whip up a vegan meal – but if you're someone who's not used to making vegan food, it can throw you for a bit of a loop.  Particularly, I would imagine, if you come from a culinary tradition that's as typically non-vegan friendly as French cuisine.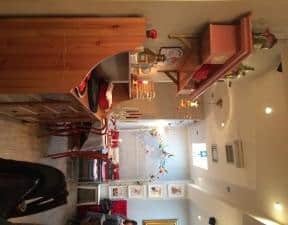 But the chef at Chez Elles did not seem at all stumped by preparing vegan food, without notice.  On the day, we turned up, were seated in a ridiculously cute and vintage French-themed restaurant (which seemed, somehow, more French than any restaurant I've ever been to in France), and I stated that I wanted the vegan option.  Since everyone else was getting the two-course lunch special (£19), the waitress said I could get a vegan two-course meal.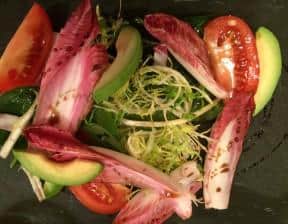 The starter was nice, but a bit uninventive – a salad with tomato, avocado and balsamic dressing.  I love anything with avocado, but it wasn't that exciting.  The main, however, was a big improvement.  It arrived looking beautiful and perfectly presentented (just like the restaurant itself): couscous with glazed baby vegetables, including onion, carrot leeks and olive.  The flavour was a bit too delicate for me (I would have preferred more herbs or spices to liven it up) but overall it was a good lunch and an impressive display of cooking creatively on demand.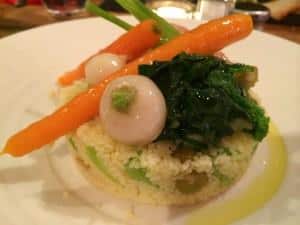 While we were eating I overhead the man at the table behind us state that Chez Elles was ranked in the top 10 restaurants in London on Tripadvisor (at the moment, it's dropped to 23rd, but that's still pretty good out of 16,227 restaurants!); I also heard that Keira Knightley has been spotted there.  I am not surprised it's ranked so highly.  Fantastic decor, helpfuland friendly staff (a massive improvement on the stereotypically dour waiter you might encounter in a bistro in Paris), and the ability to accommodate vegan diets – this restaurant is a winner!
Okay, I take back everything I previously thought about French cuisine  Paris, and Chez Elles, have proven me wrong.  Both are worth a trip (Paris, of course, for reasons apart from food).  If you're planning to go to Paris and wondering where to eat, you can see my previous review here.