One of the hardest meals for a travelling vegan is breakfast – quite often vegetarian and vegan restaurants don't open until later in the day, for lunch or even dinner, and they usually don't often breakfast. Vegan brunch can be hard to come by, as a lot of traditional brunch offerings are non-vegan in nature. Unless you're staying somewhere with a kitchen, it can be difficult to scrounge up breakfast. Those lucky enough to have a kitchen on the premises can buy cereal or granola and non-dairy milk, fruit or other breakfast items. However, if you're not staying somewhere with a kitchen it can be difficult to find vegan breakfasts. Normally when planning a trip, I like to look at vegan breakfast and brunch options in the city, and then plan breakfast around that. Sometimes I even choose a place to stay based on what's near a vegan breakfast/brunch place!
Barcelona's vegan brunch offerings aren't extensive (nothing like Berlin!) but there are a number of places that offer vegan breakfast or brunch.
Dos Trece (CLOSED)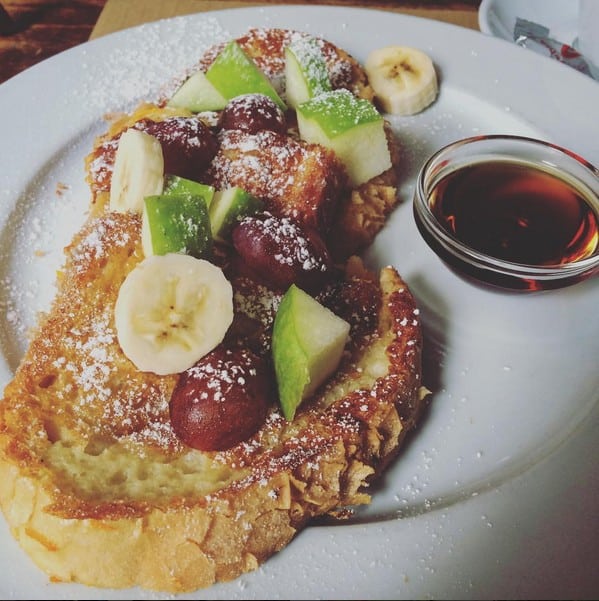 By far my favourite place to brunch in Barcelona is Dos Trece, an omnivorous restaurant with a separate vegan menu who offer brunch every day from 10am to 5pm.
Their vegan brunch menu includes vegan French toast (made with orange zest and good quality maple syrup, plus topped with seasonal fruits), oat pancakes, tofu scramble with tortillas and spinach, and breakfast nachos with cashew cream and tofu. They also have a number of vegan muffins on offer.
DosTrece has now closed.
Vacka
Vacka is a vegan, mostly raw restaurant in Gracia that I've written about before. They're open from 10am Tuesdays to Saturdays and offer vegan, gluten-free waffles with raw nutella, banan and almonds or summer ice cream, strawberry, banana and coconut.
Vegan Croissants: Santoni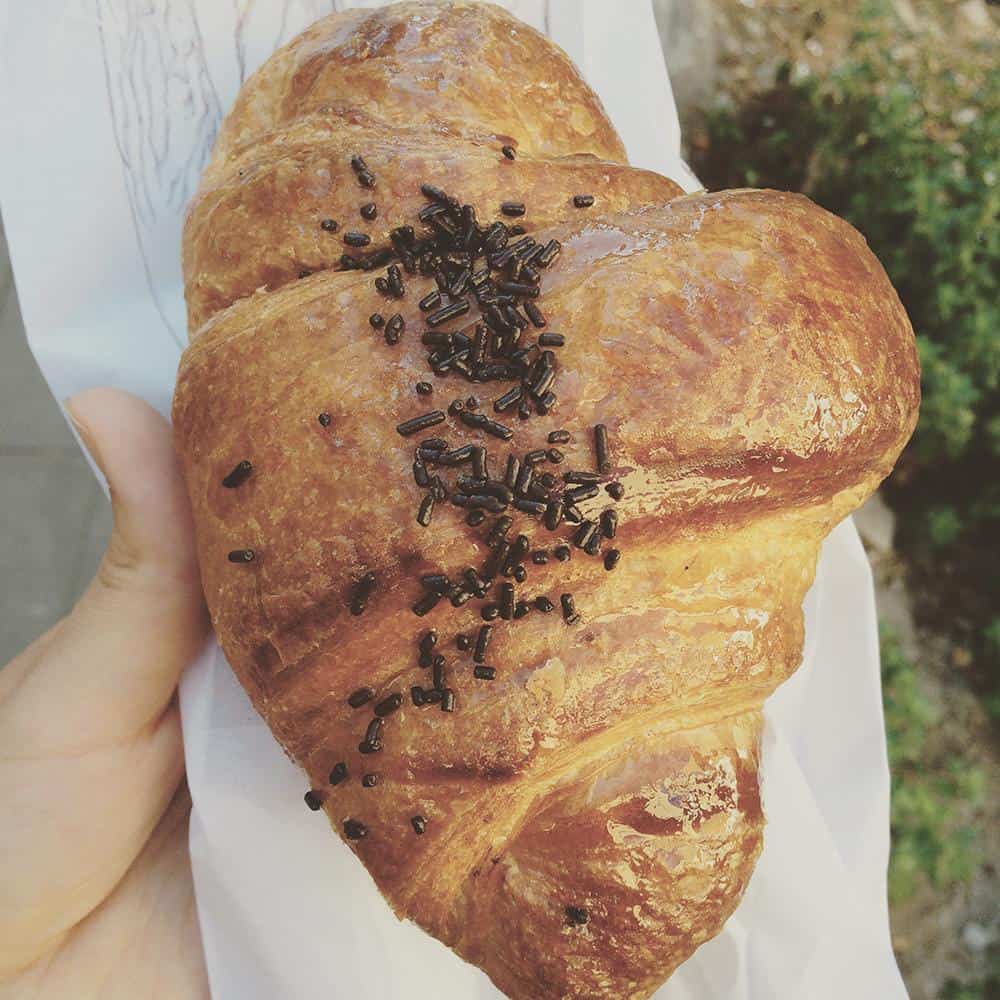 You could also pick up croissants from one of Barcelona's bakeries that carry vegan croissants, such as Santoni Cafe in Sant Antoni near Universitat metro or Santa Clara in Gracia. Just ask which ones are vegan – most are! I recommend the chocolate-filled ones… :)
Flax & Kale
Flax & Kale, a 'flexitarian' (aka a trendy way of saying pescetarian) restaurant owned by the Teresa Carles conglomerate, also offers vegan brunch on Saturdays and Sundays from 10am to 5pm. Their vegan brunch options are a little bit lacking compared to the non-vegan options, but it's a good option if you're looking for a gluten-free or raw breakfast or you're with people who don't want to go to a veggie place.
Their vegan brunch options include a chia bagel topped with vegan cheese and rocket, a number of different bowls such as the acai bowl, various toasts (avocado toast, mushroom toast, toast with marmalade), or pastries such as muffins or croissants.
El Maderal (CLOSED)
The most recent addition to Barcelona's vegan scene, El Maderal is a vegan bar near Sagrada Familia, that does tapas and drinks – and also pastries for breakfast. It's not a full-on brunch, but they do have vegan cake and if that's your thing, they're open from 9am Tuesday to Saturday (from 11am Sundays and closed Mondays).
Unforunately El Maderal is closed for the foreseeable as the owners want to concentrate on other projects.
Looking for more brunch options? I found a whole blog devoted to brunch in Barcelona, Coffee & Brunch BCN, and you can even search for places with vegan options (though I haven't verified all of them).