Want a stress-free, meat-free vacation?  The Essential Vegan Travel Guide is a how-to guide for anyone planning travel as a vegan.  Find delicious vegan food, anywhere in the world.  The book costs less than the price of a takeout pizza and will save you more in stress!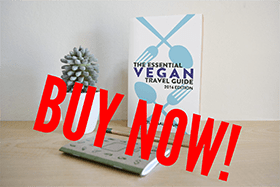 Now available!
PDF (for download onto your computer/e-reader/tablet etc.)
Media
Video Interview with Kristin Lajeunesse of Will Travel for Vegan Food (YouTube)
Radio interview on Go Vegan Radio with Bob Linden (my interview begins at 20 minute mark).  Listen online here or on iTunes (13 December show).
Blog book tour (including bloggers: Flicking the Vs, Burger Abroad, Indefinite Adventure, Bounding Over Our Steps, Justin Plus Lauren, The Nomadic Vegan, Elsewhere, Vegan in Brighton)
Vie de la Vegan : "I was incredibly excited about how potentially life-changing this book could be! The Essential Vegan Travel Guide is packed with travel tips for vegans to ensure you won't starve while travelling, and you won't have to resort to eating animal products either ;) and the best thing is, Caitlin's methods can be applied to ANY travel destination!"
Praise for The Essential Vegan Travel Guide
"Caitlin's travel guide is a must-have addition to any vegan's suitcase. Whether you're taking your first trip abroad as a vegan, or you're an old hand at plant-based travel, Caitlin has a wealth of tips and tricks to make your travel easier, tastier, and more fun – all written in her trademark engaging style." — Flicking the Vs (flickingthevs.blogspot.com​​)
"Caitlin's book features amazing vegan travel and dining tips along with stories that I can relate to. I constantly feel as though what she is writing depicts my own personal journeys. Traveling and living abroad as a vegan can have its challenges but is a truly rewarding adventure!" — Vegan Miam (veganmiam.com)
"This guide will prove really useful for travelers, and I learned things along the way too about making my own maps and using sites like Doodle that I didn't know about. The guide is really thorough, and covers all of the small and large obstacles a vegan traveler might encounter." – Cadry Nelson (cadryskitchen.com)
"The guide told me lots of things I didn't know despite 20+ years of travel as a vegan. The book was also an enjoyable read, with stories of Caitlin's personal travel experiences." – Alison Classe