To My Stomach,
I am sorry that I started off my day at VegFest UK on Sunday with a cream-filled chocolate eclair-type doughnut the size of my head from the stall that stole the show (I heard about the stall before I even set foot in VegFest, and from the moment I arrived people were asking me if I'd tried the doughnuts yet).  And apologies that I followed that up with a burger and chips, coffee, chocolate samples, a drink at the pub with new friends and then another head-sized doughnut.  But to be fair I let you rest while I listened to vegan MP Kerry McCarthy give an update from Westminster on vegan-related issues, and I only grabbed a few some food samples while wandering around the fair checking out the eco-friendly stationery, vegan shoes, and trying out new vegan products like these new marshmallows.  And even if I did follow it with a chocolate bar, I ate roasted vegetable puttanesca pasta that night.  And I stopped myself from eating one of the other two chocolate bars I bought, or the creme egg.  Okay, so maybe I did start Monday off with another massive cream-filled doughnut but it made me happy.  And yes, I did desperately want to try out the new chipotle mayonnaise so I may have had soup and chips for lunch Monday (the soup balances the chips, no?).  I'm atoning for my sins now with lots of salad, roasted veg, and overnight oats for breakfast.  I hope you'll forgive me.  At least before the weekend – because I have pie-related plans.
Lots of love,
Caitlin
P.S. And I hope you'll prepare yourself for a monthly onslaught of vegan treats, because at VegFest I found out about a new vegan company that just launched this weekend, Vegan Tuck Box, which is like the UK version of Vegan Cuts.  They'll be sending out boxes monthly containing the newest vegan treats in the UK — can't wait!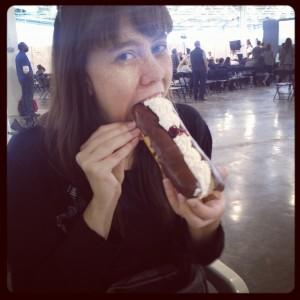 Click here to get your FREE copy of the Vegan London Travel Guide!