Many years ago, a Greek friend convinced me to make spanakopita, a Greek spinach and feta pie layered with crispy phyllo pastry.
I made my own vegan feta and…
It was heaven.
And said (non-vegan) Greek friend said it was delicious and authentic-tasting, too.
Now I wanted to include it for you as a bonus in my Vegan Greek Feast series!
If you haven't followed along, we've made fattoush salad with loquats, Greek salad with feta tzatziki, a yoghurt, cucumber and dill dip and courgette and feta fritters with a long unpronounceable k-name (kolokithokeftedes). If you really want to knock the socks off someone or a dinner party crowd, I recommend making spanakopita alongside all these dishes.
I've got you covered, with my free mini cookbook Vegan Greek Feast, which includes all the recipes in an easy-to-read, printable format!
Click here to get your hands on your FREE mini cookbook, Vegan Greek Feast!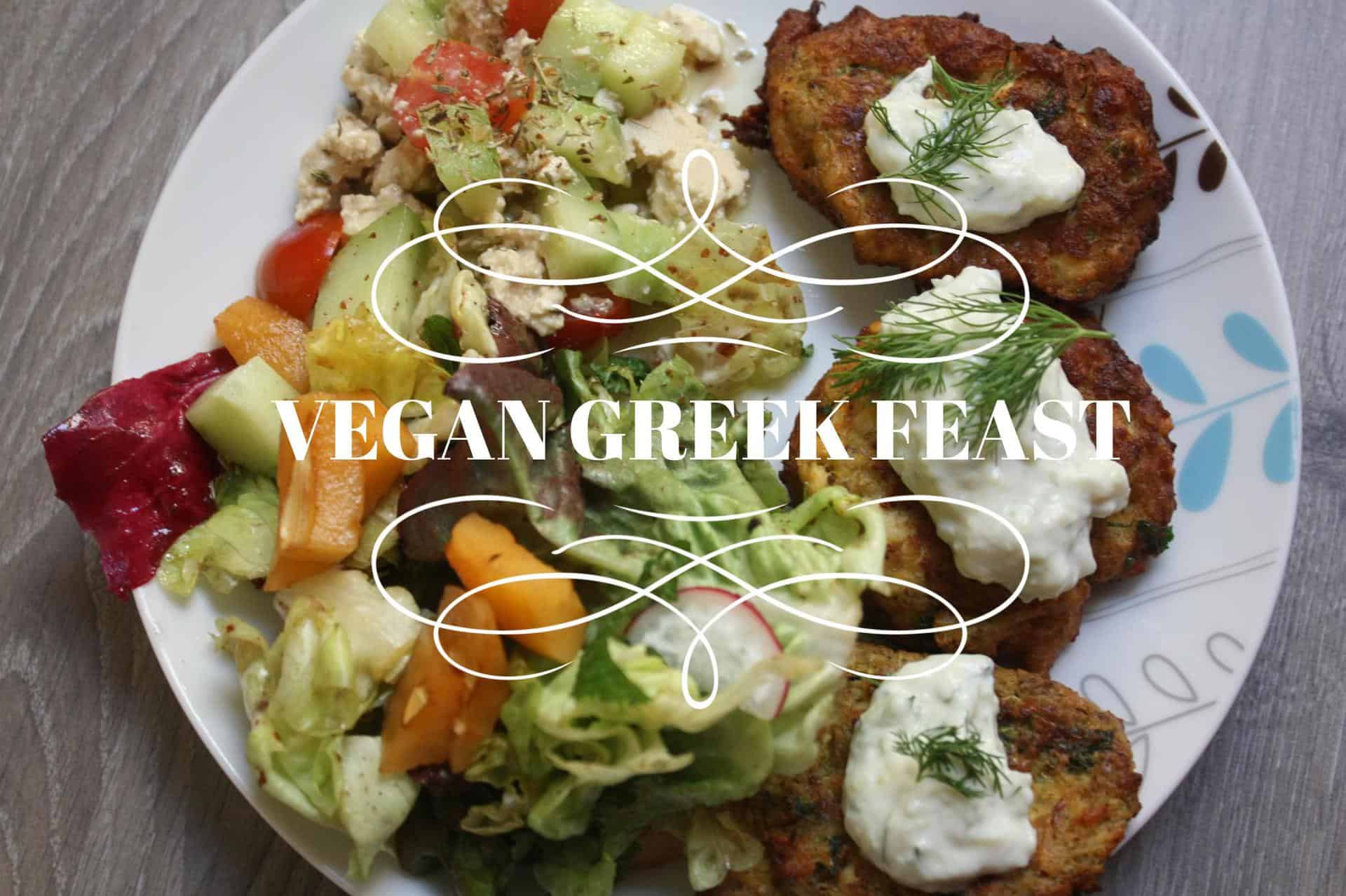 Now, this isn't any old vegan spanakopita.
I don't do simple.
This recipe cuts no corners.
A lot of spanakopita recipes call for both feta and ricotta cheese.
So, we're going to be making BOTH vegan feta and ricotta from scratch, then mix them up with spinach, layer with phyllo and bake them up!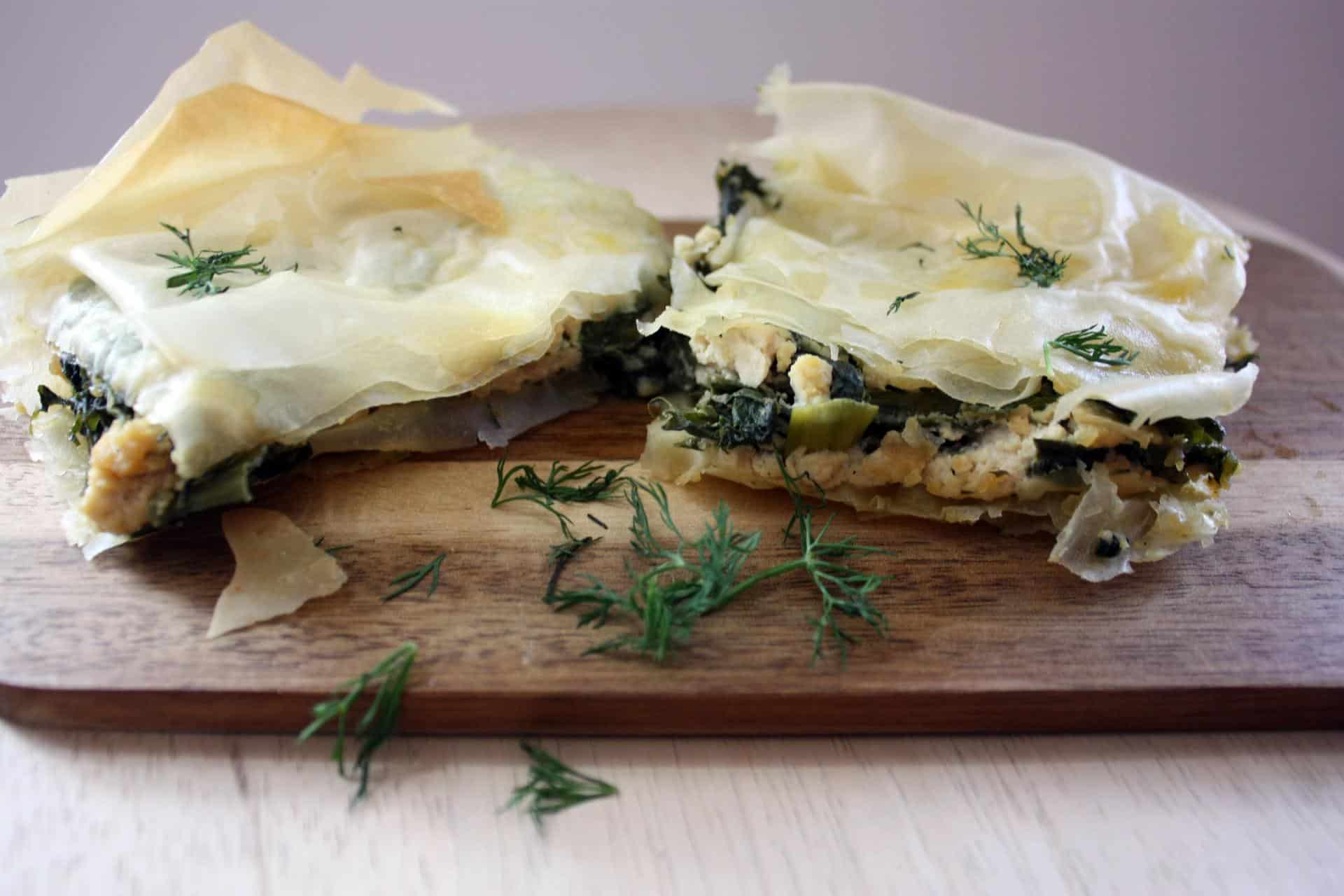 If you don't have the time or energy to make your own vegan cheese, you can make a "nistisimo" version of spanakopita. In Greece, traditional Orthodox believers following a "fasting" diet during Lent, which is in essence vegan (except for the addition of honey, sometimes). (Top tip — if you're ever in Greece, request the nistisimo/fasting food!) In this version of spanakopita there's no cheese. Leave out the vegan cheese entirely for this Lenten version but bear in mind it won't be as rich or creamy.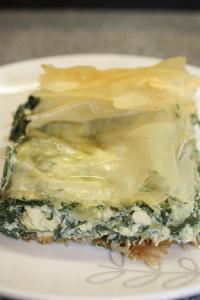 Vegan Greek Spinach & Feta Pie (Spanakopita)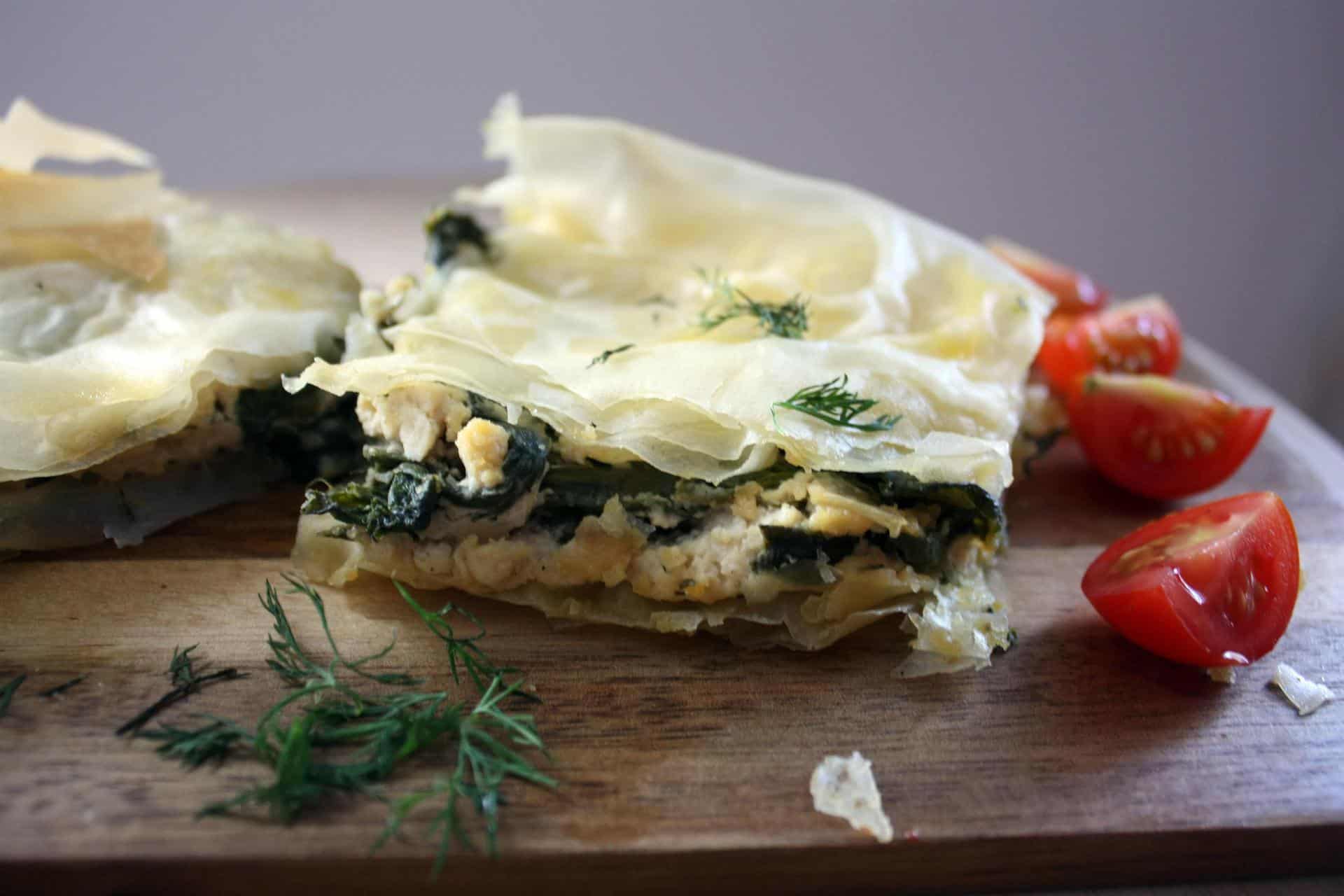 Ingredients
For the spanakopita/pie:

8-10 sheets of phyllo pastry (many storebought versions are vegan, but check the ingredients to make sure)
750 g (around 1.5 lbs) of fresh spinach
1 onion, peeled and diced
1 clove of garlic, peeled and minced
2-3 tbsp fresh dill, chopped
1-2 tbsp fresh mint, chopped
8 green onions, green parts only, chopped
Pinch of nutmeg
Freshly ground salt and pepper
1 recipe vegan feta (see below)
1 recipe vegan ricotta (see below)
Melted vegan margarine or olive oil

For the vegan feta:

200 g firm tofu, crumbled roughly to feta-size chunks
1 tbsp white miso
1 tbsp white wine vinegar
1.5 tbsp lemon juice
1/2 tsp salt
1-2 tsp dried Italian herb blend
3 tbsp nutritional yeast
1 tsp tahini

For the vegan ricotta:

200 g drained and pressed firm tofu
1/4 cup cashews
1 tsp lemon juice
1 tsp olive oil
1 garlic clove, chopped
Pinch of salt
2 tbsp nutritional yeast flakes
Instructions
For the spanakopita/pie:

Preheat oven to 180 C/350 F. Lightly grease a 9X12 inch baking pan with olive oil. Begin by layering one phyllo sheet, then brushing with melted vegan margarine and olive oil (using a pastry brush if you have one; if you don't just use your cleaned fingers). Layer another phyllo sheet on top of that one, and coat it with melted margarine/olive oil. Continue until you have used up half your pastry sheets. Place these in the oven for 10-15 minutes to 'pre-bake' the bottom layer of crust and prevent it from going soggy.
In the meantime, heat a small amount of olive oil in a frying pan and saute the onions until translucent, then add the garlic, dill, mint and green onions and saute until fragrant, 2-3 minutes. Add a pinch of nutmeg and some freshly ground salt and pepper and saute for another minute, then remove from the heat.
Steam or saute the spinach until cooked, then allow to cool and squeeze out any excess water.
In a large mixing bowl, mix the spinach, the onion/garlic/herb mixture, the ricotta and the feta until well combined. Scoop this onto the pre-baked layers of phyllo dough and spread out evenly. Put a layer of phyllo dough on top of this, brush with oil, add another layer and continue (brushing all layers with oil) until you've used all the phyllo dough. Brush the final layer with olive oil and cut into squares, cutting through the top layers of phyllo and spinach mixture but not cutting through the bottom layers of phyllo dough (leave those intact!).
Bake for 15 minutes or so, until the edges or the crust have turned golden brown.
Remove from the oven and allow to cool to room temperature or slightly above. Cut through the bottom layers of dough in the squares and serve with crusty bread and a Greek salad.

For the vegan feta:

Crumble tofu roughly into a bowl.
In a separate bowl, mix the miso, vinegar, lemon juice, salt, Italian herb blend, nutritional yeast and tahini until thoroughly combined. Pour this mixture of the tofu and mix thoroughly.
Refrigerate. Leave to marinate overnight. Best served after it has marinated overnight, as the flavours will have melded better.

For the vegan ricotta:

In a spice grinder, grind cashews until fine.
In a food processor, blend ground cashews, tofu, lemon juice, olive oil, garlic, salt and nutritional yeast until it forms a thick paste.
http://theveganword.com/vegan-greek-spinach-feta-pie-spanakopita/
If you make this recipe, please share your results! Tag @theveganword or use the hashtag #theveganword on Instagram, Facebook or Twitter. :)
Want to get ALL the Vegan Greek Feast recipes in an easy-to-read, easy-to-print format? Click here or on the button below to get your FREE mini cookbook, Vegan Greek Feast, which includes all five recipes (perfect for a dinner party)!