The holidays can be a stressful enough time for anyone, without throwing veganism into the mix. The first few holidays after going vegan can be extra stressful, as you navigate unfamiliar territory, making or modifying dishes to be vegan, dealing with dinner conversation that invariably turns to 'so why are you vegan?' and awkwardly receiving presents that may not be vegan.
So, I've put together this holiday survival guide for vegans, in which we'll discuss:
What to eat and how to navigate meals
How to navigate conversations about veganism
What to do about gift giving and receiving
Planning your holiday travels as a vegan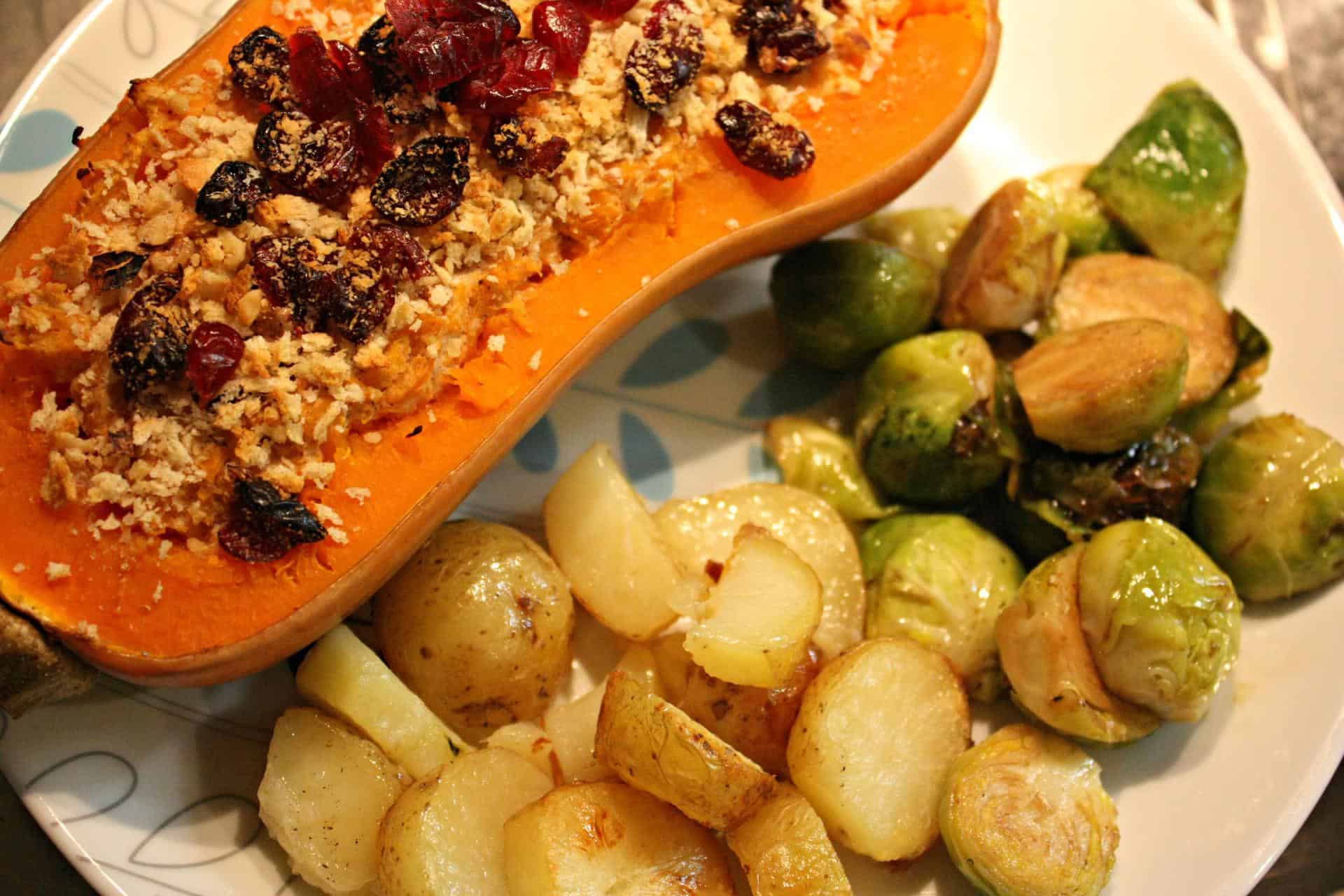 Vegan Holiday Meals
When you first went vegan (or if you're hosting a vegan family member this holiday season) probably the first thing on your mind was "what will I eat at the holidays?" It doesn't have to be as tricky as you think it could be.
Consider asking your family to make as many of the side dishes vegan as possible. Make veggies without butter (use olive oil, vegan spread or steam them), serve vegan bread and vegan margarine and use a vegan salad dressing or serve salad with the dressing on the side. It's pretty easy to veganise a lot of the side dishes. You might even be able to construct a whole meal out of the side veggies.
But maybe you don't want to! (I don't.)
That brings us to a vegan main dish, and what stresses people out the most. We get so used to having meat as the centrepiece of the table that trying to come up with a vegan alternative can be stressful. But it needn't be. There are alternatives like Tofurkey, or there are plenty of delicious vegan dishes that make a great meal centrepiece, whether that is a roasted stuffed squash or whole roasted cauliflower (which make an impressive centrepiece) or a dish that happens to be vegan, like vegan stuffed shells or pasta.
If you're lucky, your family might agree to have an all-vegan meal; this can be great because it satisfies everyone, from the vegans to the vegetarians and many other diets too (like those with allergies to milk or shellfish). I recently attended a Stir Up Sunday event hosted by John Lewis at the Waitrose Cookery School and while it was attended by a mix of vegans and non-vegans, they surprised us by making an Italian-style Christmas Dinner that was vegan and gluten-free, so it was suitable for everyone. It was one of the most delicious meals I've had in 2017 (sadly the chef made everything from scratch that day and didn't have recipes!) and everyone liked it, and it was such a great experience because we could all share the same meal.
But even if your relatives don't want to make a vegan meal for everyone, you can still have your vegan main. Make your own and bring it along (be sure there's enough to share because often when people see your alternative meal they want some too!). Or if your host is really understanding, they might make you a main (just be sure to run them through what is and isn't vegan — you'd be surprised how confused people can get and you don't want to add extra stress to their or your holiday).
Here are some great vegan holiday recipe ideas to get you started (for mains, plus sides and desserts):
11 Interesting Thanksgiving Dinner Ideas (For When You're Tired of Tofurkey)
Thanksgiving Recipes (Oh She Glows)
126 Vegan Christmas Recipes (Minimalist Baker)
Vegan Christmas Ideas (Jamie Oliver)
Recipes for the Ultimate Vegan Christmas Dinner Menu (One Green Planet)
For inspiration, here's a vegan Christmas pudding recipe from the folks at the Waitrose Cookery School, plus the menu of the absolutely delicious vegan, gluten-free Christmas dinner they made us:
Vegan, Gluten-Free Italian-Style Christmas Dinner Menu (Waitrose Cookery School / John Lewis)
Large sharing plates of creamy polenta mash topped with aubergine, lentil and roasted squash ragu
Whole onions stuffed with wild mushrooms, crunchy pangrattato
Roasted carrots with pine nut sauce
Roast potatoes with maple syrup
Marsala sprouts with chestnuts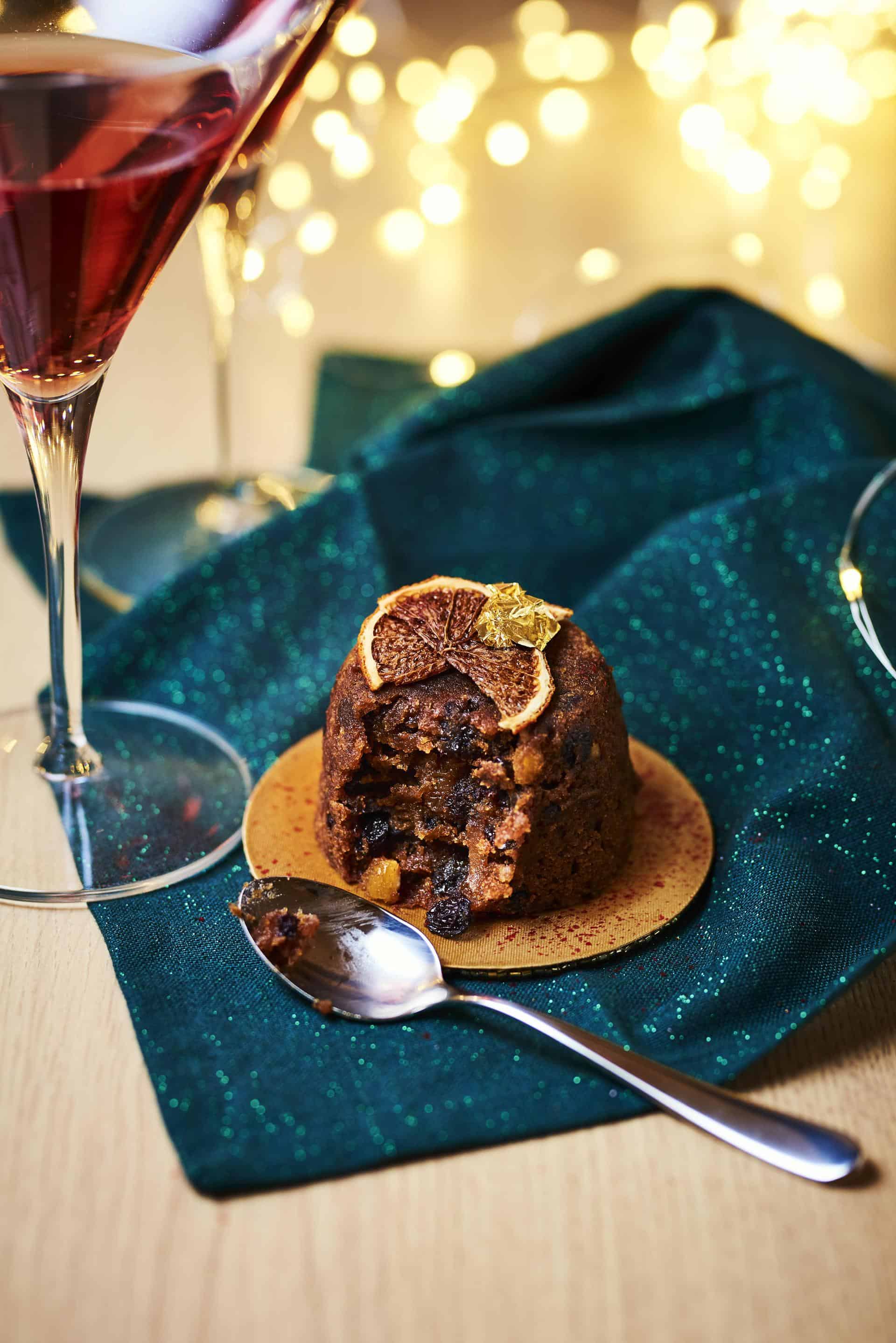 Vegan Christmas Pudding Recipe (from Waitrose Cookery School)
Ingredients:
25g dairy free soya spread
1 tbsp milled flaxseed
60g self-raising flour
½ tsp baking powder
pinch salt
¼ tsp ground nutmeg
½ tsp ground cinnamon
¼ tsp ground cloves
25g coconut oil, melted
40ml black treacle
55ml Meantime London Irish Stout
1 tbsp dark rum
Finely grated zest 1unwaxed lemon
40g peeled, cored and coarsely grated bramley apple, mixed with lemon juice
10g blanched almonds, roasted and chopped
75g currants
20g mixed peel
20g Forest Feast Sour Cherries
200g mincemeat (vegan)
Instructions:
1. Preheat the oven to 180 C, gas mark 4. Grease 4 mini pudding basins and 4
small circles of baking parchment with the soya spread and set aside. Mix the
flaxseed with 3 tablespoons cold water and set aside for at least ten minutes or
until it becomes jelly-like and makes 'flax-egg'.
2. Sift the self-raising flour, baking powder, salt, nutmeg, cinnamon and cloves into
a medium mixing bowl, then add the "flax-egg"and the melted coconut oil. Mix
the treacle with the stout and rum in a measuring jug. Pour this mixture into the
bowl and whisk everything together thoroughly. Stir in the lemon zest, apple,
almonds, currants, peel, cherries and mincemeat.
3. Divide the mixture between the prepared basins and top each one with a circle
of greased parchment. Wrap each basin in an 18cm square of foil and fold
under the edges of the basins.
4. Place the basins into a roasting tin and pour in enough boiling water to come
2.5cm up the sides of the basins. Carefully place the tin in the oven and bake for
45-50 minutes, or until the puddings are springy and firm to the touch in the
centre. Remove from the oven, unwrap, remove the parchment and leave to
stand for 10 minutes. Carefully run a small knife around each one and turn out
onto warm serving plates.
Navigating Mealtime Conversations about Veganism
Many vegans say that the hardest part of going vegan is not the food (sure, it can be tough to give up cheese, but then you discover all the wonderful vegan foods out there, your food horizons expand and you end up falling in love with vegan food) but the social aspect. It can be tough dealing with constant questions from friends and family, and having a conversation over the dinner table at the holidays can be one of the hardest experiences.
Prepare yourself for questions, particularly if you're new to veganism. Remind yourself that your family probably don't mean to be antagonistic, but are usually just curious and want to learn more about why you made the change.
It's not a good time to go into lots of detail about some of the more harrowing aspects of factory farming — if someone's asking a lot of questions and especially if you feel yourself starting to get emotional, it's always best to suggest continuing the conversation later, away from the dinner table and everyone else.
If you find your family are being aggressive, rather than just curious, consider why. Do they feel threatened by you going vegan? They may be questioning their own food choices (and getting defensive) or they might take your shift to veganism as an insult to your family traditions and culture. Remind them that you've made this choice for your own reasons, and you're not rejecting family traditions, just animal products.
You can also play vegan bingo if you find you're getting a lot of the same questions. This might help you feel a little more lighthearted if you're getting frustrated by being asked the same questions over and over.
Having vegan friends (whether you meet them in your town on Meetup, or online, for example on Facebook groups) can help, if you need to vent. It's great when you can talk to someone who knows where you're coming from.
Kim at Brownble has more great suggestions on Conversations at the Table with Non-Vegans.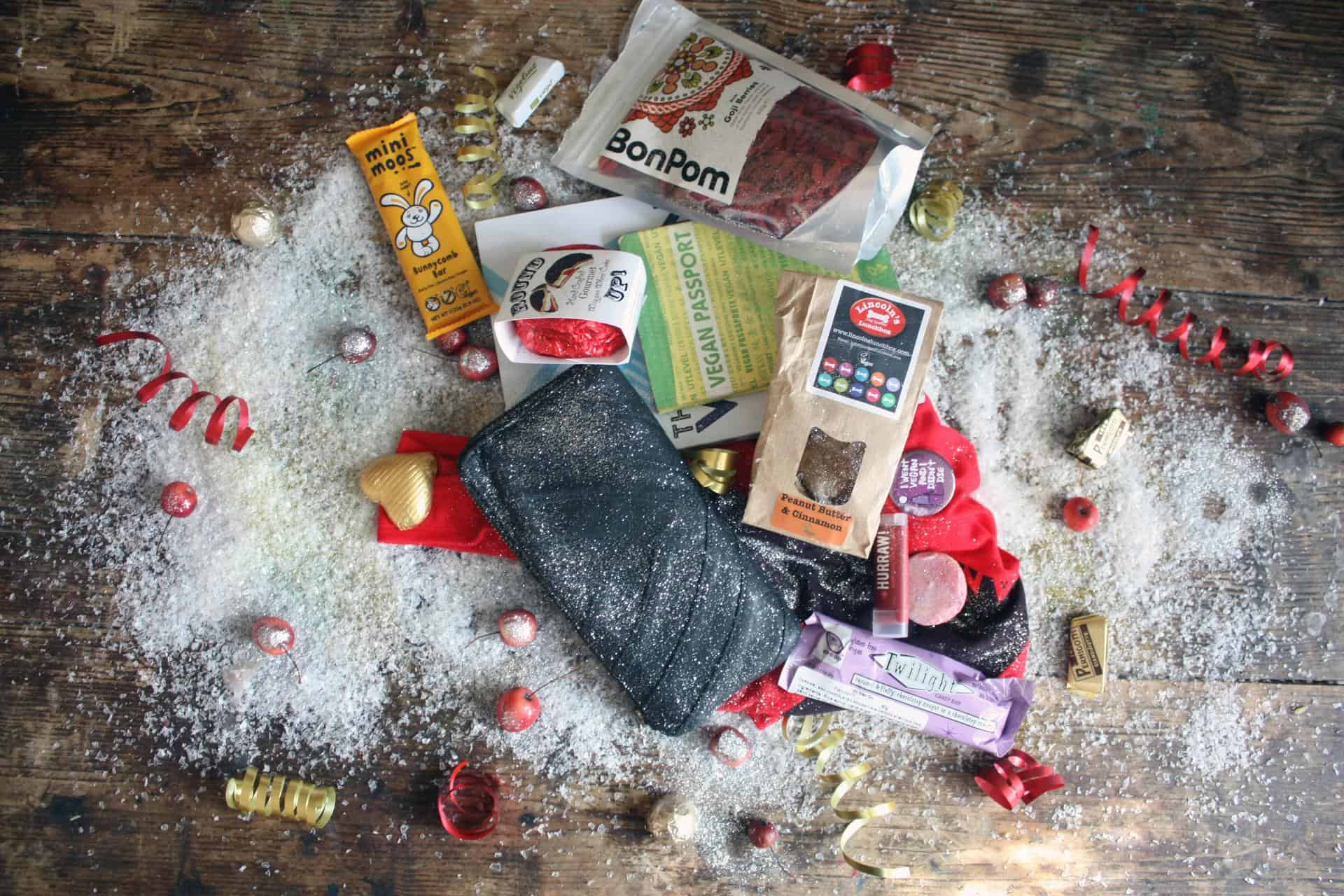 Vegan Gift Giving and Receiving
Holiday gift giving can be fraught with peril as is (why does Auntie Edna always give you the weirdest gifts?!); then add veganism into the mix and awkwardness can abound. To prevent the awkwardness or getting a leather jacket or silk scarf your first holiday season as a vegan, it's best to inform your friends and relatives ahead of time exactly what is and isn't vegan. If you aren't sure how to do so, send them my vegan gift giving guide! In it, I explain what is and isn't vegan and suggest over 100 different vegan presents they can get the vegan(s) in their life, by interest.
Of course, you'll want to give vegan gifts too. The gifts in my vegan gift guide make good presents for non-vegans too (apart from maybe the t-shirts and jewellery emblazoned with vegan messages! ;))
Here's my huge Vegan Gift Guide, with hundreds of ideas on vegan presents!
If you do receive a non-vegan present and aren't sure how to handle it, Cadry of Cadry's Kitchen has a great guide to dealing with this situation gracefully: How to Handle Non-Vegan Gifts.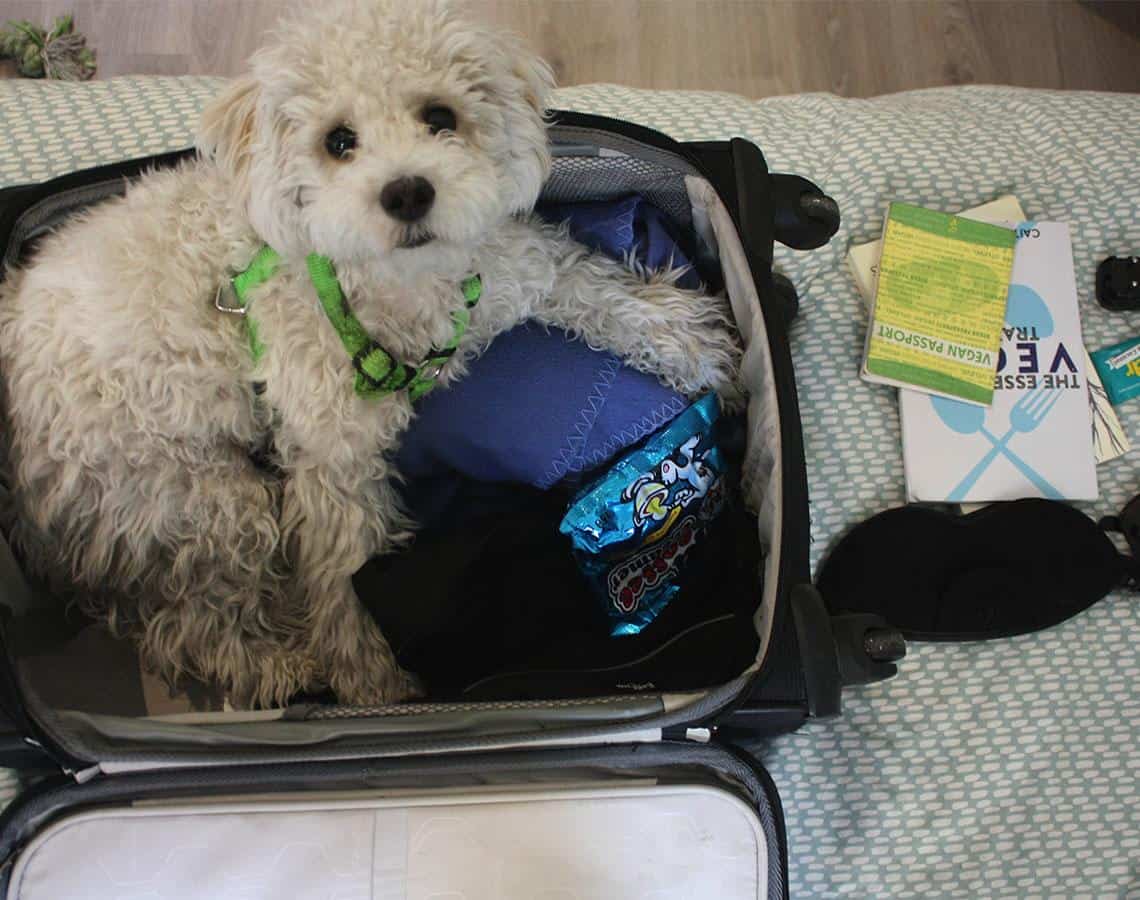 Planning Your Vegan Holiday Travels
Holidays and travel…the perfect recipe for stress! Don't let it get to you.
If you're flying home for the holidays, make sure to prebook your vegan meal (airline code VGML) at least 72 hours in advance of your flight, either online or by calling your airline. Make sure to bring vegan snacks with you, in case they forget your meal (or they aren't serving food on your flight). It's always a lifesaver to have a few vegan bars or nuts and seeds in your bag!
If you're driving, again make sure you have snacks. Or bring a cooler with some vegan food with you; you can restock along the way at supermarkets, and if you're staying overnight you can even replenish the ice supply in your cooler with ice from the hotel's ice machine.
I've got lots more advice on airline and car travel (plus more) in my book, The Essential Vegan Travel Guide.