Just because you're Coeliac doesn't mean you shouldn't go to Italy. Likewise, those with soy allergies needn't avoid China. Travel is about much more than food, and food restrictions shouldn't restrict where you go.
Although my book is aimed at vegan travelers and talks about how to find vegan food anywhere, I get a fair number of readers who found my book because they have allergies (to milk, eggs, etc.), plus readers who are vegan but have allergies.
A couple of weeks ago I addressed reader questions about restricted diets while traveling, but today I wanted to talk about a very common question, how to find allergy-friendly food while traveling, whether that's an allergy to corn, soy, gluten or anything else. In fact, it's such a popular and important question I decided to dedicate a whole new section to it in the latest edition of my book.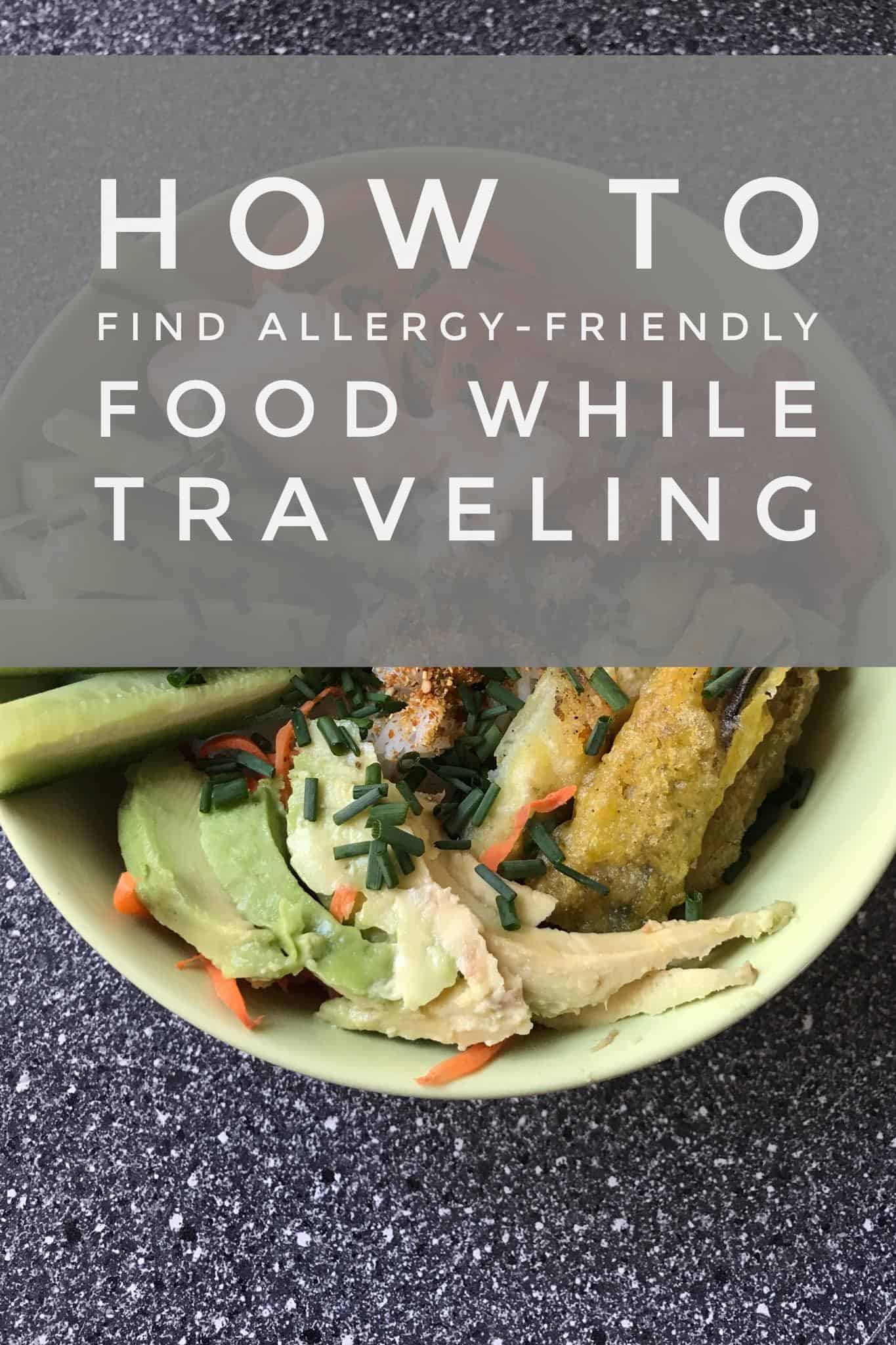 Stay Safe
First things first, if you have a severe allergy, you absolutely must make sure you take a supply of at least two epi pins, any other medical equipment you need plus a medical card (all of which you should have on you at all times!).
More information, plus advice on flying with medicine, on FARE.
Allergy Cards
Travel with ease and a lot less worry. Select Wisely has made allergy cards ($14.95) for just about every allergy out there. Just select your allergy/allergies and the language of the place you're visiting and you're good to go; they'll send you a card in that language with pictures. (Or make your own!)
Know the Cuisine – And When They Use Allergens
Before you leave, familiarise yourself a bit with the local cuisine. Google some recipes, or go to your local library and check out some cookbooks. Get a feel for what dishes they tend to use allergens in. For example, is shrimp paste frequently used? Do they often fry things in soybean oil? By knowing which dishes and in what forms the allergens appear, you'll be poised to ask the right questions about dishes to ensure your food doesn't contain any allergens.
Pack Well
I always recommend that everyone pack some snacks for the plane and to carry with them in their bag during the day because you never know when you'll end up hungry (on a beach with no restaurants or shops) or stranded (on a plane stuck on the tarmac waiting for 8 hours), but this is doubly important if you have allergies. Make sure you always have something with you that you can eat in a pinch!
Stay in an Apartment
If you're really worried about finding allergy-free food, or it doesn't look like the local cuisine offers much in the way of allergy-free food*, don't cancel your trip. Consider booking an apartment with a kitchen or an apart-hotel that has a kitchen. That way you can still explore the country's culture, history and architecture without worrying about what to eat – you can just make something for yourself in the apartment! You'll also save a lot of money on not eating out, too.
*Don't forget that even if the local cuisine isn't allergy-friendly, if you're in a big town or city, there will likely be restaurants from a range of different cuisines that you can explore. Just because you're in Spain doesn't mean you shouldn't have Chinese, Indian and Japanese food (psst, also, if you are in Spain — loads of Spanish tapas are vegan! ;))!
With these tips in mind, you should be able to go anywhere! If you still don't quite believe me that you can travel anywhere with allergies, here's an example: grain-free vegan food in Slough, England (of The Office fame).
Grain-Free Vegan Slough
It sounds like the stuff of nightmares (Slough is much more industrial wasteland than vegan dreamland) but here's a real-life example…a friend once asked me if there were any grain-free vegan food options in Slough.
Just as an example scenario for a very unusual allergy (grains) in an unsusual location I thought I'd share a few of the places we came up with:Various Thai takeaways: ask for a vegetable
Various Thai takeaways on the HIgh Street: ask for a vegetable curry, no oyster sauce/shrimp paste and no rice
Various Indian restaurants on the High Street: ask for a vegetarian curry, no ghee or paneer, no rice
Various Chinese takeaways: ask for a vegetable curry, no oyster sauce, no rice
Sainsburys & M&S: salad, olives, soup (heat up in a microwave in hotel), hummus, cut vegetables to dip, fruit, bean salads
Nutri-Centre & Holland & Barrett, shopping centre: various vegan options, look for grain-free ones