Heading to Barcelona soon? If not, you should be!! It's an amazing city…full of sun, jaw-dropping architecture, tapas, the beach, the mountains and a surprising number of vegan and vegan-friendly places (so much so, I wrote a whole book about it, the Barcelona Vegan Guide, 170 full colour pages about vegan Barcelona)! In 2016 Barcelona's city council even declared it a #VegFriendly city and promised to promote vegetarianism and veganism. (And yes, Barcelona even made my list of the Top Vegan Destinations of 2017 in my book, The Essential Vegan Travel Guide.)
Basically, it's got everything you could want in a city… After over a year in Barcelona during which I ate at all the vegan restaurants and all but 3 of the vegetarian restaurants (yes, I ate a lot!), adopted a puppy, saw open-air cinema in a castle moat on top of a mountain, and started Barcelona Vegan Meetup, I'm pretty well-versed in all things vegan Barcelona. So I wanted to help you out with some insider tips on vegan Barcelona (if you to learn absolutely everything I know about vegan Barcelona, you can buy a copy of the Barcelona Vegan Guide)!
I lived in Gracia, which is the best neighbourhood in Barcelona (I'm a little biased though!). We have a vegetarian bar, vegan croissants at the bakery, a fresh farmers market every day, dozens of yoga studios, an organic clothing shop, a meditation centre just down my street, the cheapest vegan cafe in Barcelona, and a vegan supermarket… If you're wondering where to stay in Barcelona I highly recommend Gracia. But shh, don't tell anyone else! It's thankfully a little less touristy than the Gothic Quarter and I'd like to keep it that way!
Here's where to eat and where to shop vegan in Barcelona:
Best Vegan Barcelona Eats
With so much to choose from (a lot of people don't believe just how vegan-friendly this jamon-obsessed city is), it's tough to single out the best vegan eats but with my extensive experience eating my way around Barcelona here are my choices!
You should always double check hours because SO many places in Barcelona change their schedules due to holidays, siesta…or just because they feel like it! Trust me, and call ahead and check! There's nothing more disappointing than standing melting in the heat, staring at a paper sign taped to a restaurant window in Catalan, which you can't read, but which you think more or less says "we're shut."
Most small restaurants, cafes and local shops close for siesta (usually from 2pm to 4:30pm or so) but do not always note siesta times in their opening hours. You're best off assuming they'll be shut mid-afternoon for siesta.
Teresa Carles
For a fancy-pants meal, it has to be Teresa Carles. Get their layered vegan lasagne with cashew cheese and sundried tomatoes. If you want to impress (your parents, a date, yourself) then go to Teresa Carles.
Teresa Carles
Address: Carrer Jovellanos 2
Phone: +34 93 317 18 29
Website: http://www.teresacarles.com/tc/eng
Hours: Monday – Sunday 9am – 11:30pm
Vegetart
Budget prices don't allow you to splurge at T Carles? You don't have to miss out on vegan food in Barcelona, because one of the city's best-kept secrets is this tiny vegan takeaway tucked away on Torrent l'Olla in Gracia. Takeaway only, their vegan tortilla (an egg and potato omelette; theirs is made with chickpea flour!) is the best in all of the city, hands-down. Even better, the tortilla is only €1.50 a slice! In fact, all their food is all just a few Euros! Spend 3 Euros on some food there and take it to nearby Placa del Sol for an al fresco lunch.
Vegetart
Address: Carrer Torrent de l'Olla 138
Phone: +34 668 88 53 75
Website: https://www.facebook.com/VegetartCuinaVegana/
Hours: Monday – Thursday 12pm – 8pm, Friday 12pm – 4pm, Saturday 12pm – 3:30pm
Note: closes for siesta
Best Vegan Chinese Food in Barcelona

I don't know why more people don't talk about Vegesana, but they should. This vegetarian Chinese restaurant serves the best Yuxiang eggplant (berenjena salteada) I've ever tasted. Crispy, salty but not overly so, with a perfectly balanced sweet and sour sauce on top. Also, the chef is obsessed with carving carrot animals and he makes the cutest little carrot creations!
They deliver, too, although the first and second time they delivered to me they got terribly lost (my street was a little out of the way, but not that far!) and took 2+ hours. You're better off eating in, especially since you don't get carrot animals with delivery.
Vegesana
Address: Carrer d'Aribau 14
Phone: +34 933 01 34 42
Website: http://www.vegesanabcn.com/
Hours: Monday-Sunday 12:00 pm – 4pm, 3:30pm – 11:30pm
Best Vegan Indian Food in Barcelona
Veg World India is not only great value for money (their lunchtime deal is a steal) but they're one of the few places in the world I know of where you can get stuffed vegan cheese naan! (Be sure to ask for the vegan version because this place does serve dairy, too.)
Veg World India
Address: Carrer Bruniquer 26
Phone: +34 932 10 70 56
Website: http://www.vegworldindiabarcelona.es/
Hours: Tuesday – Sunday 1pm – 11:30pm
Best Vegan Pizza in Barcelona
Dolce Pizza y los Veganos is a vegetarian pizzeria, with about half their dishes as vegan. They make their own vegan cheese from tofu and carrots. Try the pesto pizza with vegan pesto and chorizo!
Dolce Pizza y los Veganos
Address: Carrer d'Hipolit Lazaro 34
Phone: +34 932 13 12 20
Website: http://www.dolcepizzaylosveganos.com/
Hours: Monday – Sunday 12:30 pm – 4pm, 8pm – 11pm
Best Vegan Thai Curry in Barcelona
I wrote before about the magic of the freshly prepared Green Spot vegan curry. Fragrant herbs and piquant spices, all made fresh. So while this might not be a traditional Thai restaurant, they have the best vegan Thai curry in Barcelona (plus you don't have to worry about whether you correctly asked them to leave out the fish sauce in Spanish – everything vegan is labeled so here at this veggie restaurant!).
Green Spot
Address: Carrer de la Reina Cristina 12
Phone: +34 938 02 55 65
Website: http://www.encompaniadelobos.com/en/the-green-spot/
Hours: Monday – Friday 12:30pm – 4pm, 8pm – midnight, Saturday & Sunday 1pm – 4pm, 8pm – midnight
Most Impressive-Looking Vegan Dish in Barcelona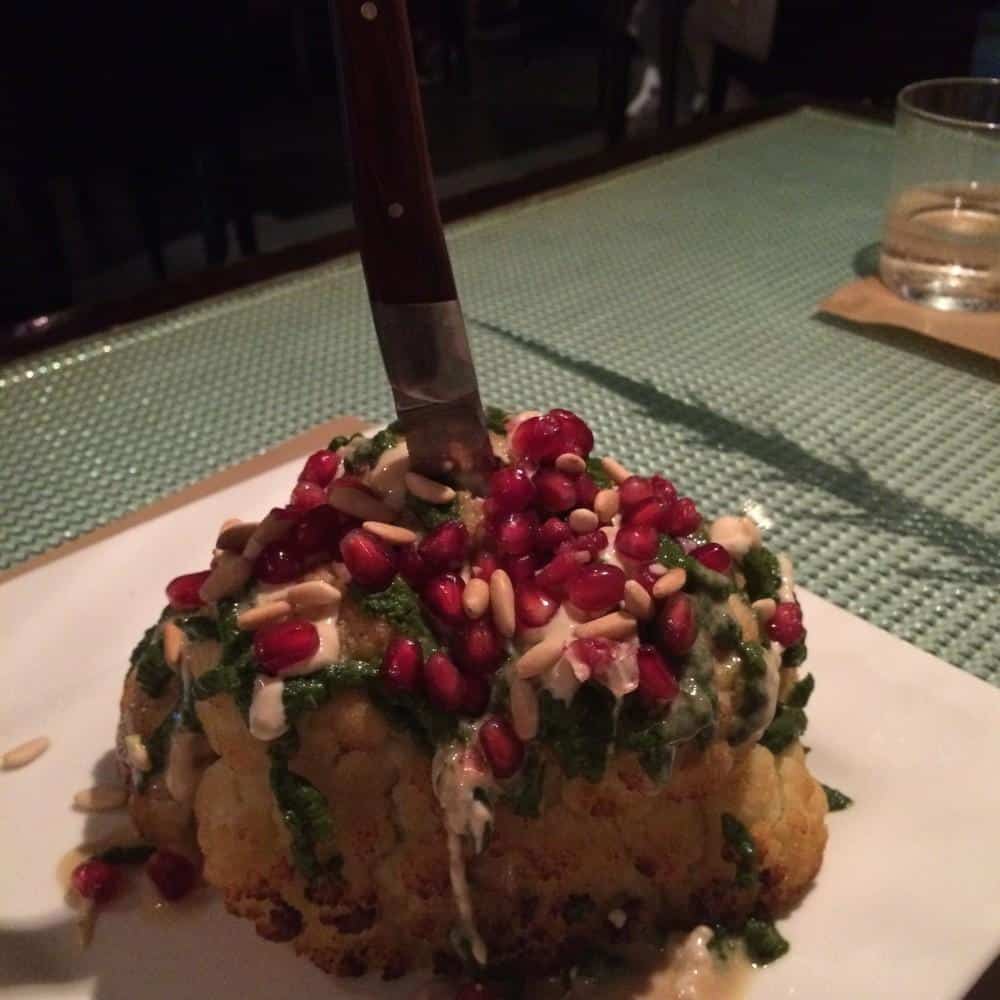 For pure impressiveness when it's brought to your table, the whole head of roasted cauliflower (complete with a steak knife sticking out of it!) at Sesamo wins for the most impressive vegan dish in Barcelona. Try their vegan tapas, too, or their tasting plate if you want to sample a lot of dishes.
Sesamo
Address: Carrer de Sant Antoni de Abat 52
Phone: +34 934 41 64 11
Website
Hours: Tuesday – Sunday 7pm – midnight
Best Healthy Vegan Food in Barcelona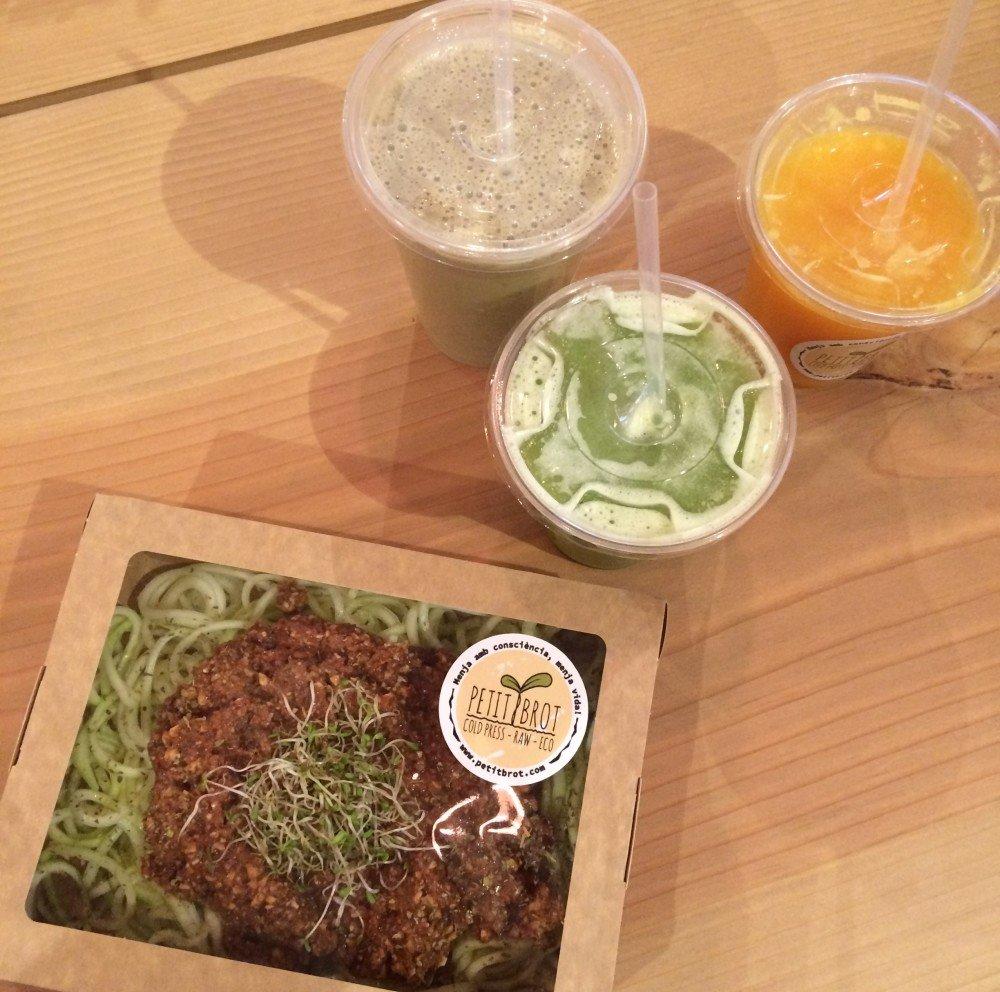 If you're after a fix of healthy, raw vegan fare in Barcelona then you absolutely must go to Petit Brot. Run by a raw vegan couple with a lot of love and attention to detail, this juicery is the place to go if you want freshmade, cold-pressed juices, plus raw vegan plates, raw cheese or raw snacks to take away.
Petit Brot
Address: Carrer del Dr. Dou 10
Phone: +34 937 68 98 97
Website: http://petitbrot.es/
Hours: Monday 11am – 7pm, Tuesday closed, Wednesday – Saturday 11am – 7pm, Sunday noon – 5pm
Vegan Croissants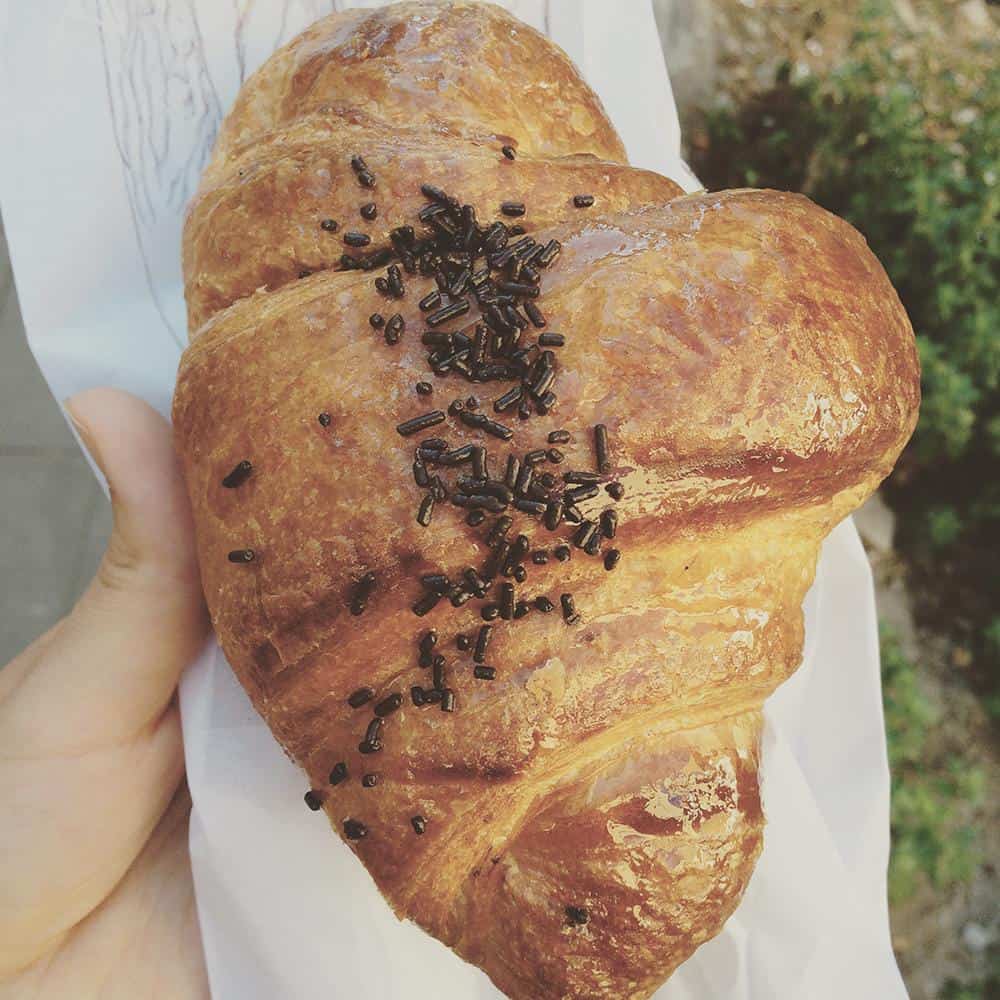 Probably my favourite find in all of Barcelona is the bakery round the corner from my flat, Knella (now called D'Monica), which sells 4 types of vegan croissants – chocolate filled (which I have every Sunday for brunch), regular croissant, whole grain (both perfect with jam) and spelt. You can also get vegan croissants (ask which are vegan) at Crois Sants or Santoni.
Knella (now called D'Monica)
Address: Carrer de Mila i Fontanals 9
Phone: +34 935 66 36 74
Website: https://www.facebook.com/knella.es/
Hours: Monday – Friday 8:30am – 8:00pm
Note: closes for siesta
Gelato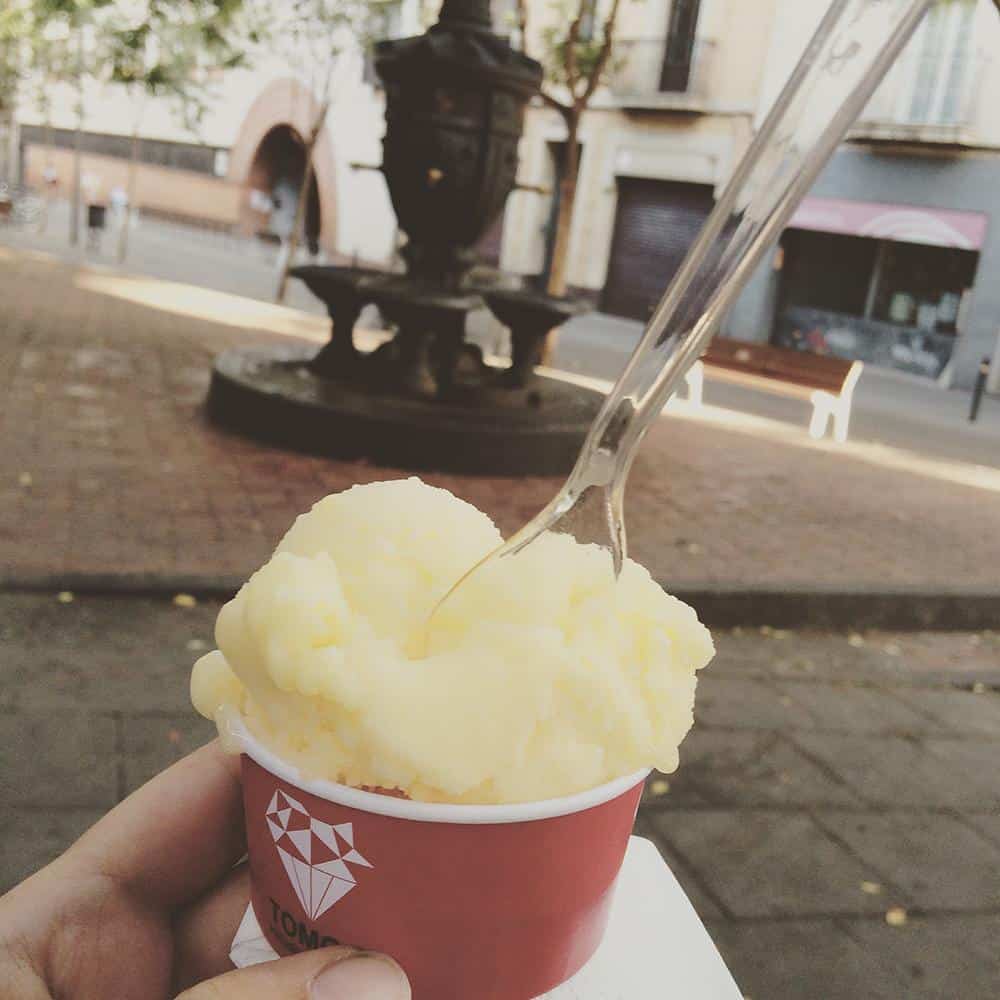 You'll find small heladerias/gelato stalls tucked all over Barcelona, especially in the plazas. There's nothing better than sitting in the shade of a plaza, eating a fruity gelato on a hot summer day! Luckily, since they are made in the Italian style, most ice cream places here have vegan options (normally in the fruit section) – just ask if they have any that are dairy free (sin leche). And they are delicious!
For a fully vegan gelato experience, head to Gocce di Latte, a dairy-free gelateria (only their cones aren't vegan). Or head to Heladeria Mexicana, by Barceloneta beach, where 50% of the flavours are vegan. Heladeria Mexicana is known for their unique and delicious flavours, like tequila sorbet or vegan horchata ice cream.
Vegan Barcelona: Order Vegan Tapas Anywhere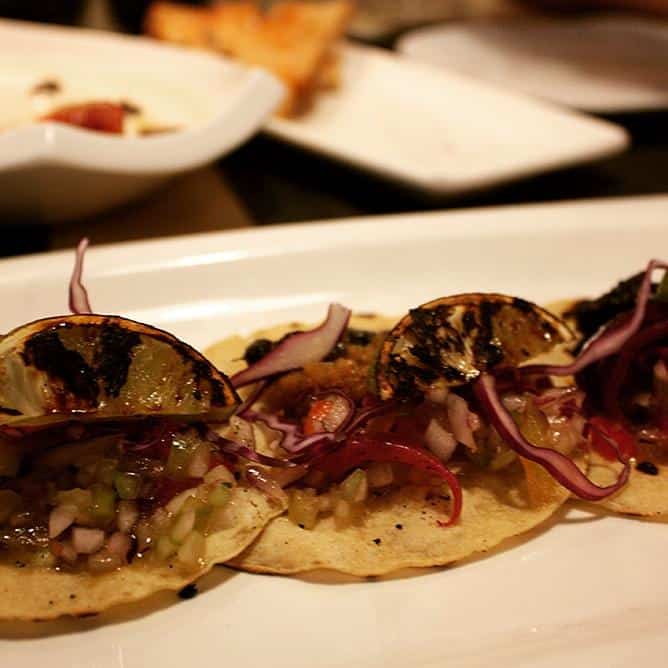 You can still enjoy tapas as a vegan! In fact, one of the easiest ways to get vegan food in a non-vegan place is to go for tapas. Look for some typically vegan tapas which are usually on the menu (and just double check if they are vegan):
Pa amb tomaquet (tomato bread) – a typical Catalan breakfast dish (but great at any time of day!) of toasted bread rubbed with tomato and olive oil. It's simple but delicious!
Escalivada (roasted vegetables) – a mix of grilled aubergines, onions, red peppers and tomatoes, usually served with bread
Pimientos de padrón (roasted padron peppers) – roasted in olive oil and sprinkled with sea salt, these are simple but incredibly delicious
Gazpacho – a chilled tomato soup which is perfect for a hot summer day!
Patatas bravas minus alioli – fried potato chunks in a spicy tomato/paprika sauce. Check if the sauce is vegan and just make sure they leave off the alioli (which is like a garlic mayonnaise; the authentic, old-school version is vegan but many modern takes are not).
Olivas (olives) – make sure they aren't stuffed with anchovies! It's best to ask for 'olivas con hueso' (olives with pits).
Sometimes you'll also see other grilled vegetables on the menu – for example, grilled artichokes (alcachofas) or grilled mushrooms (champiñones a la plancha). And weirdly, a lot of tapas places around Barcelona seem to sell hummus with crackers or bread.
Bar Celoneta (near the beach) and Sesamo are vegetarian restaurants (100% vegan, in the case of Bar Celoneta) that both offer vegan tapas.
Where to Buy Vegan Food in Barcelona: Supermarkets & Markets
Ecocentre
If you're staying in an apartment in Barcelona, you might want to see if you can get one near Ecocentre! Ecocentre is a vegan supermarket, but much larger than any in London. It's about on par with Veganz in Hamburg for size. It's not a huge supermarket like a big national chain, but this competes with the little grocery stores you'll find dotted around Barcelona. Ecocentre is my vegan heaven – the first time I saw it, I nearly cried at their range of vegan products and the fact that it's so close to my house. Looking for vegan tuna? They've got 3 varieties! Mayo? At least 7 (including different brands and all sorts of flavours!). Whipped cream? 5 kinds! It's got everything in vegan form. It's amazing.
Important for nooch-obsessed vegans: you can buy nutritional yeast (levadura nutricional) here! You can also get it at The Living Food.
Ecocentre
Address: Avinguida Diagonal 329
Phone: +34 932 07 57 85
Website: http://www.ecocentre.cat/
Hours: Monday – Friday 9am – 9pm, Saturday 10am – 9pm
Note: closes for siesta
Beans & Market Stalls
If you've got a kitchen, you'll definitely want to check out the local markets! Although there are some disgusting sights in there (unfortunately the meat stalls and vegetable/fruit stalls are usually not separated – although thankfully the fish stalls are often segregated into one smelly, awful area!), there are some fantastic fruit and veg stalls. It's like a farmer's market that runs every day (except Sundays, usually), and they're very local. Apart from La Boqueria, the famous market off Las Ramblas, most of the markets in Barcelona are not frequented by tourists. The city's put a lot into regenerating the markets and they are fantastic. I was advised by an elderly lady in my building to always shop in the market because the fruits and vegetables are higher quality but also cheaper. In addition to fruits and vegetables, you'll usually find stalls that sell spices, nuts, dried beans, olive oils, bread and even Japanese and Middle Eastern stalls selling tahini, wasabi and the like!
But my absolute favourite part of the markets are the cooked bean stalls! You'll find cooked bean shops (legumes cuits) dotted around the city, as well as the stalls in the markets. There, you'll usually find giant bowls of cooked chickpeas (giant and small), white beans, lentils and more, and you can buy as many grams of whatever variety of cooked beans you want. They cook them fresh each morning. Sometimes they also sell cooked pasta, rice and quinoa. I made the best hummus I've ever eaten in my life using some of these beans and authentic tahini from a Lebanese supermarket. They're brilliant if you want to pack in the flavour of beans cooked from scratch but don't have the time or energy to make them from dried (which is especially true if you're a tourist and trying to devote your time to exploring Barcelona rather than cooking dried beans!). I'm lazy, so I've rarely cooked beans from dried in the past – but now that I've discovered these stalls, I can't go back to tins of beans (or glass jars of beans, as they are sold here), so consume carefully.
Supermarket Finds
There are a surprising number of accidentally vegan foods in supermarkets. It helps if you can read Spanish, have a Spanish speaker with you, get a copy of the European vegan zine or have a handy translation app on your smartphone (Google Translate is free to download)! For example, I've found accidentally vegan versions of: hot chocolate mix for churro dipping, frozen churros, chocolate sauce for ice cream and caramel sauce.
A few items you might want to try: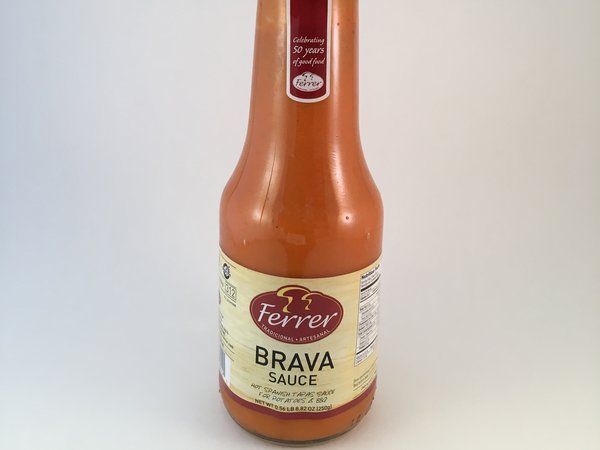 Patatas bravas sauce (so good on boiled or roasted potatoes but even just on some bread!). Here's a recipe for vegan patatas bravas.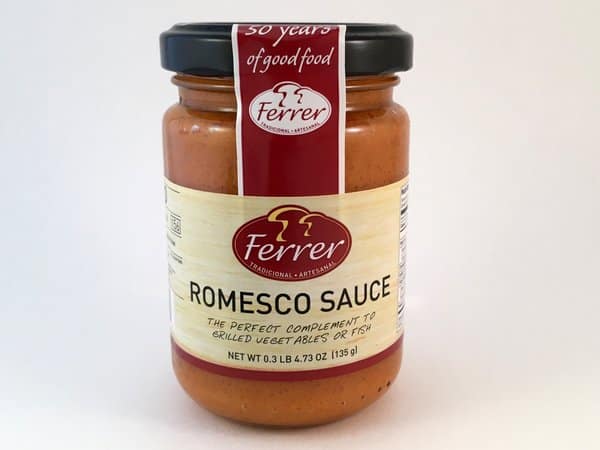 Romesco sauce is a traditional Catalan sauce made of almonds and roasted red peppers. It's delicious on roasted vegetables or bread and is traditionally eaten with calcots (spring onions) at a spring onion barbecue. Here's a romesco sauce recipe if you want to make your own!
Gazpacho
Horchata, a drink made from chufa, or tiger nuts (many brands add milk but this one's suitable for vegans)
The Living Food
If you're into raw food or healthy eating, or you just want to check out Barcelona's artisan vegan cheese scene, you have to check out The Living Food. An all vegan and mostly raw shop in hipster haven Sant Antoni, The Living Food sells every superfood, supplement, sauce, syrup and dried good you could want. Plus they make their own artisan vegan cheeses!
The Living Food
Address: Carrer de Viladomat, 85
Phone: +34 935 14 76 95
Website: http://www.thelivingfood.com/
Hours: Monday, Thursday & Saturday 11am – 2pm, Tuesday, Wednesday & Friday 10am – 2pm, Saturday 11am – 3pm
Gra de Gracia
Lastly, if you're staying in Gracia, you're in luck. Check out Gra de Gracia, one of my favourite shops in the area. It's a shop that sells dried foods in bulk, without any packaging, to reduce waste. They sell all sorts of rices, flours (but no white flour!), teas, sugar, nuts, seeds, spices, pastas (of all varieties – kamut, quinoa, lentil etc), and more. The shop is beautifully arranged and the containers of food look like a work of art! Just grab some paper bags and fill with as much of you want and when you get to the till they'll weigh and label them. Perfect for getting a little bit of that one spice you need for just a single dish. I always hate buying a big jar and wasting. Especially useful when you're on holiday and might only use a little bit over the course of your trip. Useful tip: vegan is vegà in Catalan. They have a lot of vegan cookies and mueslis and the ones that are vegan are labelled vegà.
Gra de Gracia
Address: Carrer de Puigmarti 11
Phone: +34 932 10 28 46
Website: https://gradegracia.cat/
Hours: Monday – Saturday 9am – 9pm, Sundays closed
Note: closes for siesta
If you have a Barcelona-related question feel free to get in touch!
The Barcelona Vegan Guide Book
Want to learn more about vegan Barcelona? Itching to find out where you can get vegan food near the main tourist attractions, what eco-friendly hotels you should stay in and what vegan activities you can do while you're there? Grab a copy of my book, the Barcelona Vegan Guide! Get your free sample from the book now!
Note: This post was originally published in July 2015 and was completely revised in April 2017 and again in November 2017. I took out all restaurants that had closed and added new ones. If you find anything that needs to be updated, please drop me a line and let me know! This is not meant to be an exhaustive guide (see my book for that!) but an overview and as much info as I could squeeze into 3,000 words.